United Kingdom George Walker, Korngold, Mahler: Carolin Widmann (violin), Philharmonia Orchestra / Santtu-Matias Rouvali (conductor). Royal Festival Hall, London, 25.9.2022. (CK)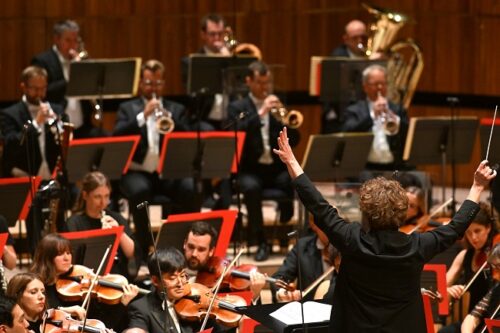 George Walker – Lyric for Strings
Korngold – Violin Concerto in D, Op.35
Mahler – Symphony No.1
3pm on a Sunday afternoon: a good time to enjoy a concert, and – for those who travel – a sensible one. Judging by the size of the audience, many others think so too.
This concert opened gently, gravely, with George Walker's Lyric for Strings. I am sure I am not alone in appreciating the exposure Walker's music is having in this, his centenary year. Like Barber's Adagio, written a few years earlier, it is an arrangement of the slow movement of a string quartet: more restrained than Barber's famous elegy, but as deeply felt – one might almost guess from the music that slavery was a part of Walker's family history. Its performance here demonstrated the tonal beauty of the Philharmonia strings, and their hairpin responsiveness to their Chief Conductor's clear and eloquent gestures.
We no longer need to be fazed by the apparent contradictions in Erich Wolfgang Korngold's composing career (the Viennese boy hailed by Mahler as another Mozart/the doyen of Hollywood film composers): we can just enjoy the music for its own sake. His popular Violin Concerto brims with melodies – many of them overlapping with his film scores – and his bejewelled orchestration lends them extra glamour. Carolin Widmann gave it everything, playing with zest and chutzpah (I don't suppose there's any other way to do it). Santtu-Matias Rouvali and the Philharmonia matched her all the way, the swaggering horns in the finale irresistibly suggesting Errol Flynn setting sail for the Spanish Main.
It seems clear that as Rouvali tackles the Mahler symphonies he wishes (laudably) to put his own stamp on them. His Second at the end of last season was apparently thrilling and very well received; one critic described his very recent Fifth, which I attended, as 'crude and ugly'. So what of this First?
The hardest movement to get right is the first. Rouvali was in no hurry: the opening sounds of nature – flutes, oboe, burbling clarinets, distant trumpets – had plenty of space round them, etching them clearly on the wide canvas of ppp strings; and the mysterious central episode of noonday heat, where all life seems suspended over a softly pulsing bass drum, sounded enervating rather than ominous, as if the music had cast a spell from which we might never escape. But of course, escape we did, into D major sunshine and an ebullient conclusion. My companion felt that Rouvali's tendency to go slow in stretches of the movement robbed it of tension; it seemed to me that in throwing the emphasis on certain moods in the music he was trying to get us to hear it differently. One consequence – whether intended or not – was that the movement's upbeat ending came as more of a throwaway gesture than a natural conclusion.
Mahler marks the second movement Kraftig bewegt, doch nicht zu schnell – Moving strongly, but not too quickly. Many conductors opt for a lumbering pace that gives the lower strings a chance to dig deep and to emphasise the clumsy, earthy, stamping quality of this clodhopping rural Ländler. Rouvali resisted this, moving it along at what I might call Rafael Kubelik-pace: natural-sounding, but with no hanging around. As always the stopped horns, nagging away at their sneering figure with bells raised, caught both ear and eye.
Rouvali chose to introduce the slyly ironic funeral march with a double bass solo (there is some textual uncertainty about whether Mahler wanted the lead double bass or the whole section to play). Tim Gibbs's stealthy distortion of Bruder Martin set the stage perfectly for this, the most Mahlerian of the four movements, its eerie half-lights and motley grotesqueries noted in passing rather than underlined.
The finale is in effect a drama in its own right (Mahler labelled it, Dall' Inferno al Paradiso). The thunder of two timpanists and full brass should get the adrenalin going, and here it certainly did. The yearning theme that follows on the strings, gently supported by the horns, should be shadowed by pain and even anguish; otherwise it becomes a mere interlude before the storm returns. Rouvali risked that happening here. The clash of arms, the brief glimpse of a distant victory and the sensational breakthrough into triumphant D major – all these were effectively stage-managed, as was the final ascent after the unexpected but effective return to the mood and music of the symphony's opening. And there we were, on the summit, the music blazing all around us, the horn players on their feet in a shining row: as thrilling the tenth time you experience it as it was the first.
That's Mahler. The Philharmonia played him as to the manner born. What of Rouvali? I suspect that the jury is still out.
Chris Kettle