United Kingdom Szymanowski, Brahms: Iwona Sobotka (soprano), Hanna Hipp (mezzo-soprano), Florian Boesch (baritone), London Symphony Chorus (chorus director: Simon Halsey), London Symphony Orchestra / Sir Simon Rattle (conductor). Barbican Hall, London, 17.12.2022. (JR)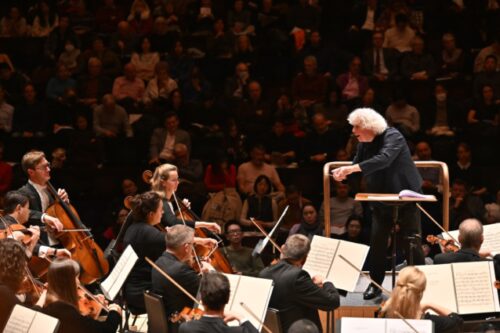 Szymanowski– Stabat Mater
Brahms – A German Requiem, Op.45
In these pre-Christmas days of mince pies and hurried shopping, it is beneficial to reflect on the meaning of life and the grief of losing a loved one. Sir Simon Rattle presented us with two works on this theme, in music which transforms sorrow into sonic beauty.
I was most interested to hear Szymanowski's Stabat Mater in a live performance, not an everyday event. For many, this is the composer's vocal and orchestral masterpiece. Apparently Szymanowski, on completing the last movement, reportedly exclaimed 'At last, I have written something really beautiful'. Rattle knows this work intimately, having recorded it in 1993 during his Birmingham era with the City of Birmingham Symphony Orchestra. This is both music and a composer Rattle clearly believes in.
It is a modest piece both in terms of the size of orchestra and the brevity of its six movements. The whole work only lasts some 25 minutes; and yet it manages to be an expressive and resonant work. The music combines Polish folk tunes with Renaissance contrapuntal practices. The soundworld is approachable; composed in 1925, there is much modernity in the piece, I was reminded of works by Britten and Martinů, written several decades later.
Much of the work is sorrowful, of course, but with two wonderful soloists and a chorus on form (singing a cappella at times), the work overall overcomes the gloom. Florian Boesch was robust, stentorian and crystal clear in his declamatory passages. Polish soprano Iwona Sobotka had the audience transfixed by her gleaming, ravishing top notes. The work certainly has some moments of pure magic, especially for the soprano soloist. Polish mezzo-soprano Hanna Hipp's dark-hued timbre was the perfect accompaniment.
A performance of Brahms's mighty German Requiem is almost an everyday event, so it needs something special to garner attention. Rattle gave us a mature, thoughtful interpretation, about average as far as timing goes. There were no gear changes of tempo, no facial grimaces, plenty of dynamic shading which the chorus followed to the letter. Of course, as Simon Halsey is their chorus director, and given his close collaboration with Rattle over many decades, there was no doubt that tempi would be aligned. Surprisingly, this was the first outing on stage for the chorus since the pandemic and they were visibly glad to be back. They had certainly had plenty of time to rehearse these two pieces, the Szymanowski would have been new to many.
The orchestra was kept small to allow the chorus to be heard; the acoustics of the Barbican Hall are rather muddy and a big orchestra could easily drown out a chorus at the back of the stage. Their German diction was faultless; entries exact, and they had plenty of volume (there are 120 of them). I just sincerely hope they have younger male singers coming through to replace quite a few who must be reaching the end of their singing careers.
The opening 'Selig sind' was hushed to the minimum and most effective, and intonation maintained. In the second movement, 'Denn alles Fleisch' it was the huge climaxes which exhilarated, with help from some exuberant timpani. Boesch remained his reliable, robust self. The orchestra accompanied with finesse, especially in 'Wie lieblich sind deine Wohnungen'. Star of the show was Sobotka in 'Ihr habt nun Traurigkeit' who sang, without a score, with moving eloquence and ravishing high register – the chorus remained seated with their hushed accompaniment. Rattle had everything under complete control, including preventing the audience applauding at the end of the penultimate movement and holding his hands aloft at the very end so as not to break the spell – it was a most satisfying performance.
John Rhodes