Spain Verdi, Macbeth: Chorus and Symphony Orchestra of the Gran Teatre del Liceu / Josep Pons (conductor). Gran Teatre del Liceu, Barcelona, 19 and 20.2.2023. (JMI)
Production:
Director, Sets and Costumes – Jaume Planes
Lighting – Urs Schönebaum
Choreography – Antonio Ruiz
Casts:
Macbeth – Luca Salsi / Željko Lučić
Lady Macbeth – Sondra Radvanovsky / Ekaterina Semenchuk
Banco – Erwin Schrott
Macduff – Francesco Pio Galasso / Celso Albelo
Malcolm – Fabián Lara
Lady-in-waiting – Gemma Coma-Alabert
Doctor / Macbeth's Servant / Assassin / Herald – David Lagares
Macbeth is one of the best operas written by Giuseppe Verdi in his 'galley years'. Performances are always awaited with interest, though doubts do arise because of the vocal difficulties that the score presents to singers, especially for the Macbeth couple.
The opera could last be sent at Barcelona's Liceu in 2016. There are two casts this time and, originally, renowned singers were announced in both as the main protagonists. Unfortunately, both Carlos Álvarez and Anna Pirozzi had to cancel.
This is a new production from Catalan sculptor and engraver Jaume Plensa who, in addition to directing, was making his debut in opera staging. I was disappointed in it – this offered little more than a concert version would. The sets consist of dark curtains, a few moving elements and some faces or masks that hang down at times. As for the costumes, they do not add much either: the chorus is dressed in black and doesn't move on the stage, and the soloists are in costumes that seem better suited to Turandot than Macbeth.
The stage direction is practically non-existent, and using such an open stage clearly affected the projection of the voices. The stage is always dark, and the only movement worth mentioning is from the ballet that has been included.
The conductor was Josep Pons, musical director of the Liceu, who has never convinced me in his conducting of romantic operas, and particularly of Verdi operas. It was all too noisy, with a lack of tension and the absence of any Verdian feeling, especially during the first part of the opera. Under his baton, the Liceu Symphony Orchestra was correct, as was the chorus.
In the first cast, Macbeth was performed by Italian baritone Luca Salsi with his well-known, attractive, ample voice. He sang with gusto, standing out in his arias and especially in 'Pietà, rispetto, amore' (where it seemed to me that 'amore' was changed to 'onore'). He is one of today's important baritones, and he was affected by this very open production more than once.
In the second cast Macbeth was to have been Carlos Álvarez, but he canceled some time ago due to health problems. He was replaced by baritone Željko Lučić, who had just sung the part of Scarpia in Tosca here. Lučić is not at his best – time passes inexorably for everyone. His voice works well in the middle, but he loses a bit of color at the top, where he is tighter and the sound is always in forte. It was all acceptable, but I missed Carlos Álvarez.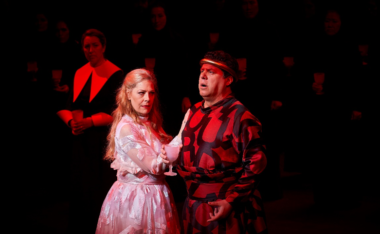 Soprano Sondra Radvanovsky as Lady Macbeth was returning to the Liceu where she had a big success as Tosca a few weeks ago. The biggest ovations of the night were for her. She was indeed excellent, although I thought her voice did not run like other times, significantly influenced by this stage production. She had no problems at the top, with her best moment in the aria 'Una macchia'.
The other cancellation came from soprano Anna Pirozzi, who was replaced by mezzo-soprano Ekaterina Semenchuk. She was convincing on the whole: a strong voice in the center and a good interpreter. The problem is that she is a mezzo-soprano, and the character is written for a dramatic soprano. That means there is an issue with the highest notes: sometimes she avoids them and, at others, she is out of tune, as happened at the end of the sleepwalking scene.
Banco was played on both nights by bass-baritone Erwin Schrott who did well, especially in his Act II aria, although I personally prefer a real bass voice in this role.
Tenor Francesco Pio Galasso as Macduff offered an appealing voice and was remarkable in his aria of the last act, 'La paterna mano'. The second Macduff was tenor Celso Albelo, who sang the always awaited 'La paterna mano' pleasingly, although I found his voice lighter than the part and that aria require.
The three singers in the secondary characters were excellent: Fabián Lara (Malcolm), Gemma Coma-Alabert (Lady Macbeth's Lady-in-waiting) and, in multiple roles, David Lagares.
José M. Irurzun