United Kingdom Roger Peltzman, Dedication: Roger Peltzman (piano, narrator). Marylebone Theatre, London, 9.6.2023. (MB)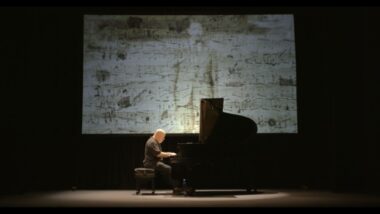 Roger Peltzman's one-man show Dedication is at once a memorial to family murdered in the Holocaust; a reflection on trauma, both that of his mother, who escaped occupied Belgium, disguised as a nun, and his own, of the New York second generation; and a suggestion of how music might help, if never to heal things that are by their nature unhealable, then to live with them. That, I think, is Peltzman's personal claim; it has helped him or at least been his companion. He rightly does not make claims to universality; a post-Holocaust world has, quite understandably, felt it cannot and/or should not. This is a personal testimony and all the more moving – and stronger – for that.
It is also, of course, a performance: an idea and reality that frame all that we see and hear, and yet which also offer different ways in for different audiences. Dialogue across the decades with the uncle he never knew, pianist and Chopin specialist Norbert Stern, becomes increasingly the focus — or at least it did for me. It moved Peltzman himself to study the piano and ultimately to make a Chopin recording, partly relived onstage in the here and now, in the Brussels hall in which Norbert had triumphed. There is, both he and his teacher were convinced, a passage in which Peltzman's performance so takes wing that it ceases to be him and becomes Norbert. Of that they were convinced independently. Following that epiphany, we move to filmed footage of the laying down of Brussels Stolpersteine, in Peltzman's presence, publicly to commemorate the Stern family. We can, of course, never share Peltzman's trauma, yet perhaps we can begin to understand it – and even begin to understand traumas of our own.
There was no doubting the varied ways it had affected audience members the evening I attended: this is an hour to have one smile, cry, and think, often at the same time.
Mark Berry