United States Various, Festival O23 [3]: Opera Philadelphia, Philadelphia, 23.9.2023. (RP)
Afternoons at AVA: Helen Corning Warden Theater
Ethel Trujillo (soprano), Matthew Goodheart (tenor), Benjamin Dickerson (baritone), Musa Ngqungwana (bass-baritone), Luke Housner (piano)
Ravel – Don Quichotte à Dulcinée
Donizetti – 'Ardir ha forse il cielo … Voglio dire'; 'Caro elisire, sei mio! … Esulti pur la barbara'; 'Quanto Amore' (L'elisir d'amore)
Bellini – 'Il rival salvar tu dei…', 'Suoni la tromba e intrepido' (I puritani)
Brahms – 'Auf dem Kirchhofe'; 'Immer leiser wird mein Schlummer'; 'Wie Melodien zieht es' (Fünf Lieder)
Finzi – Let Us Garlands Bring
Karim Sulayman, Unholy Wars: Suzanne Roberts Theater
Production:
Music Director – Julie Andrijeski
Director – Kevin Newbury
Visual Design – Kevork Mourad
Costumes – David C. Woolard
Lighting – Jennifer Fok
Projection – Michael Commendatore
Choreography – Ebony Williams
Cast:
Karim Sulayman (tenor)
Raha Mirzadegan (soprano)
John Taylor Ward (baritone)
Carol Dolphin (dancer)
Orchestra – Julie Andrijeski, Manami Mizumoto (violin), Jay Julio (viola), Vivian Barton Dozor (cello), Tracy Mortimore (violone), Adam Cockerham, Daniel Swenberg (theorbo), Leon Schelhase (harpsichord)
Opera Philadelphia's ability to mine existing synergies with the city's other cultural institutions is one factor in making Festival O fresh, exciting and innovative. These partnerships have ranged from museums, such as the Barnes Foundation, to other musical institutions in the city, including the Academy of Vocal Arts.
AVA is one of the world's premier training grounds for aspiring opera singers. Stephen Costello, Joyce Di Donato, Ailyn Pérez and Ruth Ann Swenson are just a few of the school's graduates who have gone on to international stardom. As part of Festival O23, AVA hosted recitals by alumni who are rising stars, with bass-baritone Musa Ngqungwana (AVA '14) as the featured singer on 23 September.
Ngqungwana opened the recital with Ravel's Don Quichotte à Dulcinée. The richness and beauty of his voice were apparent from the first song in the cycle, 'Chanson romanesque', which was enlivened by Luke Housner jazzing it up in on the piano. Ngqungwana's approach to 'Chanson épique' was more declarative than prayerful, but his voice bloomed gloriously when he asked the Madonna to bless his sword. The concluding 'Amen' of the song was sung in a beautiful head voice. In 'Chanson à boire', Ngqungwana was forthright and robust singing in praise of drink and the joys that it brings.
The recital also featured current AVA resident artists singing alongside Ngqungwana in operatic excerpts. It took a minute or so for tenor Matthew Goodheart to warm up, but once all his pistons were firing, he was an affable Nemorino to Ngqungwana's Dulcamara in selections from Donizetti's L'elisir d'amore. Nature has given Goodheart a fine lyric tenor, good looks and charisma, so with luck we will hear more from him in the future. Comedy comes naturally to Ngqungwana, and he was the perfect foil to Ethel Trujillo's Adina, which showcased her charm and lovely lyric soprano.
Ngqungwana returned to the stage with baritone Benjamin Dickerson in 'Il rival salvar tu déi … Suoni la tromba' from Bellini's I puritani. They engaged in a spirited show of bravura singing as Dickerson's Giorgio urged Ngqungwana's Riccardo to join him in battle to the accompaniment of Housner's rousing playing.
Three songs by Brahms proved perfect fits for Ngqungwana's voice. He brought a sense of urgency to 'Immer leiser wird mein Schlummer', in which he displayed his mastery of legato line. It was, however, in Finzi's Let Us Garlands Bring that Ngqungwana's star shone most brightly as a song singer. There was a lightness in his voice, an affinity with the words and an emotional connection to Finzi's settings of Shakespeare's words that was spot on.
Vaughan Williams, to whom Finzi dedicated the songs on the occasion of his seventieth birthday, described 'Fear no more the o' the sun' as one of the loveliest songs that he had ever heard. Ngqungwana's eloquent performance left no doubt as to why that may be so. The recital ended with Ngqungwana's delightful account of 'It was a lover and his lass', in which he captured the joys of springtime and displayed his skill as a storyteller.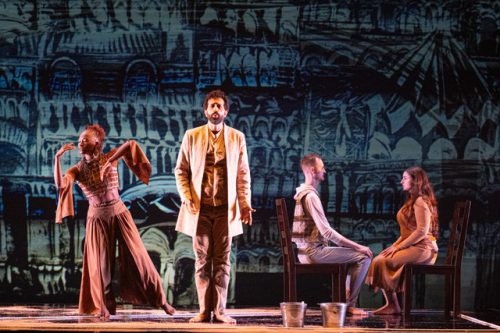 That evening, Festival O presented Karim Sulayman's Unholy Wars, which had premiered at the 2022 Spoleto Festival. Through music, dance and video, Sulayman challenges how Western culture has portrayed Arabs and Muslims, especially in literature and music in the Renaissance and Baroque eras.
Obviously, the peoples who were invaded by the Crusaders have a different spin on this historical era, but European poets and composers of earlier centuries didn't go there. Torquato Tasso in his epic poem Gerusalemme liberate – from which Monteverdi drew the inspiration for Il combattimento di Tancredi e Clorinda and Handel for Rinaldo – portrayed the Crusaders as heroes doing combat with the heathens. In Monteverdi's version of the tale, when Tancredi baptizes Clorinda, whom he has just mortally wounded, he sees the gates of heaven opening to greet her.
In Unholy Wars, Sulayman, a classically trained Lebanese-American tenor, reexamines the musical and historical past by weaving a new story that seeks to balance the playing field between European and Middle Eastern culture and religion. The centerpiece of Unholy Wars is Il combattimento di Tancredi e Clorinda. At the end, Sulayman gave a moving account of 'Lascia ch'io pianga' from Handel's Rinaldo, in which the Saracen princess Almirena begs her abductor Argante, who is a Christian, to free her.
Instrumental works by other Baroque composers, such as Francesca Caccini, Sigismondo d'India, Nicolaus à Kempis and Salamone Rossi are inserted into the piece. In addition to musical interest, they provide the space for dance and film to elaborate upon and reshape perspectives on the Crusades.
Sulayman introduces modern Arabic sensitivities into the story through music composed by Mary Kouyoumdjian and himself. Kouyoumdjian is an Armenian-American composer and documentarian from a family directly affected by the Lebanese Civil War and Armenian Genocide. Their contributions, both electronic with acoustical, fit seamlessly into the aural and emotional flow of Unholy Wars.
Directed by Kevin Newbury, this emotionally compelling story is bound together as much by music as by the visual world Kevork Mourad creates through video. His fascinating images enhance but never overwhelm the music or the performers.
Sulayman was joined by soprano Raha Mirzadegan, bass-baritone John Taylor Ward and dancer Carol Dolphin in the telling of the story. They were accompanied by an excellent Baroque orchestra led by Julie Andrijeski.
The three singers were totally at ease in the Baroque style. Their graceful movements, however, were as much a part of their performances as the sounds they produced. Carol Dolphin was only called upon to move, but her movements were mesmerizing, as was this evocative, innovative performance.
Rick Perdian