United States Britten, A Midsummer Night's Dream: Soloists, Metropolitan Opera, James Conlon (conductor), Metropolitan Opera House, New York, NY. 31.10.2013 (DS)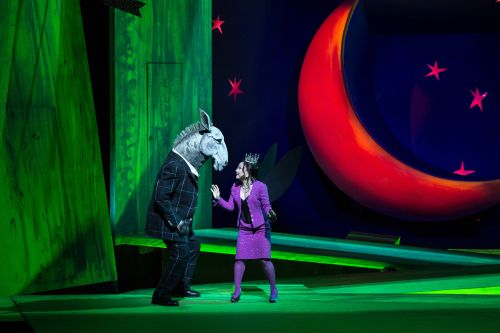 Cast:
Oberon, King of the Fairies – Iestyn Davies
Tytania, Queen of the Fairies – Kathleen Kim
Puck – Riley Costello
Theseus, Duke of Athens – Ryan McKinny
Hippolyta, Queen of the Amazons – Tamara Mumford
Lysander – Joseph Kaiser
Demetrius – Michael Todd Simpson
Hermia – Elizabeth DeShong
Helena – Erin Wall
Bottom, weaver – Matthew Rose
Quince, carpenter – Patrick Carfizzi
Flute, a bellows mender – Barry Banks
Snug, a joiner – Paul Corona
Snout, a tinker – Scott Scully
Starveling, a tailor – Evan Hughes
You do know that fairies come out at night, don't you? On Halloween night—the penultimate Metropolitan Opera performance of Benjamin Britten's A Midsummer Night's Dream—creative guests intent on honoring the "spirits of the night" came dressed as fairies, fairy queens and fairy kings. Before the performance even began, the story seemed to have infiltrated the real world. There was a crackle of magic and whimsy all around, and perhaps no better way to prepare for this 20th-century vocal version of Shakespeare's comic play.
The Met staging kept the energy high with eye-catching washes of bold color and delicately simple costumes that brought to the opera an enrapturing childlike innocence (the fairies wore what looked like cut-out black construction paper wings—really, it was perfect). It all unfolded like an enormous diorama with cut-out moons and make-believe abstract green forests. The latter, for instance, were represented by bright green standing panels with an enormous tree cutting through, horizontally—very clever.
Each act provided exceptional and delightful performances. Countertenor Iestyn Davies epitomized Britten's 17th-century-Italian-opera-mimicking Oberon to a tee, keeping the timbre and energy impeccable throughout. Memorable was his Act I aria about herbs and magic potions, "I know a bank," which was accompanied by a hand slowly emerging from below stage, holding the flower from which the love potion could be squeezed—it sparked a wave of giggles throughout the audience.
Act II's highlight was the comic story of Bottom, played by Matthew Rose, as he turned into an Ass at the whim of mischievous Puck. Dressed in a tailor's suit—but now with a huge horse's head covering his own—Rose portrayed the part with a wonderful balance of physical humor, irony, and abandon. Eventually, Tytania the Fairy Queen, falls in love with him (again at the hands of Puck). The scene between Bottom and Tytania, played by Kathleen Kim, was uproariously choreographed and the two displayed an engaging chemistry—compellingly odd and romantic at the same time.
The final act transported us into daybreak with the sun rising behind shadowy silhouettes emerging before us. The human main characters (two couples whose lives have been shifted by Puck and Oberon from "tragic" to "incomprehensible" to "happily ever after") came out to be married by Theseus, Duke of Athens, and his Queen, both dressed in full ancient Greek bronze regalia. But this was not the glamorous closing chosen by most operas. Britten, with a pre-Monty Python-esque British sense of humor, sits these godlike characters down into average red theater seats, their backs to the audience. A mini-diorama was pushed out on stage, and the comic crew, including the incorrigible Flute portrayed by Barry Banks, put on a play for the newlyweds—a low-budget, madcap tale of Pyramus and Thisbe, acted out in mock-amateur form, the sparkling gem of a work-inside-a-work.
Eventually, all the characters are lulled back to sleep. Puck is left solely before the curtain to speak the last words, "If we shadows have offended, think but this, and all is mended, that you have but slumber'd here while these visions did appear…" Far from offended (and certainly with no chance of sleeping during such a splendidly rendered production), we are sent home with ears full of magical sounds, hearts lightened by comical fare, and minds more attuned to the mysteries of the night.
Daniele Sahr