United Kingdom Walton, Berlioz, Dukas, Chausson, Gray (arr. Black): Sayaka Shoji (violin), BBC Philharmonic Orchestra/Yutaka Sado (conductor), Bridgewater Hall, Manchester, 16.11.2013 (MC)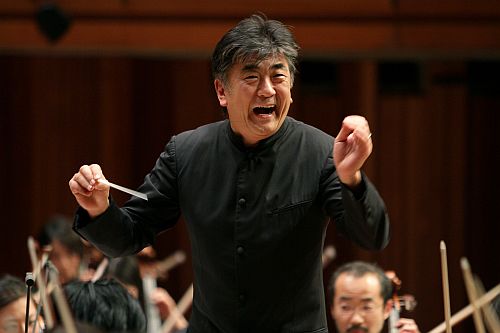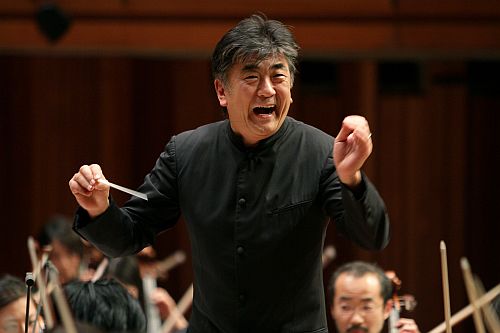 Gray (arranged Black): Thunderbirds Suite (1964)
Chausson Poème (1896)
Berlioz Rêverie et Caprice (1841)
Dukas The Sorcerer's Apprentice (1897)
Walton Symphony No. 1 (1931/35)
Continuing the 'Mancunian Way' theme this BBC Philharmonic concert was certainly a programme of two contrasting halves,  the first half consisting of mainly French Romantic scores all delightfully appealing and, in contrast, the William Walton Symphony in the second half, a restless work of great power.
When I originally made arrangements to attend this concert the Thunderbirds Suite was absent from the programme and was added later. The work might have put a few purists off but there's nothing wrong with a bit of harmless fun. Audience members of a certain age will remember those halcyon days in the 1960s watching the British fantasy television series created by Gerry and Sylvia Anderson presented with a mixture of puppetry on thin wires and special effects called Supermarionation. The theme music to accompany the Thunderbirds TV series was written by Barry Gray who was born in Blackburn just up the road from Manchester and a student of the Manchester Royal College of Music, so it kind of falls within the requirements of the 'Mancunian Way' theme. Using the easily recognisable Thunderbirds March it was Stanley Black who made this arrangement for a surprisingly large symphony orchestra. The work was introduced by Japanese guest conductor Yutaka Sado who revealed to the audience his love for the Thunderbirds TV series as a child back in Japan. Enclosed within Black's original music its big rousing theme sounded fabulous and the work made a splendid curtain raiser serving to warm up both the players and the audience. The verdict was FAB.
Next talented Japanese violin soloist Sayaka Shoji performed a pair of highly perfumed Romantic violin showpieces from French composers: Chausson's Poème and the Berlioz Rêverie et Caprice. Although written sixty years apart their respective sound worlds are rather similar. Immediately I was struck by the large sound from Shoji's 1729 'Recamier' Stradivarius, her clean, precise playing imparting a delicious mellow tone felt evocative of warm Mediterranean sunshine. With Shoji conveying a flood of poetic feeling in her vivacious playing I could almost forgive hearing these two scores at the expense of a violin concerto.
More appealing French music came from the pen of Dukas with his exquisite symphonic poem The Sorcerer's Apprentice. The score's inclusion in Walt Disney's classic 1940 film Fantasia certainly led to a universal popularity that still holds firm today. This was Maestro Sado at his most generous securing colourful playing from the BBC Philharmonic bringing an abundance of joy and sparkle to this impressively crafted warhorse of the repertory.
Providing a sharp contrast to the sweet-toothed music that had gone before the meat of the evening's programming was provided by Walton's magnificent Symphony No. 1. Born in Oldham, Greater Manchester, Walton was a perfectionist who wrote slowly. His First Symphony is a case in point, as he worked haltingly on the score from late 1931 until its completion in 1935. Bristling with nervous anxiety and aggression I'd love to know what really provoked all this hostility.
In the opening movement Maestro Sado took me by surprise initially with his slightly tentative approach. Most noticeably I expected a heavier more powerful sound across the orchestra especially from the low strings. The weight of sound did gradually increase to a terrific brass laden level of force with thundering timpani strikes. Marked con malizia (with malice) the second movement with its fresh, exultant feel reminded me of a buccaneering Errol Flynn soundtrack. A melancholic flute part is crucial to the Andante a movement profuse with beautifully played woodwind figures. Throughout Walton's tortured writing felt like a reflection of prolonged emotional pain. Here the glorious playing from the Philharmonic strings attained an elevated level that I rarely encounter in the concert hall.
With Sado's assured handling of the Finale the joyously buoyant playing was perfectly balanced and the appearance of the big theme was keenly dramatic and exhilarating. Increasingly brass infused and percussion heavy writing heralded the conclusion of this magnificent symphony resulting in a triumphant ending of real power and vivid colour. Eschewing flamboyance and fuss Maestro Sado just got on with the job of making great music which was made significantly easier by the professionalism of this highly talented orchestra.
The concert was broadcast live on BBC Radio 3
Michael Cookson