United States Verdi, Falstaff: Soloists, Chorus and Orchestra of the Metropolitan Opera, New York / James Levine. (conductor).  Met Live in HD (directed by Gary Halvorson) broadcast to the Odeon Cinema, Chelmsford, Essex, 14.12.2013. (JPr)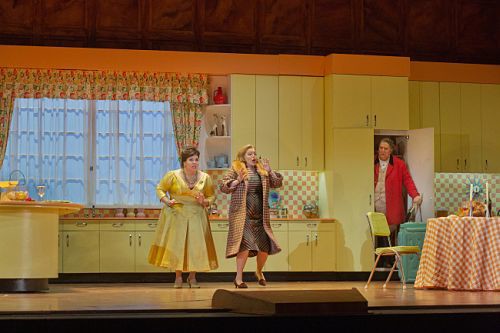 Cast:
Nannetta: Lisette Oropesa
Alice: Angela Meade
Mrs Quickly: Stephanie Blythe
Meg Page: Jennifer Johnson Cano
Fenton: Paolo Fanale
Falstaff: Ambrogio Maestri
Ford: Franco Vassallo
Production:
Director:  Robert Carsen
Set Designer:  Paul Steinberg
Costume Designer:  Brigitte Reiffenstuel
Lighting Designers:  Robert Carsen, Peter Van Praet
I am beginning to warm to Falstaff and we have the Verdi bicentenary to thank for that as it gave me the opportunity to see – and thoroughly enjoy – the opera twice over a fairly short period of time. After Richard Jones' 2009 staging for Glyndebourne, I have had the opportunity to see again Canadian Robert Carsen's recent new production for Covent Garden that is also set in the 1950s and not the time of Henry IV. In 1975 (yes the 1970s!) Falstaff was one of the first operas I saw there in its lavishly traditional Franco Zeffirelli staging with the incomparable Geraint Evans in the title role. At the Met, Carsen's version replaced a much-loved Zeffirelli one dating from 1964!
Previously, this opera has never been a favourite of mine and it headed a short list – headed by Ariadne auf Naxos – that I am happy to return to from time to time in the hope that I understand what the fuss is all. This summer's Falstaff at Glyndebourne caused me to have something of an epiphany  and my affection for this opera was intensified by seeing it now under the microscope of this Met Live global broadcast. Perhaps it is an age thing and I am mellowing as the years pass by – though I doubt it? We all know that in 2013, 80 is the new 70 but for Verdi to première this masterpiece – and yes I am finally willing to admit it is as that! – in 1893 at such a great age is astonishing. It is not as if Verdi was just reliving past glories in Falstaff, as there is a degree of musical invention involved here in the ensembles and contrapuntal finale that Verdi never used before. Taking his inspiration from librettist Arrigo Boito's cheery adaptation of Shakespeare's comic verse, Verdi responded with often joyful, always intricate and extremely sophisticated music that almost perfectly matches the flow of those words when sung.
When I first saw Paul Steinberg's sets at Covent Garden I thought how 'broadcast-friendly' it seemed as it was 'a very "horizontal" production' with its faux-wood panelling occupying about two-thirds of the depth of the stage and everything played out across the entire width of the stage. Through Gary Halvorson's camera work and Carsen's direction, nothing appeared forced and little of the artifice of opera was seen in this wonderful comedy of manners, apart from the odd anxious glance to prompter of conductor on rare occasions.
Many people will have now seen this Falstaff in the cinema (it was also transmitted from the Royal Opera House in 2012) and it will become a staple of a number of other theatres for years to come as it is a co-production with La Scala, Milan, the Canadian Opera Company, Toronto, and De Nederlandse Opera, Amsterdam. This is an England that is recovering after World War II and life will never be the same again for many of those who had enjoyed a life of privilege earlier in the twentieth century. A more modern nouveau riche age is emerging of entrepreneurial men and more liberated women. Falstaff is an old reprobate lodging in a luxurious country hotel, the 'Garter Inn', with his dubious companions, Bardolfo and Pistola. We first encounter him in an oak-panelled room on a large bed in filthy long-johns (that he never changes) and surrounded by evidence of several days' room service he clearly doesn't have the money to pay for. Falstaff has clearly 'gone to seed' but retains the braggadocio of former days and still believes he is god's gift to women despite his obesity that for him is evidence of his importance and potency. Ambrogio Maestri is a man mountain who does not need any padding and in Act I relishes his paunch that he refers to as 'mio regno' (my kingdom). Maestri is a marvel and was born to sing this role – and indeed has done over 200 times; for Brits who have not seen him think Bernard Bresslaw of the Carry On films – and those in America, the nearest equivalent is Zero Mostel.
Ford shows off his 'new money' with a 'Betty Crocker' kitchen complete with all the 'mod-cons' of the post-war time and bright yellow and orange fittings. There is still some class-consciousness (as there still is in England even in 2013) and much fun is made of the 'chattering' garishly-dressed women disrupting diners and pre-empting the decline of the British Empire by invading the men's retiring room. In full hunting regalia Falstaff (as the master of the hunt?) presents his inamorata, Alice Ford, a fox's tail as a gift and she cooks him a turkey! Carsen's staging is at its best in the madcap Richard Jones-inspired search through all the cupboards for Falstaff when Ford and his workers storm through the kitchen hoping to catch him in flagrante delicto with his wife. Seeing this all in detailed close-ups allows the audience an opportunity to pick up on things they might so easily miss in the theatre, such as when in the earlier 'dining room' scene (that should actually be a garden setting) Bardolfo picks up a napkin to give it back to a diner and then walks off and rifles through her handbag. Once again I appreciated Carsen's nice touch when life literally stands still for Nannetta, Ford's daughter, who is in love with Fenton, only a humble waiter, and they delight in finding time for a few moments together.
After the interval – and in a stable setting – a horse is seen nibbling some hay and upstages all else as the curtain raises. At Covent Garden Falstaff appeared in the Windsor Great Park scene on the horse but I am glad the animal was saved that fate here! I still feel that Carsen now seems to run out of ideas – until a stunning final tableaux when everyone sits down at a wedding supper. Carsen clearly knows Richard Jones's previous work and there is a use of his familiar tables as a 'runway' for Nannetta to walk down in her bridal gown as 'Queen of the Fairies' and for a clearly reluctant looking Falstaff to roll along uncomfortably – as both character and performer – to be tormented by cutlery-wielding cloaked horned figures (very drab costumes here from Brigitte Reiffenstuel) all ready to 'feed' on the glutton. Even if it is the wrong Shakespeare – and as I have written before  – 'All's Well That Ends Well' – as Nannetta and Fenton get Ford's blessing after Dr Caius, whom he intended for her, is 'married' to Bardolfo. Falstaff accepts the life-changing experience he has had – but whether he has truly learnt his lesson Verdi and Shakespeare leave the audience to decide as he still sings about not only being witty in himself, but the cause of that wit in others!
It was a generally splendid cast but more significantly, a worldwide audience could see that the Metropolitan Opera's music director, James Levine, continues to recuperate from the illnesses and injuries that have sidelined him in recent years. He remains however confined to motorised wheelchair that is on top of a specially elevated platform that is his personal podium but his ability to conduct such a high-spirited fast-paced work suggests he is almost fully restored to health. All the evident exuberance and happiness we saw on stage – despite all the intrigues going on – was fully matched in the silky Verdian richness we heard through the cinema speakers from Levine and his orchestra.
Ambrogio Maestri was totally believable as Falstaff; his baritone voice is as imposing as his physique but (unlike his girth) he can slim his sound down to a delicate whisper if necessary, also he has a well-supported legato and an impressive top to his voice. He never overdoes the comedy and the pathos he elicits is all the better for his restraint. The tall and short, Christian Van Horn and Keith Jameson were the engaging pair of rogues, Pistola and Bardolfo, and Carlo Bosi repeated his fussy Dr Caius from Covent Garden. Franco Vassallo was the uptight Ford, embarrassed and infuriated by his wife's perceived deceit; he had less charisma than some can bring to the part. Paolo Fanale and Lisetta Oropesa were well-matched as the pair of lovers, Fenton and Nannetta, both were rounded characters infatuated with each other and their voices blended well together. Angela Meade was an open-faced, conspiratorial Alice Ford; Stephanie Blythe was a suitably fruity-toned and blowsy Mistress Quickly, a redoubtable women easily able to play Falstaff at his own game and win! Jennifer Johnson Cano joined in all the fun and games as Meg Page and to complete the entire ensemble the Met's chorus was its usual wonderful self. I just wondered sometimes whether the casting of the women was just a little ironic because Falstaff has his leg-pulled throughout because of his size yet only Lisette Oropesa's Nannetta – among the central female quartet – could be described as slim.
Renée Fleming (who sings the title role in Rusalka, the next Met Live broadcast in February) was our genial hostess once again. Backstage we saw a little too much of the over manned stage crew mostly standing around and having little to do, but the interviews were the usual mix of interesting information and sometime unintentional humour. We were reminded that this was Angela Meade's first comedy role after Norma and all the big Verdi heroines she sings. Stephanie Blythe was the youngest of the four girls when she first sang Mistress Quickly at the Met in 1996 and now is the oldest. James Levine reminded us how few really great comic operas there are and that 'Meistersinger and Figaro are at the top of the heap … with Falstaff at the very top'. Ambrogio Maestri (who said he was 'born in a kitchen' and shared Falstaff's 'joy of life, food and women') was shown cooking(!) risotto with sausage, mushrooms and saffron and – if all that stage crew lolling around were not enough – we were told there were 25 people dealing with the props alone for this opera!
Jim Pritchard.