Switzerland  Offenbach: Tales of Hoffmann   Soloists, Chorus of the Zurich Opera, Philharmonia Zurich, conductor: Fabio Luisi, Zurich Opera, Zurich. 21.3.14 (JR)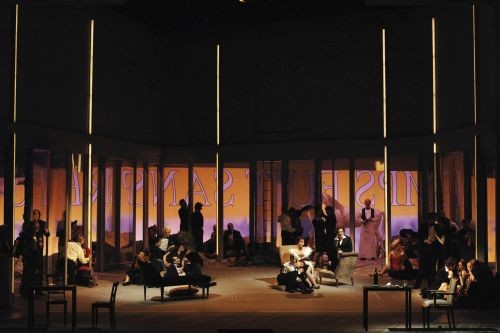 Cast:
[table]
Hoffmann (sung),Erin Caves
Hoffmann (acted),Claudia Blersch
Olympic,Jane Archibald
Antonia,Rachel Harnisch
Giulietta,Alexandra Tarcineru
Stella,Susanne Grosssteiner[/table]
Lindorf/
Coppelius/
Dr. Miracle/
Capt. Dapertutto, Laurent Naouri
The Muse/
Nicklausse/
Andrès/[table]
Cochenille, Anna Stéphany
Frantz[
Pitichinaccio,  Michael Laurenz
Spalanzani,  Benjamin Bernheim
Crespel,  Reinhard Mayr
Peter Schlémil,  Cheyne Davidson
Master Luther,  Dimitri Pkhaladze
Nathanaël,  Andreas Winkler
Hermann,  Kresimir Strazanac
ilhelm,  Alessandro Fantoni
Antonia's mother,  Irène Friedl
[/table]
Production: [table]
Producer, Grischa Asagaroff
Sets, Bernhard Kleber
Costumes, Florence von Gerkan
Lighting, Jürgen Hoffmann
Chorus, Jürg Hämmerli
Dramaturgy, Ronny Dietrich
The captain of the Sbires, Christoph Filler
[/table]
Offenbach's "Tales of Hoffmann" has a strange reputation. Offenbach was best known for his light operettas, "Hoffmann" was his first (and it transpired last) attempt at more serious opera. When it was first performed in Paris in 1881, the composer had been dead for 3 months; the work became to be viewed as Offenbach's last testament. The opera, whilst full of light melody and comic touches, is not, as many think, a comedy but actually quite sinister – in each Act a different satanic figure thwarts Hoffmann's passion.
 The work was thought to be cursed right from its inception: The Viennese theatre (the Wiener Ringtheater) where the Austrian première took place in December 1881 was burnt to the ground a few days after the performance, killing nearly 400 people.  Six years later, another fire burned down the Opéra-Comique, destroying the score as Offenbach had left it.
 When Offenbach died, he had not actually produced a definitive score, so a performing edition had to be quickly produced. That is why, today, there are a number of different editions and the opera can last anything from three to four hours. (Offenbach had, for example, planned a final duet between Stella and Hoffmann, but it has never been found).
 This production stems from 2009 when it was particularly ill-fated. The original producer Thomas Langhoff fell seriously ill just one day before rehearsals began, requiring an operation, and Zurich in-house producer Grischa Asagaroff sprang to the rescue. And then, just before the première, Elena Mosuc, who was to have sung the roles of all the leading ladies, contracted a throat infection but managed to act the parts rather than sing them. Three understudies saved the day, as did David Zinman in the pit.
 So what could go wrong this time?  Would the curse strike again?  Well, American tenor Bryan Hymel was scheduled to sing the role of Hoffmann at this revival, but sure enough he picked up an infection and has now bowed out of the entire run of performances. At extremely short notice, the opera house found American tenor ErinCaves who is based in Frankfurt, now free-lance and until recently a member of Stuttgart Opera. (The remaining performances will be sung by Belgian tenor Marc Laho). As Caves did not have time to get to know the stage movements, the opera house's in-house Spielleiterin Claudia Blersch acted the part, becoming a non-singing trouser role. Caves sang from the sidelines, in casual dress. It was not a total disaster: Caves sang tolerably well, in very difficult circumstances; Blersch, thankfully, did not overact. I have to admit that when images of Der Rosenkavalier sprang to mind, I closed my eyes to visualise a young male Hoffmann wooing his female targets.
 Bernhard Kléber's sets depict, in the outer Acts, a Parisian bar/bistro attached to a theatre; in the inner Acts he creates a large space surrounded by plexiglass panels which can open, turn and slide according to the action. Mirrors play an important part, particularly when Hoffmann sells his reflection to the Devil. One of the panels was so unfortunately placed that the entire Stalls could watch and be distracted by the head of the Souffleur instead of following the action.
 Costumes underlined the idea of metamorphosis between reality and fantasy. The chorus are Coco-Chanel "High Society", in evening dress. The automaton Olympia is a Marilyn Monroe look-a-like, controlled by console with flashing coloured lights and tablet notebook.
 There were two vocal and acting stars of the show: first, Nova Scotian soprano Jane Archibald as Olympia simply sparkled with her coloratura and looked as though she was enjoying her performance as much as we were. The second star was unarguably Laurent Naouri, from Marseilles originally, a perfect demonic figure with a Mephistophelean grin playing Lindorf, Coppelius, Dr. Miracle and Captain Dapertutto. His rich dark bass-baritone and looks matched the part; he also had – as to be expected – by far the clearest diction.
 Wisely the opera house decided not to tempt fate and had selected four different sopranos. Rachel Harnisch is a Swiss soprano, well known in Zurich. She sang with consummate style and accuracy, though the role of the ailing Antonia is less visually attractive than the wind-up doll and the courtesan. Alexandra Tarcineru sang the role of Giulietta, the Venetian courtesan, with Slavic dusky timbre and looks: both suited the role.
 Michael Laurenz as Andrès, Cochenille, Frantz and Pitichinaccio made good use of his excellent comic talent and firm strong voice. Anna Stéphany, of half-British, half-French descent, stood out for her forthright portrayal of The Muse, her lower and middle registers were particularly pleasing. Benjamin Bernheim as Spalanzani was exemplary. I was less taken with Reinhard Mayr as Crespel and Cheyne Davidson looked bored as Schlémil. Other more minor roles were adequately filled.
 Luisi in the pit was best in the more agitated passages though he lavished plenty of attention on the delightful Barcarolle in Act IV.
 Wagner described the opera as mere frippery. True, it lacks musical substance but on a good night, with a good tenor, sparkling production and impressive sopranos, its tunefulness and amusing sketches can delight. This revival opening night did not however get off to a very auspicious start.
John Rhodes