Germany Bayreuth Festival 2014 (5) – Wagner, Lohengrin: Soloists, Chorus and Orchestra of the Bayreuth Festival / Andris Nelsons. (conductor), Bayreuth Festspielhaus, Germany. 31.7.2014. (JPr)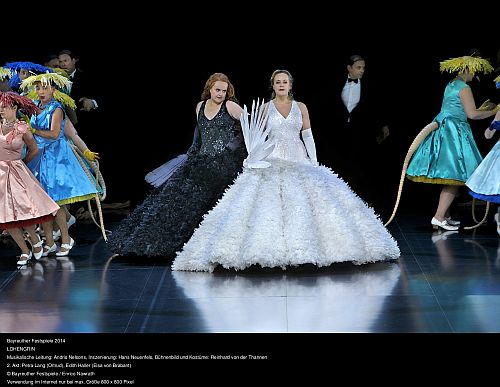 Cast
Heinrich der Vogler: Wilhelm Schwinghammer
Lohengrin: Klaus Florian Vogt
Elsa von Brabant: Edith Haller
Friedrich von Telramund: Thomas J Mayer
Ortrud: Petra Lang
Herald: Samuel Youn
Production
Director: Hans Neuenfels
Sets and Costumes: Reinhard von der Thannen
Lighting: Franck Evin
Video: Björn Verloh
I opened my review last year with the following comment about Hans Neuenfels's current staging of Lohengrin: 'A rat-infested production that had the audience scratching its head (possibly for fleas?) on its first appearance in 2010. Now it is in its third revival and nearing legendary status on the Green Hill. It appears it will be seen again for the next two years before two of the singers that make the evening so wonderful – Klaus Florian Vogt and Petra Lang – move to a new production of Parsifal and the replacement Lohengrin will feature in the 2018 Festival.' This has undoubtedly become one of the most popular operas seen on the Green Hill this generation.
I have reviewed it in 2010 , 2011, 2012 and 2013 and I was back again and very happy to be there … though I am running out of anything different to say about it.
I doubt anyone could argue that Hans Neuenfels is being any less ironic about Wagner than Frank Castorf in his 2013 Ring but unlike that open-ended confusion spread over four nights – Neuenfels eschews Wagnerian grandeur and mystery for comic satire with a bit of Disney cuteness (small pink rats!) thrown in to get an 'ahh!' response. To Neuenfels's credit he has one Konzept and he sticks with it and sees it to a conclusion. I would need someone with far more intelligence than I have tell me the basic difference between Neuenfels's rats and Castorf's crocodiles? One is cheered whilst the other is booed.
 Here instead of some rats doing party tricks for their captors/scientists in an experimental maze it is the rats that have gained the upper hand like the simians in the Planet of the Apes series of films and they appear to have the humans where they want them. Actually the rats also represent social order while all else (Elsa?) is doubt, chaos and fear. Having fought to gain access to this hidden world – again another sci-fi reference is appropriate here as it is version of the world of the Morlocks and Eloi in H G Wells's The Time Machine – Lohengrin promises to be their saviour on the understanding that his bride-to-be does not ask who he is or where he comes from. He offers enlightenment and will banish the former ways of resolving issues such as a fight to the death because it might provide God's judgement (Gottesgericht) or the machinations of a typical pantomime evil queen, Ortrud, a follower of the old religion, who is busy plotting Elsa's downfall and the rise to power of (herself and) her husband, Friedrich von Telramund.
 Only the two issues I have raised before still remain unresolved even after talking to members of the cast – perhaps only Neuenfels himself knows? – and these are: (1) what is the significance of Rat 79 who we see involved in important moments, including attacking the king in Act I, scavenging the upturned coach at the start of Act II and being involved in the plot against Lohengrin in Act III?;  and why later in this act do the 'soldiers' have an 'L' on their uniforms before Lohengrin reveals his name? If anybody does know, can they contact me before the final performances next year? I accept I can over-analyse things but it is great that for some peculiar reason everything seems to service the story splendidly even if the narrative is rather more obscure than in a 'normal' Lohengrin.
 Perhaps compared with previous years it was more like a cartoon version of the swan knight's tale and the world we are shown is less clean and sterile – and so less threatening and apocalyptic – than it was back in 2010 or 2011 for instance. However this remains Wagner at its very best scenically and musically. Edith Haller was the new Elsa, replacing Annette Dasch, her fleeting vocal fragility only added to her very affecting performance even though despite her expressive body language there was the feeling that she was just replicating what someone else had done and not made the role her own yet. As her nemesis, Ortrud, Petra Lang sneered and leered with potent malevolence as only she can, and she is currently peerless in this role. Ms Lang's vocal range is amazing and she now has the secure top to her voice that allows the delirious lunacy of her final Act III outburst to make an even more stunning impact than before. When Ortrud strangled the Perspex swan I almost believed it and when she was being her most obsequiously conniving and put a hand on Elsa's shoulder it made me jump too!
 The men were equally fine: Thomas J Mayer sang firmly and was a menacing, if put-upon, Telramund. Samuel Youn was an incisive and firmly authoritative Herald and Wilhelm Schwinghammer was a very impressive King Henry considering Neuenfels does not allow to act either regally or commandingly in any way. Klaus Florian Vogt is still a magisterial Lohengrin and can do no wrong with the Bayreuth audience; he is already scheduled to sing Parsifal and Walther von Stolzing in future summers. His piping choirboy tenor retains a wonderful sweetness of tone and is always a delight and 'Im fernen Land' was sung with near-perfect poise and legato, as well as, great (apparent) ease.
Andris Nelsons' masterly conducting set a purposeful pace and allowed some rapt playing from the Bayreuth strings – despite their having a few more rough moments than I am used to – and there were transparent textures throughout. Interpreted at such a high level Lohengrin is the most alluring and seductive of all Wagner's operas. Some more fine singing came from the chorus, magnificently coached as always by Eberhard Friedrich, and their singing is one of the highlights of any summer listening to Wagner in Bayreuth.
 Jim Pritchard
For more about the Bayreuth Festival visit http://www.bayreuther-festspiele.de/.