Argentina Gounod, Roméo et Juliette: Soloists, Chorus and Orchestra of Buenos Aires Lírica, Conductor: Javier Logioia Orbe. Teatro Avenida, Buenos Aires. 21.10.2014. (JSJ)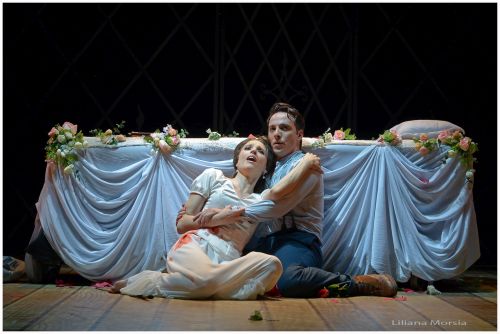 Cast:
Juliette: Oriana Favaro
Roméo: Santiago Ballerini
Frère Laurent: Walter Schwarz
Mercutio: Sebastián Angulegui
Stéphano: Laura Polverini
Count Capulet: Ernesto Bauer
Tybalt: Iván Maier
Gertrude: Vanesa Mautner
Duke of Verona: Christian Peregrino
Pâris: Alejandro Spies
Grégorio: Enzo Romano
Benvolio: Darío Leoncini
 Production:
Director: Mercedes Marmorek
Sets: Nicolás Boni
Costumes: Lucía Marmorek
Lighting: Alejandro Le Roux
Chorus: Juan Casasbellas
Each year Buenos Aires Lírica includes at least one little performed or known work in its repertoire and this year it was Gounod's second most popular opera Roméo et Juliette.
Famously criticised at its opening as the work "in which the composer is always pleasing, though seldom impressive," it dates from 1867, approximately mid-way among Gounod's opera compositions. And it is based obviously, and largely faithfully, on Shakespeare's eponymous play in which the star-crossed lovers are immortalized.
Whether or not one agrees with that criticism, there's no denying the brilliance and power of the music in giving substance to the drama and driving it towards its inexorable end – as powerful in its poignancy, I would argue, as any. Of course much also depends on particularly the two main principals and here Oriana Favaro was a delicate Juliette, singing with beauty and clarity, while Santiago Ballerini was a lyrical and passionate Roméo.
Against the two lovers the other roles are relatively minor yet still provide opportunity to shine. Walter Schwarz was a correct Frère Laurent and Iván Maier suitably aggressive as Tybalt. Ernesto Bauer, Juliette's father Count Capulet, is maturing nicely into such "older" roles, and Laura Polverini excelled in the trouser role of the page Stéphano, while all the other roles were adequately filled.
Javier Logioia Orbe was on the podium and apart from some unevenness at the start elicited some wonderful lyrical playing from the orchestra.
Which brings us to the production. While one wouldn't necessarily expect the work to be set in the 1590s, when Shakespeare is believed to have written his play, and the trend is of setting works in any period at the whim of the director, it can still be done sensitively. Unfortunately that was not the case here and while Paris instead of Verona and can-can dancers could have worked, it was marred by such kitschy symbols as a lit sign reading 'L'amour' and a giant heart surrounded by lights – as if we needed to be told that two young people are in love! Nevertheless the sets by Nicolás Boni and Lucía Marmorek's costumes were effective.
That criticism aside, all in all this was a memorable production and 'bravo' to Buenos Aires Lírica for putting it on and for completing another successful year of activity in what have been increasingly difficult financial times.
Jonathan Spencer Jones