France Verdi: Un Ballo in Maschera, Capitole Orchestra and Chorus, Daniel Oren (conductor), Théâtre du Capitole, Toulouse, 30.9.2014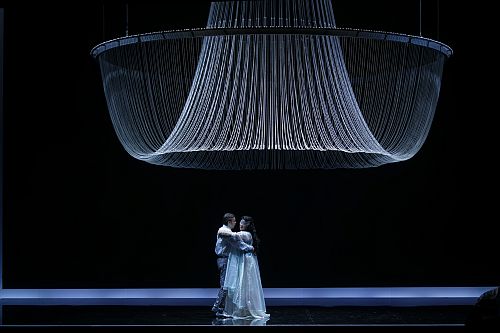 Cast:
Riccardo: Dmytro Popov
Amelia: Keri Alkema
Renato Vitaliy Bilyy
Ulrica: Elena Manistina
Oscar: Julia Novikova
Sam: Leonardo Nevia
Tom: Oludaratskiy
Silvano: Aimery Lefèvre
New Production: Théâtre du Capitole in co-production with Nürnberg Staatstheater
Direction: Vincent Boussard
Sets: Vincent Lemaire
Costumes: Christian Lacroix
Lighting: Guido Levi
The Capitole opened their opera season with this Verdi work, the prologue to an interesting schedule, especially the two operas by Benjamin Britten in November. I'm referring to Owen Wingrave and The Turn of the Screw, an absolute must, and should also mention the presence of Tristan und Isolde and Betrothal in a Monastery, a delicious Prokofiev opera. Hopefully my next trips to Toulouse will be  calmer than this one which was marked by severe flooding in the south of France and Catalonia.
For this occasion,the Capitole commissioned a new production by Vincent Boussard, and the result is rather bland. Works by the French director usually include costumes by Christian Lacroix, an important asset but, it seems to me,insufficient to save a production. It's a minimalist work with the action taking place on a single stage with three solid walls and props added for the different scenes. The exception is the scene of the masked ball which features light, colorful costumes and a big chandelier.
Solid direction is essential in a minimalist production, but this staging lacks it. Judging by the costumes, the action appears to have been moved to modern times, and there are some absurd details. For instance, in the Ulrica scene, a large chorus of young girls is dressed in pajamas, not to mention the courtiers in the same scene in modern coats and…ruffs, including the Count (although he is supposed to be disguised as a fisherman). The last scene is not really a masked ball, since there are almost no masks, but rather a "disguise ball," although curiously Riccardo attends undisguised. Overall, the direction was nonexistent and the actors were rather static, leaving expressiveness much to be desired.
Daniel Oren was at the front  of the musical direction, and he offered a good reading, full of energy as is usual with him, but he might have missed some continuity with all this intensity. There's no doubt that his windmill arms, his jumps on the podium and even his snorts are rather superficial and even annoying, but the truth is that Verdi was present in the house with some excess volume. He drew an excellent performance from the orchestra, and I found the Capitole chorus improved, which is good news.
Riccardo was played by tenor Dmytro Popov, the most interesting singer in the cast, who left a very positive impression.At 33 he has a wonderful future ahead, provided he takes care of his repertoire. He's a full lyric tenor with an attractive and ample voice, quite homogeneous through the tessitura. He has the additional advantage that his top register opens up nicely, and he's capable of nuances when required. There are not many tenors for this role with his quality,and he should not sing it too often since there a few occasions when he pushes his voice. In my opinion, opera houses have an excellent choice with him inthepurelyrictenorrepertoire.
KeriAlkema's Amelia had some ups and downs. Until recently, this singer was focused on the mezzo soprano repertoire, but she has moved to soprano. She has a wide and attractive voice, though somewhat impersonal.The best part of her performance was the aria "Morrò, ma prima ingrazia." The "Orrido campo"was less interesting, and she missed a phrase just when the score goes up to the top notes. I have the impression that there was some uncertainty on her part,but the overall effect wasn't bad.
Vitaliy Bilyy as Renato was disappointing. His baritone is one of the most important today, but he confuses singing with decibels. His character was always one-dimensional, as if he had not heard of the dramatic complexity of Verdi baritones, and his lack of expressiveness was remarkable.
Elena Manistina sang the part of Ulrica, and she came up short in vocal terms. This role demands something different than a normal mezzo soprano. Instead, it almost requires a contralto, or at least a mezzo soprano with good low notes. As in the past, Elena Manistina was rather disappointing in the  character.
Julia Novikova was a good interpreter of Oscar, once she got past her arioso in the first scene. Things went better after that, and she offered an attractive voice and good singing line.
In the secondary characters I should highlight baritone Leonardo Neiva as Sam, who was excellent. Something similar, albeit at a lower level, can be said of Oleg Budaratskiy as Tom.
The Capitole was almost sold out. The audience was rather cold during the performance but offered a warm reception to the artists at the final bows. The biggest cheers were for Dmytro Popov and Daniel Oren. The creative team got some boos.
José Mª Irurzun