Saimir Pirgu, the Albanian Tenor, in Conversation with Margarida Mota-Bull (4.10.2014)
Saimir Pirgu is a young Albanian tenor (thirty-three) who is rising fast through the ranks of the operatic world. He has just finished his run as the Duke of Mantua in Verdi's Rigoletto in a production by David McVicar at the Royal Opera House. It was there, at the stage door that I went to meet him on Saturday, 4th Oct, in the afternoon. He immediately struck me as a spontaneous, warm and friendly young man, unassuming, honest and generally happy. He was outgoing and easy, making some good-humoured comments about British weather, as it was pouring down with rain and rather cold in London. I followed him into his dressing room where we sat down to talk.
Pirgu began his musical career in Elbasan, an industrial city in central Albania, where he was born. He studied music from age seven at the Liceo d'Arte and later at the Conservatorio in Albania's capital, Tirana, and became a violinist first, as he so lively tells us in his interview below: "My first meeting with opera was on television, watching a Three Tenors' big concert." It was a rare live TV broadcast from outside the Communist bloc of a performance of The Three Tenors: Luciano Pavarotti, Plácido Domingo and José Carreras. As Pirgu explains rather charmingly when he eventually met his idols, meaning Domingo and Pavarotti, he told them: "Listen guys, it's your fault that I'm a tenor! If I hadn't seen you perform together, I'd probably still be a violinist or a conductor or something else."
At the tender age of nineteen, Pirgu left Albania to study in Italy at the Conservatorio Monteverdi in Bolzano. He was taught by Vito Brunetti, who remains his coach to this day. Pirgu soon showed his talent and, as he puts it, "I realised very soon that I would become an opera singer." He completed his training at the Conservatorio in only two years and won the Best Singer Prize in 2001. The following year he went on to win two international awards: the Enrico Caruso competition in Milan, which is just for tenors, followed by the Tito Schipa Competition in Lecce.
Saimir Pirgu comes across as a focused, sincere, dedicated and determined young man who is at ease with his life and who loves his profession. Owner of a warm, velvety voice with a variety of nuances and dramatic expression, Pirgu considers himself a lyric tenor and does not wish to concentrate or specialise in one particular repertoire.
He impressed me as an artist who is well aware of his strengths and limitations and who knows how to manage his career, giving himself time so that his voice can evolve naturally. Something that he thinks does not happen much today: "Even when there are people with real talent, our style of life on the fast lane doesn't give enough singers the opportunity to develop, to go at their own pace. They just go as fast as they can and then the voices are of course ruined in a short time." He has also a good sense of humour and his openness about his work is not just refreshing, it is also commendable. For example when asked if he had a dream role, he replied spontaneously with a genuine smile: "Yes, I have but they're all dreams that I cannot sing! I love Puccini's 'Manon Lescaut' but I can't sing it. I think that I will sing it one day when I'm very old, alone, just for myself in a small theatre…" For me personally, it was also a real pleasure listening to him speak about his passion for Mozart and Verdi: "In Mozart's and in Verdi's music you feel…as we say in Italian 'sente la musica della terra' – there's passion, there's humanity. With some composers it's just thinking, they're rational…" and so, "…they're not real. In Mozart and Verdi you see the real power of music."
Saimir Pirgu is possibly one of the most promising young lyric tenors around and with his dedication to the craft and his positive, hard-working attitude, I have no doubt that he will go far and make a brilliant career.
For me, he was also one of the most interesting subjects that I have ever interviewed, alongside such greats as Joyce DiDonato, Joseph Calleja and Jonas Kaufmann. Decidedly, Mr Pirgu is a real pleasure to talk to and I cannot wait to watch him perform the Shepherd next year, opposite Mariusz Kwiecień, as King Roger, in Szymanowski's Król Roger.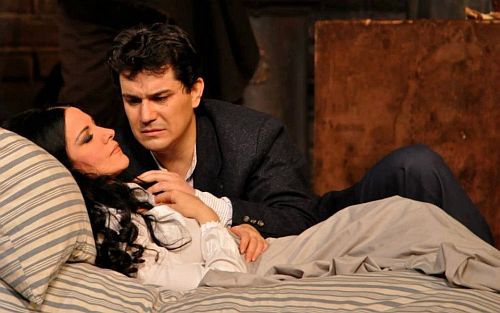 Edited Transcript of Interview with Saimir Pirgu:
MMB: Good afternoon Mr Pirgu. I would like to start by asking something about your country if I may [he nods]. Sadly, I know very little about Albania and I'm curious to find out if there is a great operatic tradition.
SP: There is a certain operatic tradition but it only started after the Second World War, after 1945. However, with the Communist regime, it was difficult. It wasn't something that fitted in with their ideas very well, but construction of an opera house was begun, as well as of several theatres around the country. The opera house is in Tirana, the capital city, and although it is the only one in the country, it functions well. Albania has a lot of quality voices – bearing in mind the small size of the country – perhaps because we're part of the Mediterranean region. As for the tradition from a public perspective, I mean an audience with an established tradition of opera-going, it is a little different. It has taken a long time to get "opera fans"… now, with our beautiful opera house, we have a public, but of course it can't be compared to Vienna's or London's or Munich's or those elsewhere because we're a small country, but I'm very glad that there are three or four Albanian opera singers making careers around the world. For this small country… it's almost too much [he smiles]. It's enough, for now, to have a few Albanian opera singers.  Of course, Albania is a beautiful country – not just because it's my country but it's really beautiful. We have magnificent mountains and beaches. The Albanian Riviera is amazingly beautiful… and so, I'm very happy and proud to be Albanian. [He smiles warmly with genuine sincerity]. I'm also Italian now; I have both nationalities.
MMB: Ok. Very interesting. So, how did you come to opera?
SP: It's actually a curious story. I was a violinist before and…well, when I say that I'm a product of three tenors nobody believes me but my first connection to opera was "The Three Tenors". I was born in Elbasan – a city in central Albania, an industrial city – and there was no opera house, just a concert hall, nothing special, just a really small hall but the music school there was very good. My first meeting with opera was on television, watching the first Three Tenors' concert.  So when I arrived in Italy, at the Bolzano Conservatory, to study with my teacher Vito Brunetti.
MMB: Lovely story, thank you. As I read your biography, it became clear to me that you were a child under the Communist dictatorship, which was in charge of the country from 1945 to approximately 1991. Did you feel that this situation in Albania impacted your choices and your career in any way?
SP: No. I was very young and I really didn't grasp it. I was too young to know but those final years of Communism were actually the hardest to live through in Albania – there were terrible economic problems. Then, the change from Communism to the new regime was also very difficult.
MMB: Is there a singer or a musician (alive or dead) whom you find particularly inspiring? Somebody you look up to? A role model?
SP: There are a lot. There are two or three composers and two or three opera singers that are an inspiration to me.. I feel that I'm a musician first and an opera singer second. I really love: Mozart, Verdi and Dvořák because all three are very special, although I also like other composers, such as Beethoven, etc. I speak about these three composers because I'm always amazed. How is so much talent possible in each one of them? In terms of singers, well, I'm a tenor so I greatly admire, as I mentioned earlier, Pavarotti and Domingo. They made my life completely different. Particularly, Luciano Pavarotti. I was very young when I met him and began realising very soon what it meant to be a tenor because I had in front of me one of the best. And then, ten years later, I'm singing at the Metropolitan with Plácido Domingo, another of the big, big tenors, a great artist and standing on the same stage, singing the same role that he had sung for many years, it was incredibly emotional for me. I cannot tell you in words what I felt. It was overwhelming to be with these two huge artists – not only stars but also two wonderful men, particularly Plácido who is really a thoroughly nice person, a wonderful actor, and a great musician.  Everything! They both are [Pavarotti and Domingo] extraordinary examples of what a career can be. I truly admire them greatly.
MMB: Looking at your repertoire, I noticed that it is rather eclectic. From Mozart to some bel canto roles, some lighter Verdi, some Puccini and then some very dramatic roles: Massenet, Gounod and even two Russian composers. What challenges do you face in Mozart, for example, as opposed to bel canto roles? Do you do anything differently if preparing for Mozart as opposed to Donizetti for example?
SP: I don't believe that singers should focus on only one repertoire because good singers need to sing the whole repertoire…well, probably not the 'verismos'… but I'm not talking here of very specific singers, I mean, I'm not talking about Mozart tenors or of Baroque Music, I'm talking about the lyric voice, the tradition of a Beniamino Gigli or di Stefano or Pavarotti; Domingo himself has sung a lot of different works, in totally different repertoires … Their voices are lyrical so they have had the opportunity to sing Mozart, bel canto and also Verdi and Puccini.  Right now, we have many singers such as Piotr Beczała or Jonas Kaufmann, who have done this. They sing an eclectic repertoire of Mozart, some bel canto and now are singing other repertoire.
MMB: I think that Jonas Kaufmann is possibly an exception. He can sing anything.
SP: Yes and I love listening to him as well
MMB: Okay. Staying with your repertoire, I noticed that you have only one Rossini role: Belfiore from Il viaggio a Reims. May I ask why?
SP: Because to be a Rossini tenor you need to have this voice [he takes his hand above his head, indicating height]. The reason why I was at the Rossini Festival was Alberto Zedda. He completely directed me and guided me, he said: "It's better if you stay here because you're too young…" – I was just nineteen, twenty – "because if you're going to sing bel canto so soon, you'll probably lose everything. So, stay here and I will give you something smaller and not particularly requiring of agilità or abbelimenti and not too high and you'll still have the Verdi and Donizetti when you're a little older." So, that's what I did. So, I was singing Petite messe solennelle and La cambiale di matrimonio, all these roles which don't require a typical Rossini tenor, because their range is in between that of a lyric and a leggiero tenor. So, after that when I started in Vienna with my appropriate repertoire: Mozart and L'elisir d'amore, and so on. I think I will continue in this way. I'm only thirty-three and…
MMB: You like variety?
SP: Yes, it's stimulating and now, it's time for me to see what I can do best, then in the next ten years, I'll probably be more focused on my true repertoire.
MMB: As we were talking just before I started recording, you mentioned you are at the moment singing the Duke, the infamous Duke of Mantua in Verdi's Rigoletto, here at the Royal Opera House in London. This is a role that you have sung often. How do you play a character such as the Duke who is not exactly nice? And what are the musical challenges?
SP: First, singing the Duke is really difficult because the character, as you said, is infamous. He's really hard to play. From a very early stage I understood that I would be a dark Duke. I don't like to be a nice Duke or a naïve Duke, as that is really an indifferent production. I've done modern productions and classic, more traditional productions, and I like the Duke to be heavy (not in weight, of course, but in character) and so very dark. I don't think I'm one with the public there. I could do "La donna è mobile" just singing it (not acting it) and probably people would be happier because they – and I – would just be focusing on the voice – but it's not him. It's not the character of the Duke. I like him dark and even though some critics and some members of the public are not happy with this, it is my interpretation. The Duke needs to be: "Look at me. I'm here. I'm myself. I'm the Duke. Listen and watch only me."
MMB: So, in this production, how did you approach the role of the Duke?
SP: Here, I fully respect the approach of the director; I really respect David McVicar's ideas. I think it's a little too much for the public. Perhaps the orgy is not of the period but I think it fits with the character of the Duke.
MMB: Going back to your repertoire, I was thinking that there are certain opera characters that are emotionally draining and very demanding to play, as for example obsessive, depressive Werther in Massenet's opera based on Goethe's novel or tragic Roméo in Gounod's Roméo et Juliette based on Shakespeare's play. How do you prepare for such characters? Do you prepare in a different way? Do you go back to the written work?
SP: Yes, sometimes I go back to the written work but I must say that when I sang Roméo et Juliette, I didn't meet with big problems because for my voice it was easy to sing Roméo. And I found no issues with the character from an acting perspective because the story is real: I mean, two young people love each other and love is the only important thing. On the other hand, with Werther I found lots of problems. To understand the figure of Werther – his ideas – was extremely hard. I can tell you that I wasn't happy with my interpretation. I think that I was too young and didn't have much time to get inside the character. It wasn't a new production and I lacked time to prepare adequately, but I wanted to do it because I like to play every new role first – if I can – in a small opera house, just to experiment and see how it turns out. I realised that Werther, like Faust and Hoffmann, is a role where you really need to be totally prepared, both mentally and vocally, as they're really big, big roles. In Werther, the voice was probably fine but I realised that I wasn't Werther. They're not roles to try for the first time in London or La Scala. If you do a Duke [the Duke of Mantua in Rigoletto] some people like it and others don't, but you'll be all right. However, if you do the wrong Werther, then everybody will remember and your career could be ruined because, you see, everybody is coming to see the Werther, the person who plays the character and if it's not good enough, it is like going to see Traviata and not having Violetta.
MMB: Yes, it's a good analogy [and we both laugh].
SP: [He turns serious again] Werther has to be real, you have to be real in every second and I'm not just talking about the voice. You have to be Werther.
MMB: Next year you'll be back here at the Royal Opera House…
SP: [He interrupts with a smile] Yes, next year and I will be back often to the Royal Opera House. I love singing here. It's a lovely opera house.
MBB: Indeed, it is a lovely opera house. So, next year you will be adding a Polish composer to your repertoire and yet another language, as you will be singing the Shepherd in the new ROH's production of Szymanowski's Król Roger (King Roger). So, the Shepherd is not the title role, but it is he who unleashes the action. What challenges are you facing preparing for the part both in dramatic and musical terms?
SP: In two days I'll be having a meeting with Kasper Holten and will also be meeting Maestro Pappano to discuss the role and how to prepare for it. Musically, well, Szymanowski's music is fantastic. I really enjoyed it when I listened to it the first time and asked myself: "Oh! My God! How come I didn't know him [Szymanowski] before?" The opening is amazing, I mean, the music is really incredible. It's the music of a visionary. I fell completely in love with it. With the libretto, well, I need to be more prepared because really, it's the most complicated libretto that I've ever seen in opera. You need to be inside Szymanowski's head to understand what he means and what he needs for all this spiritualism.
After the meeting with Kasper Holten I'll know his ideas for this new production and then we'll see how we can bring together my ideas and Kasper's for the role. In another interview before yours, I was asked if I thought that the public of London would love the opera and I really think that yes, they will. Let me try to explain. Of course for the critic or the musician, Szymanowski will be extraordinary because the music is magnificent, but for the public it may be the production and I'm very curious about what this production will be, which will try to find a new public for this music. I'm very happy to be singing the Shepherd because although King Roger is the lead role, it's the Shepherd who starts everything. I will really try to do my best because I really like the role.
MMB: I believe that the lead role in Król Roger will be sung by Mariusz Kwiecień, one of the great baritones of our time and who is also Polish. Do you think the role is enhanced if, as in this case, sung by a Polish national?
SP: Probably yes. I mean when people can sing in their mother language it's much better than to be from another country but that doesn't mean that, for example, Bryn Terfel doesn't sing well in Italian. Do you understand what I mean?
MMB: Yes, I do.
SP: Opera singers sing in many languages. However, I agree that if we had a Polish tenor, it would be easier for him to sing the role of the Shepherd because it's his own language. It doesn't necessarily mean that he'll be better than a German tenor, or an Italian…
MMB: Or an Albanian.
SP: [He smiles] or an Albanian. Because, as I said, opera singers sing in many languages and it doesn't mean anything
MMB: Which brings me nicely to my next question. As we talked just now, you will be singing in Polish for Król Roger, so yet another language. You sing in a variety of languages: Italian, French…
SP: German [he is keen to add].
MMB: So, are languages sort of natural to you?
SP: Yes.
MMB: Or do you have to work really hard at them?
SP: No, no, they're really natural to me. Of course, you need to learn the language very well, I mean to study it, if you can but I mean, I've never learned German or English or French as such… and I'm not perfect but I have good coaches and I try to prepare very well so that first, I don't feel bad with myself and second, the public will not think the language poorly pronounced.
MMB: Are you thinking of adding other new roles to your repertoire in the future besides the Shepherd?
SP: Well, the Shepherd is an experiment but I will be staying in the lyric repertoire and find new roles.  For example, Faust or in the next five to six years, as I said, try another Werther and see how my voice evolves. At the moment, I'm very happy with what I'm doing with the lyric repertoire and more Donizetti and more Verdi will help my development. Then, we'll see what's going on [he smiles warmly].
MMB: Looking at your discography, I told you in the beginning that I thought that "Angelo casto e bel" was your last CD and I apologise for my mistake, as you said it's your first [he nods]. Anyway, again, in that CD, you go through a good deal of composers – Mozart, Donizetti, Massenet, Verdi – but what intrigued me is that you sing a piece by Bononcini and another by Pergolesi. Why these two particular composers? I must say that they were two that I wasn't expecting to find.
SP: Well that was exactly my idea [he smiles]. You see that CD was not to show that Saimir Pirgu was the best opera singer in the world! It was a document to show what Saimir Pirgu could do at twenty-two. At that time, I was singing those roles. Some of them I will sing later again. My purpose was to document why Saimir Pirgu became well known at the Salzburg Festival and then in Vienna and around the world. It's just a document of how I was as a young singer.
MMB: I must say it's a lovely recording. I liked it.
SP: Thank you. And of course we didn't have a lot of time or a lot of 'posh possibilities' but Universal could make the around-the-world distribution and so I made the recording. I'm very proud of it. It's not a disc to say here is the next tenor, it's just a document of what I know or knew then.
MMB: In February next year, I think you're scheduled to sing a recital at Wigmore Hall here in London.
SP: Yes, that's right.
MMB: Do you think recitals are important? Why?
SP: I think that if you have an audience, then, yes, they are important because then you are giving something to your public. They're also important to expose singers who are not as known in one country but are in another. For the critics, a recital is important because they can see and hear the singer at different moments, different parts, different arias and different layers of voice all in one evening. So people can see in just one recital that I can sing, for example, Alfredo in Traviata, Duke in Rigoletto, Puccini or Mozart. A recital says more about you as a person and an artist. For opera stars, it's completely different. They do many concerts and recitals because the public loves them, they have a faithful audience who wants more, more and more and so the stars have to satisfy them. It depends.
MMB: What do you prefer: a recital or a staged opera?
SP: Stage opera. Stage opera, of course.
MMB: Why?
SP: Because I'm a stage man. I'm a stage man, yes. I like myself doing my best on stage. I just love to be on stage. The stage is my life.
MMB: Is there a composer that you feel you cannot sing?
SP: Oooh! There are a lot, I fear. Puccini and composers of the verismo. Verismo is really difficult and you need to have the voice to sing it. You need to have a heavier voice to resist these big orchestras. If you don't, you've lost your combattimento with the orchestra. Presently, we have more beautiful orchestras, bigger orchestras, more powerful, and the level of pitch is higher and higher. The development of the orchestra since the 19th Century is enormous but our voices haven't changed that much. Humans need like a thousand years to change their voices and so I don't even understand why they keep building bigger opera house and larger concert halls while the voice remains the same. Then, people complain that they can't hear you. Well, of course they can't hear you! There are a hundred people playing there in the orchestra and I'm just one person. So, what can I do? In Verdi's time there were four violins, one contrabass and little more – not at La Scala, of course – but anyway, today even the smaller orchestras have the opportunity to have excellent musicians and outstanding instruments. In Verdi's time this was only the case in places like La Scala, Naples or Paris but, for example, in a city like Toulouse, it would be people from the city playing and it's not that they were bad, but the quality of music was much lower than today. Our voices did not change. Presently, our lives are too fast, the speed of life doesn't wait for a singer to develop properly. Sometimes we have opera singers for only two, three, four, five years perhaps and then they're gone. And who cares if they are finished? Let's just get the newer one. People want new, new, new opera singers but such singers need time to develop, as I mentioned. So, now, we probably have wonderful theatres but fewer great opera singers. Even when there are people with real talent, our style of life on the fast lane doesn't give enough singers the opportunity to develop, to go at their own pace. They just go as fast as they can and then the voices are of course ruined in a short time. This is the danger of our lives. I think we are still at the beginning of a new century and I think the start of every century is problematic. We're not living in a good moment right now.
MMB: What would be your dream role if you have one?
SP: Oh! Yes, I have but they're all dreams that I cannot sing! [He laughs good-humouredly]. I love Puccini's Manon Lescaut but I can't sing it. I think that I will sing it one day when I'm very old, alone, just for myself in a small theatre [he laughs again then turns serious] but, on the other hand, I don't know what can happen in the future. But yes, I love Manon Lescaut and at home, I have a recording with Plácido Domingo singing it [he pauses with a sigh of admiration] and he was amazing. Amazing!
MMB: Okay and do you have a favourite composer?
SP: Oh, yes, I mentioned them earlier: Mozart and Verdi. They are, to me, the greatest opera composers ever.
MMB: Why?
SP: Mozart, for example: anything that he touched just became like a miracle in his hands, and Verdi is the combination of artistry, writing and heart. He was a man with so many qualities. He had an outstanding sense of the theatre, of drama and of music. If you think that when he listened to Wagner, he stopped for ten years to think about the music and then, at the age of eighty, he composed Boccanegra, Falstaff and Otello, it's just incredible. Then, you realise that this isn't just a normal man, he's something special… perhaps [he smiles] not so human!  With half the brain human and the other half completely different from the normal, average person. And with Mozart it is exactly the same. When you study Mozart's music, you find that he could control every single note and change it without changing the format of the music. If you look at Mozart's and Verdi's careers, the change of format is minimal – though Verdi changed a bit at the end due to the new music – but anyway, they knew the human voice and stayed with what is best for it. In Mozart's and in Verdi's music you feel…as we say in Italian: sente la musica della terra – there's passion, there's humanity. With some composers it's just thinking, they're rational, no heart, no humanity. So, they're not real. In Mozart and Verdi you see the real power of music.
MMB: Finally – this is the last question [he laughs] – how do you relax?
SP: Oooh! [He takes a deep breath]. Thank God I'm young! I have a lot of hobbies and I'm enjoying my life, enjoying this moment. I'm trying to take as much vacation as possible because I love to go snorkeling and… I really love my life. I think I'm very fortunate to be able to travel around the world, learning different cultures and mentalities, different people. So, I think that I can't demand more from my life. I'm very happy. So, often I try to relax with my work and be happy with what I have. I thank God thousand times a day that I am what I am.
MMB: And now – really it's the end, I promise! – a question that one must ask every tenor. Do you sing in the shower?
SP: [He laughs]. Sometimes… when I'm happy but I think everybody does. But the most important thing I'd like to add is that I pray when I'm happy. Most people pray when they're unhappy, they pray for help, support and so on. I pray when I'm happy and thank God for it, for my good moments. For me la vita è bella… People, I think, tend to focus on the bad moments in life and forget what they have that's good and beautiful. Also, when I'm in some place, I try to do things. For example, here, I've had three days off and I went to Stonehenge with my Mum, just to see and enjoy it. I realised I had such a good opportunity to go there and I took it. Other people don't do it – or perhaps can't do it – so, I took photos and told my public via Twitter and Facebook: "Look at this place! It's something beautiful! Miraculous!" People should try to do these things. So, I really enjoy my life.
MMB: Fantastic! Thank you for your time. It was a real pleasure to meet you.
SP: Thank you. I enjoyed myself too.
Margarida Mota-Bull
For further information, please access:
http://www.facebook.com/saimirpirguofficial
Twitter: @saimirpirgu