United States Robert Wilson, Daniil Kharms, Darryl Pinckney, The Old Woman, Royce Hall, Los Angeles, 14.11.14-15.11.14 (JRo)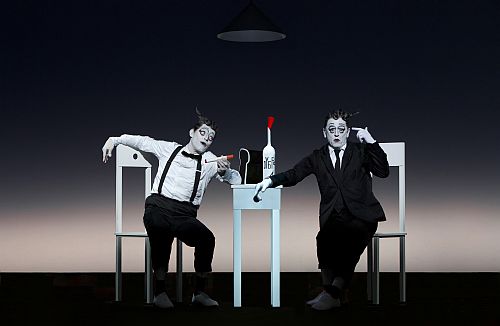 Cast
Mikhail Baryshnikov
Willem Dafoe
Production:
Direction, set design, lighting concept: Robert Wilson
Author: Daniil Kharms
Adaption: Darryl Pinckney
Music: Hal Wilmer
Costumes: Jacques Reynaud
Light Design: A.J. Weissbard
Make up: Marielle Loubet/Natalia Leniartek
Whether dancing and crooning like a Dadaist Bob Hope and Bing Crosby or wailing like dying coyotes, Baryshnikov and Dafoe bring a scorching vitality to the stage as they interpret through spoken word, dance, and song the absurdist universe of the Russian poet, Daniil Kharms, as seen through the magic lens of Robert Wilson.
With hints of Russian avant-garde theatre, Surrealist cabaret, English music hall, American vaudeville, and nineteen-seventies experimental theater of Lower Manhattan from which Wilson evolved (and Dafoe participated in with the Wooster Group); this night of divine lunacy has Baryshnikov dancing flamenco with a pair of dentures as castanets and Dafoe capering with a string of sausages.  They wear dusty dark suits and ties, their toupees are arranged in a curious corkscrew of hair pointing sideways, and their faces are painted Geisha-girl white with black circles rimming their eyes like spectacles.  Mirror images of each other, the duo performs symbiotically: sometimes they repeat the same phrase in unison; sometimes Baryshnikov translates Dafoe's English into Russian.  But whether they act as the writer and the old woman, or as two best friends, or as the oppressor and the oppressed, together they are a force of nature – clowns caught up in an indifferent world, shrugging off pain with a jab of the arm or a kick of the leg.
Adapted for the stage by Darryl Pinckney, the novella, The Old Woman, is an evocation of a writer and his travails over the taunting corpse of an old woman.  Kharms, born in St. Petersburg in 1905 suffered, as so many of his fellow artists did, at the hands of the Soviet Regime.  His writings read more like fragments of thought, narrative, and pain wrapped up in a package of absurdist humor.  Pinckney fractures the tale even further, giving us repetitive verbal vignettes compressed into twelve scenes.  Sometimes the repetition weakens the work – one could wish for a bit more of Kharms' text from the story to find its way into the dialogue – other times it adds to the humor.  The evening has its maddening moments with all the repeated phrases, a bit like a stuck recording.  But the quiet grace of scenes such as Baryshnikov confiding in the audience in Russian (discreet titles in white positioned on black panels on two sides of the proscenium translate), or Dafoe and Baryshnikov in a poignant embrace offers a counterpoint to the aggressive repetition.
Wilson's sets have the strong flavor of Russian Constructivist theater design from the nineteen twenties and Vavara Stepanova and Liubov Popova's designs in particular. Suspended trapezoidal window frames, a giant swing, linear angled and mangled furniture, a chicken coop, and a giant suitcase, all set on a stark stage, form the platforms on which Dafoe and Baryshnikov sit, recline, and cavort.  Whether creating a Constructivist pallet of black, white, and red or using vibrant primary colors, the lighting concept of Wilson (light design by A.J. Weissbard) paints the scenes with luscious pops of pigment.  But Wilson's world, though it glimmers with artistic and theatrical influences, is unique to our times and sets the bar for contemporary, Minimalist design and staging.
The recorded music, assembled by Hal Willner, weaves standards like "Tiger Rag" and "Goodnight Sweetheart," with Tom Waits' boisterous, carnival-esque "Innocent When You Dream."  In the more pensive moments there is Arvo Pärt's haunting music.  For a few moments we are treated to the singing talents of Dafoe and, a surprise, Baryshnikov singing sweetly in Russian.  As far as the dancing goes (there is no credited choreographer), Dafoe's long legs kicked, strutted, and spun around the stage like a pro's.  And Baryshnikov?  Just to see him point a foot or display a graceful hand enthralls.  But he does far more than that.  His body takes on the attributes of in turn, a vaudevillian, an old woman, and a young lady.  The duo dances everything from an absurdist tango to a soft shoe with walking sticks.  Though the song and dance elements of the piece are not its driving force, let me ask: Could this be the beginning of a beautiful partnership?
Jane Rosenberg