Puccini Madama Butterfly. Soloists, Chorus and Orchestra of the Royal Swedish Opera, Lawrence Renes (conductor). Royal Swedish Opera, Stockholm 8.11.2014. Premiere (GF)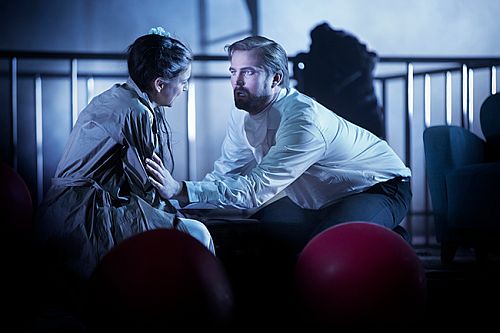 Cast: [table]
Cio-Cio-San (Madama Butterfly), Asmik Grigorian
Susuki, Ktarina Leoson
B.F. Pinkerton, Daniel Johansson
Sharpless, Karl-Magnus Fredriksson
Goro, Niklas Björling Rygert
Prince Yamadori, Magnus Kyhle
Kate Pinkerton, Kristina Hanson
Butterfly's uncle, John Erik Eleby
The child, Kristin Leoson
and others
[/table]
Production:
Directed by Kirsten Harms
Sets, costumes and masks: Herbert Murauer
Lighting design: Torben Lendorph
On the surface Madama Butterfly is the story of an impossible love between a couple from different cultures, but director Kirsten Harms is not interested in politics – she wants to analyse the relations in this story, which could take place anywhere in the world. Herbert Murauer's sets and costumes are still Japan-oriented even though the 1950s furniture more likely belongs to a public lounge than a private home. In the second and third acts the room has fallen into decay and the characters have to balance on the floor-joists. But the setting soon loses its importance when the drama tightens, and Kirsten Harms has endeavoured to lay bare emotions and aggressions in the little geisha that we didn't believe she was capable of. She is still a victim but not of the compliant kind. In the first act big love duet – one of the greatest scenes in all Puccini – she is hesitant at first but her love overcomes her reservations and Daniel Johansson's handsome Pinkerton radiates such warmth and caring that they soon entwines in the most affectionate embraces. Even here the spell of the performance was so strong that the audience was completely captured.
Cio-Cio-San's stubborn refusal to realise that her beloved wouldn't return in the second act was just as heart-rending and her anger and the physical strength she was able to muster when she knew Goro was manipulating her made, I hope, the hearts of the onlookers beat a lot faster out of compassion with her. But even this pales when in the last act it dawns on her that everything is lost. Her desperate roar, her destructive powers when she more or less goes berserk, her determination to save her honour by committing hara-kiri – all this was performed with such determination, such – seemingly – uncontrolled fury that I don't think I have ever seen something of its kind in an opera house. It left me breathless – and I am sure the rest of the audience felt the same.
In this opera the title-role is of course all-embracing. Butterfly is on stage almost from beginning to end and it is her emotions, her sorrows that touch us all the time. Latvian-Armenian soprano Asmik Grigorian says in an interview that she is a lousy actress. "I can only be myself!" If that is so she must have been born to perform Butterfly – and she certainly has close connections with the opera. Both her parents were opera singers (her father is the famous tenor Gegam Grigorian of the Mariinsky Theatre) and they sang Butterfly and Pinkerton when her mother was pregnant with Asmik. As a child she later played the child in the opera. She has the youthful looks and slim figure to make a believable geisha and her singing was absolutely ravishing. She has been Manon Lescaut, Lisa (Queen of Spades), Tatyana (Eugene Onegin), Senta (Der fliegende Holländer) and is due to sing Leonora (Il trovatore) and has the dramatic heft to do justice to Cio-Cio-San's intense outbreaks but also the beauty of tone and breath-control to spin a slender pianissimo-phrase.
Daniel Johansson sang Tamino two years ago in Stockholm – and very well too – but it is the lirico-spinto repertoire that is his true metier and the warmth and glow in the duet and beauty of Addio fiorito asil in the last act just confirmed my opinion that he is one of the very best tenors in Scandinavia. Karl-Magnus Fredriksson is always a pleasure to listen to and he was an uncommonly compassionate and understanding Sharpless. Katarina Leoson added an excellent Suzuki to her growing list of memorable characters; Niklas Björling Rygert's oily Goro and veteran Magnus Kyhle's Prince Yamadori never put a foot wrong. Last but not least: Kristin Leoson moved the audience almost to tears as Butterfly's child. In the pit the Royal Orchestra was in glorious shape under Lawrence Renes' inspired conducting.
A triumphant production!
Göran Forsling