United Kingdom  Brecht/Weill, Rise and Fall of the City of Mahagonny: Soloists, Chorus and Orchestra of the Royal Opera House, Covent Garden / Mark Wigglesworth (conductor). Relayed to the Empire Cinema, Basildon, Essex. 1.4.2015. (JPr)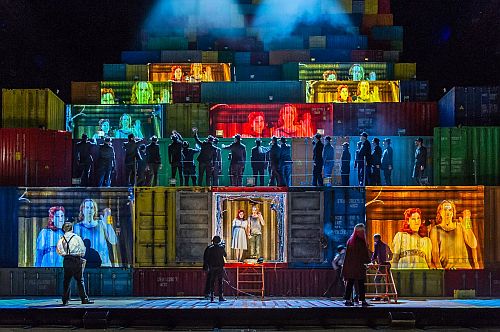 Cast:
Leocadia Begbick: Anne Sofie von Otter
Fatty: Peter Hoare
Trinity Moses: Willard W White
Jenny: Christine Rice
Jimmy McIntyre: Kurt Streit
Jack O'Brien: Jeffrey Lloyd-Roberts
Bank Account Bill: Darren Jeffery
Alaska Wolf Joe: Neal Davies
Toby Higgins: Hubert Francis
Girls: Anna Burford, Lauren Fagan, Anush Hovhannisyan, Stephanie Marshall, Meeta Raval and Harriet Williams
Voice: Paterson Joseph
Bar Pianist: Robert Clark
Production:
Director: John Fulljames
Set designs: Es Devlin
Costume designs: Christina Cunningham
Lighting design: Bruno Poet
Video designs: Finn Ross
Choreography: Arthur Pita
Translation: Jeremy Sams
Bertolt Brecht's philosophical outlook when he began collaborating with Kurt Weill is often considered to be nihilistic. Although nevertheless wary of the chaos that Marxism might result in – because it aimed at a classless utopia with peace and justice for all – it appealed to him nonetheless and he discovered a satisfying discipline in communism. Brecht's best plays cast a typically disparaging eye on the degeneracy resulting from the thirst for profit. The Threepenny Opera (1928) was a liberal adaptation of John Gay's eighteenth-century English satire, The Beggar's Opera, and its anti-hero Macheath has lived on longer than Brecht and the composer, Kurt Weill, could have ever hoped through the song 'Mack the Knife'. Ironically for a work steeped in its own irony as it targets the evils of the capitalism, The Threepenny Opera brought fame and great wealth to Brecht and Weill and after this success Brecht wrote more plays promoting his ideals. Although his collaboration with Weill was only fairly brief, their most ambitious project soon came to the stage: this was another 'American' work, Rise and Fall of the City of Mahagonny premièred in Leipzig in 1930.
Despite clearly being another wonderfully satirical indictment of capitalism, especially near the end when a kangaroo court meters out justice and only a 'man without money' deserves to be executed because 'in the whole human race there is no greater criminal' … or whatever Jeremy Sams's new updated translation might have had at this point. It is a very problematical work because it could be – and has been – a full-blown opera, a music-theatre piece or something of a hybrid of these two approaches. Weill's complex score mixes traditionally hummable – if occasionally atonal – operatic arias and choruses with jazz and cabaret-style numbers. I suspect a serious approach to Mahagonny demands a purely operatic approach as when it was first put on in Leipzig. As such it is the mirror image of other early twentieth-century German operas such as Alban Berg's Wozzeck and Lulu or Schoenberg's Moses und Aron. Following the rise to power of the Nazis – and since no opera house would perform the work – it was revised and put on at a music-theatre venue in Berlin; Lotte Lenya was Jenny the prostitute keen not to miss out when the going is good, and intriguingly it was conducted by Alexander von Zemlinsky. After the war Lenya – very much a singing actress – became synonymous with the role mainly because if she didn't do it, no one else would.
Mahagonny is founded by three 'ne'er-do-wells' (Leocadia Begbick, Fatty and Trinity Moses) fleeing federal agents and dedicated to the pleasures of eating, sex, fighting and alcohol, in that order. To begin with the city has some strong rules and regulations, but soon anything goes. The gullible lumberjack 'hero', Jimmy McIntyre, sees one friend, Jack O'Brien, gorge on corned beef and eat himself to death, whilst he loses another comrade, Alaska Wolf Joe, in an unfair fight before offering to buy everyone the drinks he has no hope of paying for … and for that – as mentioned earlier – he is sentenced to death.
Brecht admitted that the conception of Mahagonny was also as an 'anti-opera' piece because he was keen to subvert familiar tropes such as the usual depiction of love. Here it is just a commodity and the closest we get to true love is the relationship between Jimmy and Jenny. However, when she is given the chance to pay off his debt and save him, she tearfully regrets that while she does love him and will miss him dearly, she cannot be separated from her money. Also after a hurricane spares Mahagonny its 'Fall' is pre-empted because now the residents feel liberated to carry on just as they please and naturally they want to love – or at the least have some sex – so the theme of love is further perverted as we see a queue of men each waiting impatiently for his own turn with the prostitutes.
Mahagonny last rose (and fell and disappeared) at one of the UK major opera houses in 1995 with English National Opera and now the Royal Opera considered it worthy of another hearing. In 2015 James Fulljames equates the lawless dystopia that Mahagonny descends into with London's recent resurgence from the depths of the recession as 'a city that sits at the heart of the world'. This he suggested has been fuelled by migration and this is undoubtedly true, as well as, the rampant consumerism Brecht was railing against. The latter is shown by Es Devlin's designs being dependent on shipping containers which, as we know, allows not only goods and money to be trafficked, but also people. A couple suffice for most of Act I but in the second half, for Acts II and III, a pyramid of containers is the backdrop, onto which slogans and multilingual signs are projected by Finn Ross's inventive video designs. This all represented the worst kept secret of any great city – the sleazy underbelly where everything has a price. As if Brecht didn't have enough already to say about the modern world, Fulljames is allowed his own video discourse about oil and climate change.
In hindsight, this functional new production (forthrightly directed for live cinema by Rhodri Huw) takes itself – and its political agenda – much too seriously. It was all a little short of the laughs Brecht's satire should generate, for instance, Jimmy is executed with such pseudo-religious symbolism that I began to wonder whether some Monty Pythonesque irreverence and bawdiness would have made the long evening pass more quickly. As Jimmy is electrocuted – or more rather crucified – I was hearing 'Always Look On The Bright Side of Life' in my head. On the whole the show seemed keen not to shock or offend its audience too much … perhaps the very antithesis of what Brecht was aiming for?
The day had not gone well for those in the vicinity of Covent Garden with a major subterranean fire disrupting electrical supplies and transport. A number of nearby theatres cancelled performances but Mahagonny went ahead. Kasper Holten, director of opera, came on stage at the start to confirm all was well but there was no power for the escalators or any worthwhile catering … but the good news was the toilets should still be working. He also suggested some water would be available to drink at the interval when, coincidentally, in the opera Jimmy is refused a glass of water before he is executed!
The strength of this Mahagonny – and the reason I am happy to have experienced this opera again after twenty years – was seeing the fine ensemble of opera singers who could undoubtedly act, the robust chorus and the music performance of Mark Wigglesworth and his orchestra. Wigglesworth is soon to lift the poisoned chalice that comes with being music director of English National Opera, but his track record gives me confidence that he will accomplish great things there if given the time and the finance to do it. As Mahagonny shows us very clearly, money rules. Wigglesworth said when interviewed said how the Weill's music 'Sounds at times like Mahler … Shostakovich … Gershwin … like the cabaret of Berlin of his day' and praised his 'extraordinary ability to put his personality on everything … and to unify all those styles.' All this is true and there is even some Wagner at the start of Act II. The sheer talent assembled for this production just about overcame the fact that the work is a bit too much of a mishmash. Another problem was all the amplified dialogue and a portentous voiceover from Paterson Joseph who was a great success as the suavely sardonic host of the cinema broadcast.
As I conclude by reflecting on the singing I cannot, of course, guarantee it all sounded the same in the opera house. Anne Sophie von Otter appeared to be to auditioning for Mrs Lovett in Sweeney Todd when she was talking as Begbick and seemed to have great fun as the brothel keeper without truly having the voice, I suspect, Brecht and Weill envisioned for their character. (Like most of her colleagues she never allowed her accent to intrude on her singing which therefore was unidiomatic.) She was very well supported by Peter Hoare as Fatty 'The Bookkeeper' and Willard W White belying his years as Trinity Moses, the loutish boxer. Amongst the lumberjacks Jeffrey Lloyd Roberts was a suitably gluttonous Jack and Kurt Streit's impassionedly sung Jimmy was clueless, endearing, and pitiable by turns. I think the best singing whether on screen or in the theatre would always have been from Christine Rice as a rich-voiced, venal and coolly manipulative Jenny, the tart without a heart. Perhaps it was Fulljames's idea to have her be rather blowsy rather than sexy. Her restraint was symptomatic of an evening whose 'message' needed a much more in-your-face approach.
Jim Pritchard
For details of the 2014-15 Royali Opera House Cinema season visit www,roh.org.uk/cinema .