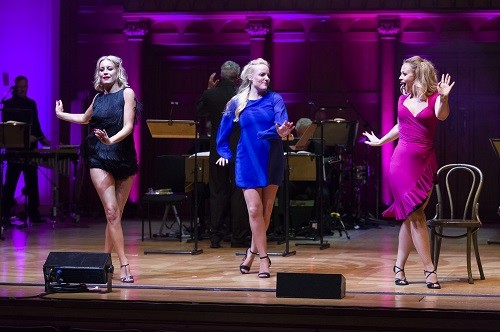 United Kingdom Sweet Charity (Book by Neil Simon, Lyrics by Dorothy Fields and Music by Cy Coleman): Soloists, ArtsEd Ensemble, Richard Balcombe (musical director) with the Royal Philharmonic Concert Orchestra. Cadogan Hall, London 20.8.2015. (JPr)
Creatives:
Neil Simon: Book
Dorothy Fields: Lyrics
Cy Coleman: Music
Paul Foster: Stage Director
Matt Flint: Choreographer
Cast:
Denise Van Outen: Charity
Michael Xavier: Charlie / Vittorio Vidal / Oscar Lindquist
Kimberley Walsh: Nickie
Kerry Ellis: Helene
Michael Simkins: Herman
Rodney Earl Clarke: Big Daddy Brubeck
Amy Perry: Ursula
Royal Philharmonic Concert Orchestra
ArtsEd Ensemble
Richard Balcombe: music director
One of the wittier passages of dialogue from Neil Simon's book is – Charity: 'Without love, life has no purpose.' Vittorio (a film star she briefly hooks up with): 'Is that what you believe?' Charity: 'Sure. Everyone's gotta have some religion, don't they?' Vittorio: 'So your religion is love?' Charity: 'Well I'll tell you one thing, I sure go to church a lot.' This alone made a revival of Sweet Charity in a former New Christian Science Church seem quite appropriate especially since one of its few showstoppers is The Rhythm of Life sung by Big Daddy Brubeck – the suitably charismatic Rodney Earl Clarke as a hippie preacher – and it was begun from a gallery above the stage where I suspect the choir used to sing.
Something related to musicals appears now to be an annual summer event at the Cadogan Hall and this was a small hall Sweet Charity with big hall aspirations; indeed the small onstage band of 23 began so loudly I wondered whether they had rehearsed in the O2 arena! This soon settled down and – with reservations – I thoroughly enjoyed meeting Charity Hope Valentine onstage for the first time.
Sweet Charity opened on Broadway in 1966 and has a fine score by Cy Coleman (with amusing and occasionally reflective lyrics by Dorothy Fields) and a so-so book by Neil Simon. Why it lives on in the memory must have been the pizzazz its original director and choreographer, Bob Fosse, and its star, his wife and muse Gwen Verdon, brought to the initial staging. This was followed up in 1969 as Fosse made his film directorial debut when Sweet Charity was brought to the big screen with the incomparable Shirley MacLaine and Sammy Davis Jr as Charity and Big Daddy with another Broadway legend, Chita Rivera, as Nickie, a 'dance hall hostess' like Charity. I haven't seen the film for so many years but suspect Fosse for Hollywood – as for Broadway – would have tempered the sweetness and nudge-nudge knowingness of the heroine's plight with more sourness than stage director, Paul Foster, did here. After all, Charity gets abandoned at the end by the one man who might have 'redeemed' her and so remains locked into a lifestyle she cannot possible escape from. It must be remembered that Charity was originally based on a prostitute in the 1957 Federico Fellini film Nights of Cabiria.
As I wrote above, this was the first time I had seen Sweet Charity in the theatre and my last viewing of the film was a long time ago. However, I have wonderful memories of seeing both Shirley MacLaine and Sammy Davis Jr live on stage and including in their acts the big numbers from this show. Those memories were hard to shake off during this modest revival. On the whole everyone did an excellent job and particularly the accomplished and hard-working young ArtsEd Ensemble, whether populating the Fandango Ballroom or the hippie church. The settings had to be in our imagination as even though everyone was in costume -and there were tables and chairs to be seen from time to time – it was made clear that this was a concert performance where scores would be used … and this was the sole reason this show was not as big a success as it could have been.
I wasn't certain Denise Van Outen was entirely suited to the title role of Charity Hope Valentine, the tart with a heart of gold. Indeed she was the only one who for some reason needed to have her score in front of her – not always, but too often for my liking. Van Outen undoubtedly has the force of personality and the well-tuned comic timing necessary for the role. She also has, as required, a loud, brassy, voice or a more relaxed, conversational way with a song and – despite the stilettos she had to wear – she dances well too. However, in a short black frilly dress and with a white handbag slung on her shoulder, she looked set for a nightclub in Brentwood, Essex, rather than New York. She seemed ever-hopeful and exuded a steely-determination in her (vain) pursuit of love whilst there was never the zaniness, vulnerability or despair of someone who has been through 'the school of hard knocks' and never learnt a thing – think of another Bob Fosse creation, Liza Minnelli's Sally Bowles!
Most of the rest of the show gave some real pleasure from the time the really jazzy band under Richard Balcombe began the Overture: even if they were initially a bit loud I felt sure that as in the words of Big Spender – one of the best-known numbers – I was in for a good time. The chorus of girls in the Fandango Ballroom were well-played and there was a weariness and bitterness about their life that was interspersed by some of Neil Simon's familiar wisecracks. Matt Flint's choreography was an evident homage to Bob Fosse's sinuous angularity in Rich Man's Frug and Big Spender and the parody of happy-clappy religion, The Rhythm of Life, really fizzed here and was the best staged number in the show.
As Charity's shop-worn best friends (and co-workers), Kimberley Walsh (Nickie) and Kerry Ellis (Helene) make There's Gotta Be Something Better Than This another highlight. Walsh who was superb throughout struck me as potentially a better Charity than Denise Van Outen. She also gets one of Neil Simon's best one-liners when Nickie says 'Who dances? We just defend ourselves to music!' The supporting cast also included a solid performance from Michael Simkins as the world-weary dance-hall proprietor and, as three of the many men in Charity's life it was Michael Xavier who was the most accomplished performer in the cast. He was funny enough as Vittorio with the outrageous cod-Italian accent and he displayed a seductive baritone voice in Too Many Tomorrows but he was even better as Oscar, the neurotic accountant, who in the end cannot go through with his wedding to Charity because of his jealousy over all those men she has 'danced' for.
Jim Pritchard
For more about what is on at the Cadogan Hall visit www.cadoganhall.com.