Canada Haydn, Telemann: Elizabeth Sutphen (soprano), Kara Sainz (mezzo-soprano), Yujoong Kim (tenor), Leo Radosavljevic (baritone), Juilliard415, Nicolas McGegan (conductor), Koerner Hall, Vancouver Academy of Music, 19.11.2015. (GN)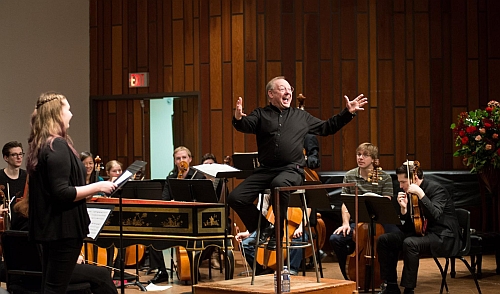 Haydn: Symphony No. 6 in D major, 'Le Matin', Hob.I:6
Telemann: Extracts from Die Tageszeiten (The Times of the Day) TVWV 20:39
It was a pleasure to have this wonderfully accomplished student 'authentic instruments' ensemble visit for a good portion of a week. They gave three morning performances and a master class, all under the guidance of Nicolas McGegan, long time music director of the Phiharmonia Baroque Orchestra and one of the finest period specialists around. The project was jointly sponsored by two organizations, Vancouver's Music in the Morning and Early Music Vancouver, and it must have been quite an adventure to bring the full orchestra, as well as four vocal soloists. It is almost inconceivable that a young orchestra with this apparent skill and cohesion could be produced out of a 'historical performance' initiative which was put in place only in 2009, and it's heartening to see that its members are drawn from such a variety of countries. Under the tutelage of legendary 'authentic' performers such as Monica Huggett, Masaaki Suzuki, Ton Koopman, William Christie and many others, perhaps miracles really can happen.
This was a short programme, suitable for a morning concert and, appropriately, it started with Haydn's delightful 'Le Matin' symphony, drawn from the beguiling trio of 'Morning, Noon, and Night' symphonies that represent early Haydn at his best. There must be buoyancy in its opening allegro, and that there certainly was: McGegan coaxed a keen enthusiasm from the strings and an airy projection from the winds. The sound was integrated from top to bottom, the cellos and the single double bass making their presence felt in particular. In the subsequent adagios, the work has a number of violin solos (recall the composer's String Quartets, Op. 20), and I thought that they achieved eloquence, with Nayeon Kim probably the finest soloist. After a strongly crafted Menuet, the finale whizzed home in a flurry, with a stunning flexibility across the sections and virtuosity everywhere. The upper and lower strings played with an almost whiplash intensity, and I was staggered by the command of the two female hornists, Kaci Cummings and Holly Bryan.
The selections from Telemann's The Times of the Day took us eventually to nightfall, and featured the Overture plus four arias and a final Chorus. The former was alertly performed, though at times it might have had fewer accents and more flow. All four soloists have begun their performing careers in earnest and bring excellent credentials to the table. The 'Morning' and 'Noon' arias were performed by Elizabeth Sutphen and Kara Sainz, who worked very diligently to keep their articulation exactly in style and did a fine job, though they were a trifle unyielding at points. In the 'Evening' and Night' arias, Yujoong Kim and Leo Radosavljevic also displayed enviable vocal resources and seemed even more complete dramatically, often conjuring up another world behind the notes. Kamila Marcinkowska-Prasad's evocative bassoon did wonders for the night music, making one think that Mozart might have learned something from this when writing his Masonic compositions. The final chorus with all the soloists was finely executed and inspirational.
This outing was a real triumph for these young musicians. One could see their spirit in doing something they love, and their sheer level of execution might put many Baroque ensembles to shame. We used to refer to a 'Juilliard Sound' when discussing string players, notably violinists, citing both tonal precision and cleanness in articulation, but I'm not sure how much sense it makes to apply this to historical instruments. If pressed, however, I did think we heard a Juilliard sound, clean and ardent articulation perhaps more noticeable than distinctive inward feeling or lyrical shape. Of course, the former is the first priority for a young Baroque orchestra arming up, and one could tell how much McGegan accomplished in terms of drawing out resilient musical lines and unanimity in ensemble. A greater sense of natural flow and removal of a slight feeling of over-conscientiousness are elusive, but they will come. There was definitely a degree more engagement when the tempo was quick than when it was slow. It should also be acknowledged that we saw only a subset of the young performers who participate in this orchestra. All told, there can be no doubt that the current level of achievement of Juilliard415 is remarkable, and watching these young players come together was nothing short of inspired. For those unfamiliar with the ensemble, the '415' stands for a lower (authentic) pitch that the ensemble tunes to.
Geoffrey Newman  
Previously published in a slightly different form on http://www.vanclassicalmusic.com