United States Handel, Rameau and Bach: Juilliard415, William Christie (conductor),  Alice Tully Hall, Lincoln Center, New York, 29.10.2015 (SSM)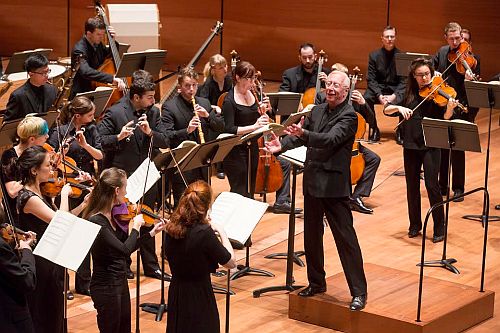 Handel: Concerto Grosso in F major, Op. 6, No. 2
Rameau: Suite from Les Indes Galantes
Handel: Concerto Grosso in G minor, Op. 6, No. 6
Bach: Orchestral Suite No. 4 in D major, BWV 1069
Handel: Theodora: Chorus and Orchestra of Les Arts Florissants, William Christie (director and conductor), Alice Tully Hall, Lincoln Center, New York, 31.10.2015 (SSM)
Concert Version
Theodora: Katherine Watson
Irene:           Stephanie d'Oustrac
Didymus:    Philippe Jaroussky
Septimius:   Kresmir Spicer
Valens:         Cullum Thorpe
Messenger:  Sean Clayton
This is the sixth year that I have attended and reviewed  concerts and operas put on by the Juilliard Historical Performance program. Quite a few of their graduates have begun to enliven the New York Early Music world, helping New York build a reputation that has eluded it when compared to cities such as Boston, Portland and San Francisco. We had a number of Early Music groups, going back to the 1950's with Noah Greenberg and New York Pro Musica, but their demise after 14 years left the city with just a few groups whose reliability and performance depth varied from year to year with the vagaries of the financial world.
So how is it different now? For one thing, students and graduates are more willing to perform in less-than-ideal venues. Concerts in old warehouses have become de rigeur: the latest is a theater in Brooklyn that had previously been a  sawdust factory. And as the cliche goes, it's  the music that is important. It would be nice to have larger orchestras and choruses, or even an extra instrument or two for the basso continuos, let alone costumes and settings for a full-blown opera. But there's enough Baroque music out there that six to a dozen musicians could play. It helps, certainly, if a group supports the theory that much early instrumental and vocal music was performed with one part per voice or musical line. There have been a number of successful productions of works like the Messiah and the Mass in B minor, as well as Bach's cantatas,  done with only a handful  of musicians.
What really seems to have made a difference and will continue to do so in the future are the students of Juilliard whose  training makes them true professionals. This particular performance stood on a level that matches any other professional group I've seen or heard. Granted, the conductor was the eminent William Christie, who at the end of the concert told the audience that due to travel delays he shortchanged the students, not giving them the time he would have normally spent preparing them for this program. He too seemed moved by the quality of the players. The students may have started off the evening a little wooly, but that cleared up quickly. They also ended a little raggedy, perhaps unprepared for Christie's unexpected upbeat and the driven tempo of the "Réjouissance" from Bach's fourth orchestral suite, played as quickly as I've ever heard it. I also had a sense that the encore, "Tendre Amour" from  Les Indes Galantes, had received very little practice time. Although it's slow enough in tempo to be sight-read, it could have used some Christie magic. If the encore seemed to end on  an unresolved cadence, it did. What in fact was played was only the long introduction to a number that would be sung by a chorus.
It is difficult to single out individual members of the orchestra for praise, but I was close enough to the proscenium to observe the string playing. As I've written elsewhere, the group's concertmaster, Augusta McKay Lodge, stands out as the real thing, a true virtuoso.
The next Christie-led concert was with his own group, Les Arts Florissants. It has been mentioned elsewhere that Christie has not recently been as active in bringing out new material to perform as in the past. But striding up to the podium for this production and for the  earlier one with Juilliard415, he showed an impressive level of energy, to say the least. Christie is a charismatic conductor, and he handled his group with deftness, including hand gestures to draw the instrumental groups to the forefront and wonderful facial expressions and grimaces as well.
Theodora, Handel's penultimate oratorio, shares an emotional connection with other composers' late works. Mozart's Clemenza di Tito, Beethoven's late quartets and piano sonatas, Strauss's last songs: all have a sense of other-worldliness. Although Handel lived ten years after the completion of Theodora, his output was minimal: one oratorio, Jephtha, an organ concerto and some revisions and pastiches were all he composed before he lost his vision two years after Theodora's dismal failure. There are other bleak Handel oratorios based on stories from the Bible, but none are so consistently dark as Theodora. Handel's instrumentation, the absence of tympani and the very limited use of trumpets and horns are telling signs that there will be far fewer fanfares or regal pomp than one is used to from him. It's hard to find another Handel work that contains so many consistently slow movements. From the middle of Act I, after the rallying cries of the evangelical Valens to his subjects, there are only three arias marked Andante or faster; the other 24 or so arias are predominantly Largos and Adagios.
An astute businessman, Handel was willing to change arias to satisfy the whims of his singers, or to revise parts of his operas to better appeal to the customers. One would have to assume that with Theodora, as with Messiah, monetary gain played second fiddle to a personal and spiritual need. Like Messiah, Theodora was written in a burst of creativity in barely a month. Handel considered it more highly than Messiah and opined, a contemporary noted, that the chorus "He Saw the Lovely Youth" was far beyond Messiah's "Hallelujah Chorus." Granted, there were external circumstances for Theodora's fiasco: an earthquake had driven his wealthy patrons from London and out to their country estates. But Handel must have known that a story that ends with the cruel and torturous death of the innocent heroine and hero would have little appeal to his audience. Add to this almost three hours of mostly slow music neither acted nor costumed, plus a minimal number of catchy tunes (and even those, such as the gruesome aria "Racks, Gibbets, Sword And Fire," not likely to be sung in the shower), and it's easy to see why Theodora closed after only three performances.
As for the soloists, there is little to complain about and much to praise. It is difficult to give them a fair and just hearing if one has seen live or on DVD the brilliant staging and cast from Peter Sellar's 1996 Glyndebourne production. Lorraine Hunt Lieberson's heart-wrenching Irene in the Sellars is the be-all and end-all of this role. Stephanie d'Oustrac, who goes back 20 years with Christie, never had a very big voice, but in a relatively small venue like Alice Tully  she managed to fill the role and the hall convincingly. Philippe Jaroussky's voice has at times been almost piercingly sharp, but he seems to have lost some of that edge and gained  a warmer, more rounded tone. Katherine Watson could not stand up to Dawn Upshaw's' Theodora, but she gave a solid reading of the martyred heroine. The male singers, with more dramatic material than their female counterparts, gave strong performances but failed to delineate one character from the other. This may have been due in part to Thomas Morell's rather weak libretto.
It was nice to see the hall nearly filled, and with a younger audience. One could understand, but not condone, that some listeners left early, eager to go off to watch the World Series or, inspired by this opera's gruesomeness,  join in on a Halloween party or parade.
Stan Metzger