Sweden Dala-Floda Opera Festival: Soloists, Dala-Floda Opera Chorus, Jacob Piamorex Moscowicz (piano) Dala-Floda Church, Dalecarlia 10.8 & 13.8.2017. (GF)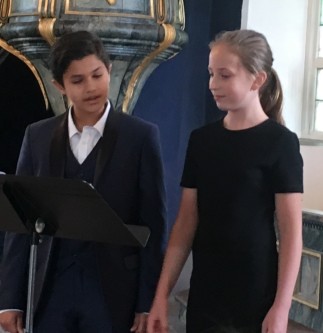 10.8 – Opera, Operetta and Beloved Opera Choruses
Soloists: Kevin Johansson, Mira Fröling Hoffman, Paula Hoffman, Saga Nordwall, Jessica Elevant, Matilda Sterby, Anna Eklund Tarantino, Mathias Zachariassen, Joel Kyhle, Paulina Pfeiffer, Julia Mattei, Jeanette Lewald, Petru Alexe
Concerts with classical bon-bons tend to concentrate on the most frequently performed numbers in the repertoire – and nothing wrong with that. But sometimes it is nice to be treated to songs you may have forgotten or – even better – songs that you had never heard before. This concert contained all three categories of songs mentioned above, and more.
The Opera Chorus, a group of local singers and enthusiasts, is revived every summer, so that they are on familiar ground: a fine version of the Hebrew prisoners' chorus from Nabucco and the Barcarolle from Les contes d'Hoffmann, which of course is a duet for soprano and mezzo-soprano in the original. The famous waltz from Die lustige Witwe, also a duet, was performed by two sopranos, Jessica Elevant and Matilda Sterby – a touching experience. Jeanette Lewald offered Musetta's waltz, "Quando m'en vo" from La bohème with brilliance, young Julia Mattei, only sixteen, sang Cherubino's "Non so più" from Le nozze di Figaro – for once a singer the same age as the role character. She sang the same aria last year and it was obvious how much progress she has made. Anna Eklund Tarantino seduced the audience with a magical "O mio babbino caro", demonstrating her superb breath control.
Another standard was the beautiful retrospective duet "Weißt du es noch" from Die Csárdásfürstin by Kálmán, an opportunity for this year's Carmen and Don José, Paulina Pfeiffer and Mathias Zachariassen, to create magic, both vocally and scenically. They also rounded off the concert with the fine duet "Komm her, du mein reizendes Mädel" from Oscar Straus' Ein Walzertraum, a work still played occasionally on the Continent but seldom heard in Sweden. A creative choice of repertoire! They also unveiled several first-class operetta gems: Mathias sang Tassilo's Lied from Gräfin Mariza and Paulina one of my favourite Lehár pieces, "Lied und Csárdás" from Zigeunerliebe.
Another artist with strong stage presence is Paula Hoffman, who opened the concert with a riveting version of Gershwin's "By Strauss", his homage to the Viennese waltz. Paula's young daughter and likewise young Kevin Johansson charmed the audience with a song from Beauty and the Beast and the comic "Cat Duet" by Rossini, sung with great feeling. Jessica Elevant, Zerlina in the Don Giovanni production, turned out to be a lirico spinto as well, singing Marietta's aria from Die tote Stadt impressively, while Donna Anna, in the same production, Matilda Sterby, had chosen a real rarity, "Son pochi fiori" from Mascagni's L'amico Fritz. Saga Nordwall had botanised in English light opera from the 19th century and found "A Geisha's Life" from Sidney Jones's once enormously popular The Geisha, and Balfe's "I Dreamt I Dwelt in Marble Halls" from The Bohemian Girl, a song that has retained its popularity to this very day.
An expressive singer is the young bass Joel Kyhle, who demonstrated how rumour spreads in Basilio's slander aria from Il barbiere di Siviglia. Tenor Petru Alexe chose an aria from Donizetti's L'elisir d'amore, not the ubiquitous "Una furtiva lacrima" however, but "Quanto è bella" from the first act. A perceptive choice. Julia came up with a little known song by Clara Schumann, "Liebeszauber", reminding us that Robert was not the only member of the family that was an able composer. Another composer was also present at the concert, Mathias Zachariassen, who sang his own setting of Nelly Sachs's "Wer weiss wo die Sterne stehen" from a set of six Nelly Sachs songs. It was an atmospheric and deeply moving song, performed with inward intensity. The songs are available on CD, and repeated listening deepens the understanding of them further.
The versatile Jacob Piamorex Moscowicz accompanied the whole programme sensitively and flexibly, and the audience was audibly appreciative.
13.8 – Gala Concert with the Phantom as Guest
Soloists: Anna Eklund Tarantino, Maria Kjelson, Mira Fröling Hoffman, Kevin Johansson, Oskar Eklund Tarantino, Caspar Engdahl, Matilda Sterby, Jessica Elevant, Kajsa Granström, Maria Aquillion, John Haque, Joa Helgesson, Joel Kyhle, Oskar Olofson, Julia Mattei, Mian Nicklasson, Paulina Pfeiffer, Johanna Nyberg, Philip Solokovski
The finale of this year's Opera Festival was a grand (almost three-hour) Gala Concert, featuring a long list of singers, several of them also taking part in the previous concert (see above). After a few minutes' delay, Anna Eklund Tarantino, the mastermind behind the festival, greeted the audience with a short introduction, whereupon she sang a traditional Dalecarlian hymn a cappella. This was followed by a portion featuring participants from the opera course for children and young people with special talents, held every year since 2012. They receive training in breath control, singing, drama and how to act and move on stage. This performance was their exam, and it is a moving experience to follow the development and involvement of these young singers.
After this the special guest, the Phantom, made his entrance. Baritone Joa Helgesson was Escamillo in last year's production of Carmen. He was not able to take part this year due to other assignments, but drove from Gothenburg and back (almost a 1000 kilometres!) to take part in the concert. He is scheduled to sing the title role in Lloyd Webber's The Phantom of the Opera this autumn and gave us a preview with "Music of the Night". He is well inside the role already, sings superbly and this production is certainly something to look forward to.
This year, Julia Mattei sang "Er der herrlichste von allen" from Robert Schumann's song cycle Frauenliebe und –leben. Both this and the Gluck aria she sang later in the programme promised well for the future. Oscar Olofson, new this year in the role of Lieutenant Lantz in Carmen, sported an excellent lyric baritone in two songs of Peterson-Berger, and Jessica Elevant impressed in Elsa's "Euch lüften" from Lohengrin, while Matilda Sterby Mimi, "Sì, mi chiamano Mimì" had true charisma. Matilda and Jessica then joined Joel Kyhle in the fragrant trio from Così fan tutte: "Soave sia il vento". Kevin's "Voi che sapete" from Le nozze di Figaro may not have challenged Norwegian super star Aksel Rykkvin but was great even so. But the biggest surprise was Maria Kjelson, a chorister in Carmen but also a splendid coloratura soprano, who sang the final aria from Bellini's La sonnambula with impressive security and brilliant coloratura in the cabaletta. I predict a bright future.
John Haque, a mainstay at Dala-Floda and a right-hand man in all practical things around the festival, is also a dramatically involved tenor. "Till havs" and "E lucevan le stelie", both Jussi Björling repertoire, were powerfully executed. In between, Anna and her son Oskar sang "Pie Jesu" from Lloyd Webber's Requiem and Joa Helgesson gave us a sensitive reading of "Vision fugitive" from Massenet's Herodiade, a French opera dealing with the same subject as in Strauss' Salome. Joel Kyhle was warm and introspective in Colline's aria to his coat from the last act of La bohème, before Pauline Pfeiffer enticed everybody, including myself, with "Meine Lippen sie küssen so heiss" from Lehár's Giuditta.
Last year's discovery, at least for me, was Caspar Engdahl, who more than fulfilled my expectations in in a lovely version of "All I ask of you" from The Phantom of the Opera, together with Matilda Sterby, taking us back to the world of Broadway musicals. Mian Nicklasson gave us "I Dreamed a Dream" from Les Misérables, whereupon the young trio Mira, Oskar and Kevin sang "Children Will Listen" from Sondheim's Into the Woods and Caspar Engdahl returned with "Stars" from Les Misérables". Then Anna Eklund Tarantino thanked everyone involved in this project – which included almost every inhabitant of Dala-Floda – and the entire ensemble gathered to sing "Con te partirò", or rather in the English translation "Time to Say Goodbye", made famous by Andrea Bocelli.
It was a generous and all-embracing conclusion of a marvellous concert and festival, and I believe that everybody present is looking forward to next year.
Göran Forsling