Canada Beethoven, Debussy, Chopin: Seong-Jin Cho (piano), Chan Centre, Vancouver, 12.11.2017. (GN)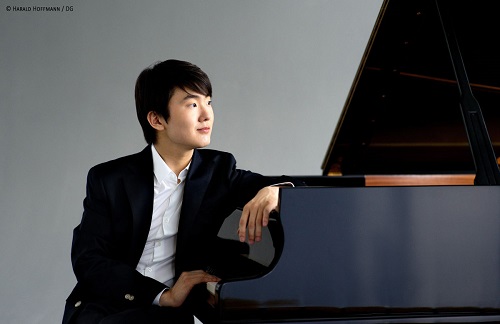 Beethoven – Sonata No.8 in C minor Op.13 'Pathétique'; Sonata No.30 in E major Op.109
Debussy – La plus que lente, L'isle joyeuse, 'Clair de lune' from Suite Bergamasque
Chopin – The Four Ballades
It's always exciting to monitor the progress of Chopin International Piano Competition winners, and the latest Gold Medalist, 23-year-old Seong-Jin Cho, is no exception.  He is already on the way to releasing his third CD for Deutsche Grammophon, following up his debut and Chopin Concerto/Ballades discs with a Debussy recital. Moreover, he is now touring in Asia with Sir Simon Rattle and the Berlin Philharmonic, deputizing for the injured Lang Lang. Worse fates have happened to competition winners – and for a pianist who only began playing the instrument seriously at age 10!
This concert featured both Chopin and Debussy, alongside Beethoven, and amply illustrated the pianistic virtues one is already familiar with: Cho's enviable keyboard balance, refined tonal control and natural sense of musical integration. It also revealed where the pianist has room to develop: particularly in not allowing the elegance and prettiness of his execution to override the prospect of digging for real emotions.
Cho is a Korean pianist who comes with a difference: he lived in Paris from 2012 and studied with Michel Béroff at the Paris Conservatoire. A Korean link to Paris should come as no surprise: recall maestro Myung Whun Chung's initial love affair with that city when he conducted the Orchestre de l'Opéra Bastille in the 1990s. One also recalls Béroff's fine EMI recordings of Debussy, Messiaen and Stravinsky when he was in his twenties. Much of his pristine clarity has transferred to his student, though Béroff often sought a more sharply etched profile than Cho's warmer, more contoured fabric.
The Debussy pieces were not a major part of this programme, but they stood out as particularly enjoyable. Cho seems to have a natural identification with the sensual flow and virtuosic delights that the composer offers, and this allowed an evocative La plus que lent and a dramatic L'isle joyeuse to evolve with transparency and beauty. The 'Clair de Lune' encore also had a pliable sensuality and line to it that could only be inviting.
The pianist's perception of balance and flow again showed in the Adagio of Beethoven's 'Pathétique' Sonata. This was some of the best playing of the night, lines beautifully refined and suspended with a sterling control of tonal weight. However, the outer movements of the sonata were not as convincing, light on Beethoven's characteristic angularity and fiber. There was some stasis in the poignant, grave chords at the opening (and close) of the first movement, but a tightly-knit athleticism took things forward. While one is used to a lighter Beethoven style in the French tradition – witness Yves Nat and Robert Casadesus – few of Beethoven's nerve ends actually peeked through. The problem seemed to be that the composer needs to breathe through the verticality of his lines whereas the pianist's motion tended to be compact and rounded. The finale was similar, clean and beautifully executed but responding more to the drive and playfulness of the movement than any deeper resonance. There was a beguiling grace in it all, but it was rather 'soft' for Beethoven.
Beethoven's lyrical Sonata No.30 is a challenge for a pianist of any age. What one has learned from the classic early performances (e.g., Solomon, Dame Myra Hess) is that, for all the work permits lyrical exploration, Beethoven's structural line is still anchored in stone, and the sonata must come out all-in-a-piece. This means that the lyrical/dramatic feeling of the opening movement has to be engraved clearly enough to allow its retrieval again in the finale, with the middle Prestissimo acting as a critical bridge. A week ago, Steven Osborne gave a beautifully flowing and tender account that got this absolutely right. Alfred Brendel and Stephen Kovacevich are two pianists who also succeeded in their twenties, but there have been many casualties along the way.
Cho's approach is individual: the opening movement was unusually quick and dramatic, hurtling lines forth in the manner of Schumann's Fantasia, generating considerable impetuosity and frenzy. The complexity of the lines exposed and the romantic ardour achieved was sometimes eye-opening, offering a fresh perspective. Yet this driving speed and relative absence of lyrical repose had a downside: it cost the pianist the bridging role of the subsequent movement, which emerged as anticlimactic and almost disconnected from the work. This meant that the finale had nothing much to hang onto emotionally and, for all the lovely articulation of the closing counterpoint, the work could not properly wind down and resolve. It just stopped, and the audience took a fair while to recognize that the piece had actually ended. Still, I liked the independent thought in this, and the pianist has many years on his side to bring this approach to fruition.
It was the Chopin that everyone probably came for and, for the most part, Cho did not disappoint: the Ballades were beautifully crafted, with a lovely balance and proportion. I would not call them 'electric' – as one recalls from the young Krystian Zimerman and Rafal Blechacz – but they maintained estimable poise and line, even if they lacked some degree of personality and palpable narrative. The pianist has performed these pieces countless times by now, so one might conjecture that they are not as fresh as they once were. Hearing all four together gives remarkable insight into the many shades of tender yearning and melancholy that Chopin finds, and the equally many types of impassioned release that move him out of this vulnerability.  Each Ballade offers a different lens on this juxtaposition.
Cho was skilled at integrating these two sides of expression, sometimes to ravishing effect – but the feelings generated by all four pieces seemed more similar than they usually do. Especially in Nos.1 and 4, Cho operated more in 'blocks' of articulation than moment-to-moment sensitivities – elegant as the performances were. A manifestation of this was the pianist's inability to differentiate the feelings in softer, musing passages finely enough to achieve the exact sentiment he needed. His phrasing was always limpid and fluid but, just like the beginning of Beethoven's 'Pathétique', a slight stasis seemed to be present. One did not feel an aching, suspending beauty, but rather a more stylized and prettier emotional replica that fit such contemplative episodes generically. Perhaps this explains why the varying types of 'release' from moments of fragility did not seem as unique and cataclysmic as they sometimes do: one did not quite know the precise emotional state that was being overcome. Cho will sharpen his focus as he matures, and it would be remiss not to note just how many technical hurdles he surmounted with ease, the extent of his finesse and dynamic control, and the wonderful evenness of so many of his runs. One thing I found slightly self-conscious was the artist's insistence in flicking off the final notes of lyrical phrases with demonstrative point (No. 2), but he is doubtlessly a pianist with a very special touch.
My colleagues and I covered the 2015 Warsaw Competition in great detail at the time it took place, and we have already had an inspiring concert from the Silver Medalist, Canadian Charles-Richard Hamelin, who is about five years older than Cho. It is interesting that the jury felt it was almost a toss-up between the two: from my perspective, their playing couldn't differ more. Hamelin's interpretative insight was so great that I hardly noticed his technique; here it was almost the other way round. Perhaps that is what five years can do. I look forward with great interest to following Seong-Jin Cho, and would love to see the other young Canadian medalist at the 2015 competition, Yike Yang.
Geoffrey Newman