United Kingdom Gilad Hekselman Quartet: Gilad Hekselman (guitar), Mark Turner (tenor sax), Rick Rosato (double-bass), Jonathan Pinson (drums); Richard Burton Theatre, Royal Welsh College of Music and Drama, Cardiff. 17.11.2017. (GPu)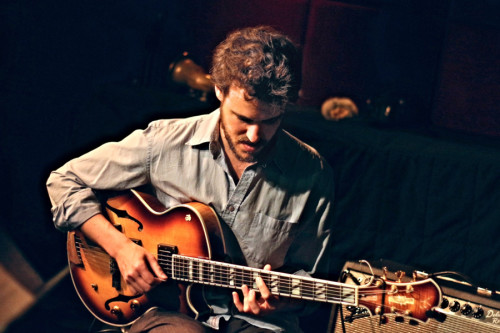 It is a rare treat, especially for those of us not within easy reach of events in London, to hear, not just a top class American soloist, but an entire group of the kind which might be heard in one of the significant New York clubs. This group certainly fits that bill, made up, as it was of two figures well-established on the New York scene, the guitarist and leader Gilad Hekselman and the highly regarded tenor saxophonist Mark Turner, plus to young players, well on their way to establishing similar reputations, the Canadian-born bassist Rick Rosato and drummer Jonathon Pinson, in his late twenties, who has already toured with groups led by Herbie Hancock and Wayne Shorter. The Royal Welsh College of music and Drama has generally hosted visiting jazz events in their purpose-built concert hall, the Dora Stoutzker Hall, but this performance took place in the more intimate surroundings of the relatively small Richard Burton Theatre and was all the better for the 'new' venue.
Hekselman and his group played extended versions of eight tunes – one of them by way of encore – all but one of them originals by Hekselman (including 'It Will Get Better', 'Verona' and 'Home to You'). The one exception was Thelonious Monk's 'Round Midnight', an outstanding reading of which was, for me, the highlight of the evening.
Israeli-born Hekselman has a thorough grasp of the contemporary jazz language for the electric guitar, and, although he has obviously listened to the obvious masters of the instrument, he has developed his own distinctive voice. He has a technical fluency which allows him to play long, complex runs, matched by a judgement and sensitivity that see the value in well-placed silences. He can produce surprising harmonies at times, and incorporates some effective blues touches into some of his solos. I am always uneasy that jazz groups led by a guitarist might, nowadays, be too rock-influenced for my tastes. But Hekselman is very definitely a jazz guitarist. As well as being an inventive soloist, he also showed himself to be a resourceful and supportive accompanist and was, very definitely, not the kinds of leader who hogs all the solo space. He gave the impression that he had a genuine respect for the musicians he was working with. The outstanding drummer, Jonathan Pinson (for me the revelation of the concert, since I had previously heard little of him on record, and what I had heard didn't lead me to expect work of such quality). Pinson was an endlessly busy (but not distractingly over-busy) drummer, feeding ideas to other soloists and providing a constantly changing (and relevant) percussive texture behind the rest of the band. I had been impressed by such of Rick Rosato as I had heard on CD (such as Marta Sánchez's album Danza Imposible on Fresh Sounds new Talent) and he was every bit as good as I had expected him to be – harmonically sophisticated and alert, as well as rhythmically secure without ever being over-emphatic or stiff.
Mark Turner, undoubtedly a major figure amongst current players of his instrument, proved something of an enigma on this particular night. In the first half of the concert (there was an interval after four pieces) he seemed somewhat disengaged from the rest of the quartet. I wondered how familiar he was with Hekselman's compositions (Rosato and Pinson work regularly with the guitarist as a trio); certainly he spent quite a lot of time studying the papers on his music stand. Problems with his mouthpiece doubtless didn't help either. He soloed competently but without much fire and when not playing watched the other three from the side of the stage, without obvious involvement; there seemed to be little of the kind of unspoken communication which is one of the hallmarks of a small jazz ensemble functioning at its best.
After the interval, things changed; he seemed much more involved; from the very first number 'Verona' his tenor sax was more fully integrated as part of the overall sound of the quartet, and his solo work was more committed and exploratory, more akin, in quality and manner, to the way I have heard him play on recordings such as Ballad Session and Dharma Days (both issued by Warner Brothers) or Lathe of Heaven (ECM). He fully came into his own with 'Round Midnight', the second number after the interval. Hekselman led off 'Round Midnight', initially playing unaccompanied, with a lovely paraphrase of Monk's melody. Turner took a long, impressive solo; his voice is distinctively his own, even if one sometimes hears distant echoes of Wayne Shorter. What is remarkable, nowadays, is how one is almost never reminded of Coltrane. His solo here had his own smoothness of sound and his floating, yet 'learned' relationship to the underlying chords; the exploitation of the top and bottom of his instrument's range gave his playing a great intensity as he put before the audience a number of interestingly oblique melodic ideas. There was an exciting passage of dialogue between Hekselman and Turner, supported (and stimulated) by Rosato and Pinson. In the remaining two numbers in the concert the group sustained much of the spontaneous interaction and musical intensity created in 'Round Midnight', with all four musicians playing at a high level.
Like all the best jazz sessions, this had a kind of organic 'structure', which, to quote Coleridge, 'shapes as it develops itself from within, and the fullness of its development is one and the same with the perfection of its outward form'.  This concert grew naturally in 'perfection' of form and in musical and emotional intensity, the product of mutual listening and responsiveness 'in the moment' rather than of rehearsal. I entirely shared the enthusiasm and appreciation obviously felt by the rest of the audience.
Glyn Pursglove