AN INTERVIEW WITH VALENTINA LISITSA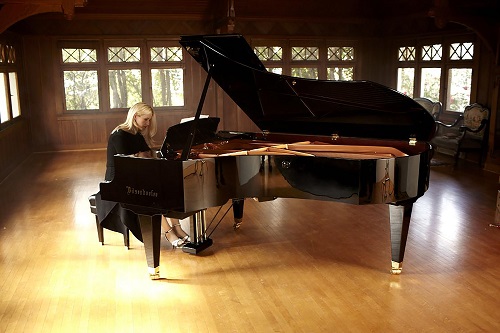 The Ukrainian pianist Valentina Lisitsa has achieved the accolade of becoming the world's most popular classical artist since her first YouTube recital in 2007. By leading the way to finding new audiences with sensational success, Lisitsa has gained a staggering 95 million views and almost 200,000 subscribers on YouTube. Born in Kiev in 1973, she studied the piano from the age of three and pursued the conventional route of attending the Lysenko music school and studying at the State Conservatoire in Kiev. However, Lisitsa was intent on a career as a chess player until meeting her future husband who influenced her to make music her future. Together with her husband Alexei Kuznetsoff, she won the Dranoff Two-Piano musical competition in Florida in 1991, after which they emigrated to the USA, making their New York debut at the Mostly Mozart Festival in 1995. There followed tours with Hilary Hahn to Europe playing at the Wigmore Hall and the Musikverein, however after a few years the concerts dried up after her agent died. In 2007, as a gamble to revive her career, she asked a friend to film her playing Rachmaninov's Opus 39, No.6 etude 'Little Red Riding Hood' and uploaded it on YouTube, and soon after this was followed by a video of the 24 Chopin Etudes which became a No.1 best seller on Amazon. Three years later, she and her husband decided to put all their savings into making recordings of the Rachmaninov concertos with the London Symphony Orchestra. By the time, two years later, when Decca issued the 2CD set, Lisitsa had become a major star with a huge internet audience leading to a sell-out concert at the Royal Albert Hall. Lisitsa's constantly growing repertoire is enormous with forty concertos and embraces Bach to Bernstein, and Scriabin to Tausig. When we spoke last week in Vienna, she was preparing to make recordings of all of Tchaikovsky's piano works for Decca – her exclusive recording company. I asked her how she discovered the idea of launching her career online.
'It was absolutely uncharted territory and still is, and I didn't think it would develop as it has; I wouldn't have thought I would have so many subscribers, millions of views all of which translates into what classical musicians really need is your own audience. Any young musician needs their own audience and now I travel all round the globe. I just came from a long tour to South Africa and then to South America, everywhere I go I meet thousands of young people who have discovered classical music and discovered me through YouTube. They come to concerts for the first time and for me its like a love for classical music is developing.' Lisitsa reflects, 'we do live in such a good time, although we complain so much, yet the whole world is connected up through the internet and we are becoming closer and closer through the internet, we are surrounded by music, it's everywhere; it is streaming to us in airports, in shopping centres, everywhere. But the flip side of this golden coin is that classical music is a commodity and we don't care who plays it, so how do you get people to come to your concert?'
Her early attempts at taking part in competitions were helpful in developing as a musician, however she also sees the negative aspects. 'For me they are a wonderful thing, but they are like a lottery in the same way for the millions who take part, only a few people win and their names become known, they are marketed like lottery winners, this person has bought a lottery ticket and their dreams are fulfilled, they have a nice house, a car, the same is happening for competition winners, it is becoming like a sports event, in music, there is no means of checking and measuring musical performance, someone who has talent loses, with only one winner who has the ability of touching people's hearts, then they will discover their audience. For me it worked on the internet, and for many people it does.'
Now that Lisitsa has her huge world-wide audience she has the opportunity of selecting the repertoire rather than the promoter. It interesting that she is in control and deciding the music she plays is romantic, modern, or even contemporary.
'I was going by social media and developing my audience who were attracted to me at first and were attracted by romantic melodies, the Moonlight sonata or 'Für Elise', and then it started to develop, so YouTube is a means of actually growing the audience in how to develop my pieces, and I was much younger when it all started and they liked very flash romantic and liked the way my hands move on the keyboard in a visual way, it still attracts people but with the audience who follow me since 2007, I would never have thought that Brahms piano music would become a bestseller, with such cerebral music, there are no fireworks, the same is in contemporary music, also in baroque music, it is expanding both my audience and my own horizons.'
Lisitsa's recordings of Glass and Nyman were chosen by her recording company as a way of building her audience.
'They wanted to do it because they wanted to expand, and thought of me as the best candidate because of my young audience and for me too. You know classical music is conservative, it doesn't go much further than Chopin or Rachmaninov, for me it was a challenge, a very interesting challenge in a way because it was new for me, they wouldn't have been my choice. As I proceeded through the project for Glass, I found my fans were quite open-minded about it, they actually were fans of it, any time you find controversy, people who like it or hate it, people who don't want to listen to it, it is like a minefield, in comments on YouTube it engages people on positives and negatives, it helps a great deal, people are not passive listeners and they help others become interested in finding out what it is all about, so for me it is a great thing and I am grateful to do it, it was very interesting, and enriching.'
I asked her if she would be prepared to take on little-known composers from Russia, and Ukraine like Mosolov, Roslavets or Silvestrov? 'There are many composers, but life is too short.' However, Lisitsa is prepared to open up little-known music by more popular composers, currently, she is engaged in recording all of Tchaikovsky's piano music. 'It's a big project of maybe 9 or 10 CDs, and to my embarrassment or shame, I only know 5% of this music, yes we know his symphonies and operas, and the only time they were all recorded was in the last days of the Soviet Union, by Victoria Postnikova, a Soviet pianist and I am recording recently discovered works, with this immense amount of beautiful music, it will help expand the repertory of students and young kids because it is written in a way that is so accessible, in which they can learn how to play an instrument and by such a famous composer.'
I questioned the present state of music in her Ukrainian homeland, which has a very rich tradition of raising musicians such as Oistrakh, Richter, Gilels, Horovitz and Kozlovsky.
'Of course, there has been much turmoil and with the destruction of the Soviet Union, many travelled abroad to make ends meet, and like me, there were hungry to get a piece of bread, but it is not based on a few people leaving, there are more young people interested in music, and continuing the tradition and it is just as strong as ever, of course they win competitions, and when I go to masterclasses everywhere in the Ukraine, they are still on a world level, I was quite smitten by it, they have difficult conditions, they have bad pianos, and schools are in a state of disrepair, but everyone has a bloom in love for music during such difficult times. We Ukrainians are like a small family of humans.'
The Ukraine is currently engaged in a bitter conflict in the Donbass and I raised the example of Daniel Barenboim's creation of an orchestra of Palestinian and Israeli young music students to promote peace worldwide, in 2015, as a Ukrainian Valentina Lisitsa gave concerts in Donetsk which is the centre of a war zone, do she think it possible people can understand each other better through music?
'It's a wonderful question and I can give just one example of when I was there playing with the Donetsk symphony orchestra and we went to play at a festival in Crimea. The conditions were terrible, pianos were stolen, really much worse than in Donetsk, but there were musicians from China, Spain, Portugal, from Japan, and we played Beethoven, and Tchaikovsky and at the end of the concert, there were tourists from mainland Ukraine who spoke Ukrainian with accents from western Ukraine, you know the difference between West, East Ukraine, it's like the difference between China and Taiwan, they said that we guys loved what we played and asked to sing folk songs and they just came on stage and sang duets and everybody enjoyed it, then a local cellist said he wanted to sing a Spanish song for our Spanish guests, everybody were singing and the concert went on for another hour, it was like a little island of humanity and for us it was like we were all family. I think that classical music is one artform that is non-violent, you can see violence in the theatre, in the cinema, in poetry but in classical music there is no violence, so it is one artform that unites us, and I do believe in its healing power.'
Have you given concerts in Russia?
'Last year, I visited Tatarstan and they have a very good orchestra and a great conductor, and I was totally smitten there because I grew up in the Soviet Union, and Kiev was the third city, and certainly Kazan was never considered as a music centre yet they have grown into an incredible orchestra, without recruiting from other parts of Russia, they have done it all themselves and they have a great conductor Alexander Sladkovsky who you will hear a lot of in a couple of years, certainly they have support from oil and from the President of Tatarstan, because at the same time they understand this orchestra is an ambassador to the world, we played with this orchestra in Germany and they got a very good response.'
Valentina was enthusiastic about her 2018 tour to the UK with the Russian Philharmonic Orchestra and Valery Polyansky in which they are playing in major cities. I asked her about her expectations for the tour after her successful solo concerts in London.
'I played with this orchestra in 2001 in America just after the terrorist act, and it was a very, very difficult time for the United States and our concerts were highly appreciated and helped people together, I am looking forward to visiting new places.'
Edinburgh is capital of Scotland and is twinned with Kiev, and there are still exchanges, exhibitions, and there are a lot of Ukrainians who live there. You will be the first Ukrainian pianist to play there. What are your feelings when you play in front of big audiences, I know that you have played in the Proms and in a recital at the Royal Albert Hall, how does it feel like to play in front of such a huge audience in comparison to making a recording?
'You know anything can be recorded, whether it be high definition, live broadcast, but nothing can compare with or possibly substitute a concert which itself can never repeat itself, you may compare this if you have the World Cup in soccer, you can be in the stadium in front of screaming fans or you can see it in front of the TV with all the different angles. Of course 99% of people will choose to be there, but classical music events do not have the excitement of sports events, but the audience listen because we are human creatures relating to each other so it is contagious on the other side if one person starts crying it is also contagious so people jump to their feet and react differently and some people clap louder but we all are the same and the way how people understand music is quite magical, people take their seats, and some are in the zone, the musicians are warmed up some are still thinking about problems left behind at work, or family whatever and in the silence just before the music begins there is complete attention and this is the time when everyone merges into the music, people can call it meditation or whatever so time stands still and we are in a different dimension, these magic moments will never happen in a recording, you can go back and listen again, but equally fine phrasing  but that golden silence never happens in your own Hi-Fi or home theatre so this is reserved for the live performance which absolutely wins.'
I mentioned to Valentina the famous Three Tenors concert at the 1990 Italian World Cup which became a sensation, and did so much for classical music, selling many CDs, DVDs, etc. Next year the World Cup is going to be in Russia where they have plans for classical concerts in the tournament. I recollected that they did this at the 2014 Sochi Olympics when Matsuev played.
'Lang Lang played too, and he did so much to popularise music, particularly with State support. When this happens, it sends a strong message. It's a wonderful message.' We discussed the problem with audiences changing in the last twenty years, the problems recently that ordinary subscription concerts in London, Manchester and Glasgow are mostly attended by elderly people.
'I remember a letter by Chopin to a friend about a self-promoted concert and he agreed to do it because he needed the money and there was a very disappointing attendance because only silver-headed people were in the audience while all the young people were out hunting so you know the problem of the elderly audience is the same for 200 years! You know there are always elderly people, but new people are still coming into the audience. When young people want to try something new when they come of age, they try drinking something, and they feel drunk and euphoric for the first time, it takes time for things to age, like a good quality wine, it is good that young people are listening to music, it means they will later in life develop a taste in something, all the governments are cutting the funds and cutting funds for school programmes, appreciation of classical music or for piano music, the piano is an instrument is not like a toy, and I think that local and central governments are making a big mistake when they say that music is not part of education, or mathematics is not done without calculators. To know multiplication tables or to sing twinkle twinkle star develops ourselves, it makes us human, and the ability to make some kind of music. If it is eliminated we are robbing the young generation of their brain, we are losing part of their brain, we make them into consumers of something and away from being creative, you know with studies of music through the efforts of making children play music, there will be one professional musician out of ten thousand kids, remember there will be many rejects, but those kids who don't become professionals will teach their kids to love music, I don't know the actual statistics but those people who studied music also taught their kids. The same way in that they understand the importance of it, some governments are doing something but its an ongoing conversation among the musical community wherever I travel.'
What advice would you give to young people who want to have a music career?
'I would say they should take a piece of paper and write down why they want to be a professional musician, do you want lots of money or do you want fame, or want girls or boys screaming for you, there are other ways of life where you can achieve these kinds of things and pay much easier so in particular classical music is very difficult to master, there is a lot of competition, but I can say that I absolutely love music and want to share this with others and then this is a totally different thing. If you love something through loving classical music you won't notice the long hours of practice, lonely travel and having great patience, it will be irrelevant because you are doing something that you want to and which you love to share with others and you know it is a wonderful gift, talent and at the same time when people can go and hear something like the Moonlight Sonata, there are people who never heard it in their life and you can think how proud you should be to be able to bring to people such an incredible masterpiece. So, if the feeling of sharing this incredible joy in music is what young people want to do then they should do it, very few professions can compare with it.'
I mentioned to her my experience a few months ago attending a concert given by Mikhail Pletnev in which he entered the room and approached the piano slowly as if he was a university professor about to share his knowledge with his students. He paid little attention to the audience and hardly ever changed his expression, only bowing when he gave an encore. He almost completely ignored the audience, but his attitude was strange, in comparison to the approach of the young Chinese pianist Yuja Wang who has a love for fashion and often wears sensational costumes in concert. What do you think of this?
'You know it's about two different things, if a musician ignores the audience it's a way that I can understand because in sports there is an expression, its important to get into a zone totally separate from the audience, but from the audience's view perhaps they would like him to smile. If you know that if you take young kids to a zoo, then one can spend an equal amount of time looking at an animal, there are little cubs who see all these people looking at them and it is the place where tigers live, and they pay no attention for you, look at adoring creatures who don't look back at you. It is another form of communication as he [Pletnev] tries to draw everyone into a different world, but in the case of Yuja Wang and her fashion dresses, it's a start of the same thing mentioned before of elitism, and of how we should be democratic, how is democracy reflected in short dresses? But if music was stuck in Hollywood glamour and actors are only known for their dresses at some society ball and at the same time we are like in a Japanese tea ceremony where everyone wears a tuxedo and bowties, you go away and bow, this is a very ritualistic life, again if you read Chopin's letters which mentions that if you applaud at the pause or at the end of the work, people look down at the uneducated calling them an uneducated rabble. At the same time when Chopin played his First Piano Concerto, they sat down and played the first movement, they stood up, drank champagne and had some snacks, they heard two singers, had more champagne, played the second movement and then the finale. So, it was fine, we try to catch up with the times and no more tuxedos, perhaps Yuja Wang in her own way was trying to make the music contemporary and for people this was not so unusual, this is a club girl, where people dress up to go to clubs, society ball, this is the twenty-first century.
On Lisitsa's website she says Liszt and Rachmaninov are closest to her, and I asked if this is still the case as her musical style is based on expression.
'Yes, you are right, but I don't confine myself to certain composers, but I am looking forward to try to make people cry. but the most important thing for me is the sonority. I am looking for ways of changing the sound of the piano, in old recordings you could always distinguish one pianist from another by their sound, their phrasing, you would never mix Rachmaninov with Backhaus, you always knew, and even in digital clarity and everything that came with that, everyone could have a good sound but it is still very average, particularly in recordings when not everyone has their sound signature and which for me is of absolute importance that the sound atmosphere would be your signature irreplaceable in a way. In the Russian, Soviet, Ukrainian, or Slavic school, the primary thing is in the voice, it is very important for phrasing differently, breathing of human voice, in gradations, so for me these phases in sound is what is for me important from anybody else and in this repertoire particularly.'
I said that it was interesting that Liszt and Rubinstein, gave many hundreds of concerts all over Europe making music accessible to thousands more people in the nineteenth century. How did she feel about doing this through the internet and bringing music to people who didn't know classical music before?
'I am trying to reach as many as possible, I reach 70,000 people a day, so I couldn't reach so many playing in stadiums every day. It's good and it's my mission as a musician not just in playing in the most important places in classical music, but taking it out to places which never experienced it before. I do it all the time and have found how important it is for whom you bring it to, and how much they appreciate it individually so that you are doing something good in society but for these people it brings them into the fold and it makes them feel they are part of being able to do something. I'll give one example when I was in a war zone people did not understand the music as entertainment but as oxygen – it was completely different for me, there was a big clash between playing in Donetsk and then going to play in the Berlin Philharmonic directly from there to an audience who had forgotten how it felt like to hear the bombs falling. It was great to understand that communication as a musician lies in healing people's souls.'
Gregor Tassie
For more about Valentina Lisitsa click here.