Spain Festival Castell Peralada 2018 [2] – Mozart, Die Zauberflöte: Liceu Chorus and Orchestra/Josep Pons (conductor), Castle Gardens Auditorium, Peralada, 6.8.2018. (JMI)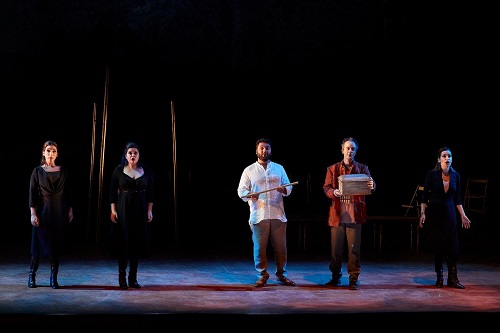 Cast:
Tamino – Liparit Avetisyan
Pamina – Olga Kulchynska
Papageno – Adrian Eröd
Queen of the Night – Kathryn Lewek
Sarastro – Andreas Bauer
Speaker – Christopher Robertson
Monostatos – Francisco Vas
Papagena – Julia Farrés-Llongueras
3 Ladies – Anaïs Constans, Mercedes Gancedo and Anna Alás
Production:
Director & Sets – Oriol Broggi
Costumes – Berta Riera
Lighting – Albert Faura
The Festival has commissioned a new production by the Catalan theater director Oriol Broggi, who is making his opera debut with this work. His concept is very minimalist, and one might say it's almost nonexistent: there are no sets, just a bare stage with a screen in the back where some rather uninteresting images are projected. On the stage itself, there are a few tall sticks that represent doors and a handful of chairs. The costumes are very simple – the priests wear a kind of cassock and the others are in comfortable street clothes.
The stage direction too is minimal. The soloists appeared to have been abandoned, and the chorus of priests sang in a totally static way. In a surprising and capricious turn, there is a priest who narrates in Catalan. At first I thought this meant the dialogues would be suppressed, but that was not the case: the narrator explained what was happening on stage. The truth is that I've never felt a need to have someone explaining what happens on stage in an opera where there are surtitles, as was the case here.
Josep Pons, the current musical director of Barcelona's Liceu, was in the pit with his orchestra. His conducting was convincing in the first half of the opera, but in the second part it lacked lightness and inspiration. One would expect better from him. The orchestra did well under his baton.
Prince Tamino was played by tenor Liparit Avetisyan, who has an attractive voice and is well-suited to this role. He was occasionally a little short on volume, but the overall impression he made was very positive.
Soprano Olga Kulchynska in the role of Pamina has an appealing voice, although she was uneven: there were moments where her voice had a metallic edge. She is still young and has to mature. She fell somewhat short as an actress, which was due to the lack of stage direction – only a few weeks back I saw her as Susanna in Le nozze di Figaro, and her performance was much stronger.
The best performance of the night in vocal terms came from Kathryn Lewek as Queen of the Night. She was brilliant in her two arias, overcoming their devilish tessitura and coloratura.
Baritone Adrian Eröd gave a good performance as Papageno. Andreas Bauer was a somewhat modest Sarastro – his voice has amplitude and sonority in the middle, but it is rather short below, which is a problem in this role.
Baritone Christopher Robertson did well in the part of the Speaker, as did Julia Farrés-Llongueras as Papagena. Francisco Vas in the role of Monostatos had some problems with projection.
The trio of ladies – Anaïs Constans, Mercedes Gancedo and Anna Alás – were excellent. The Priests and Armed Men were well covered by Gerard Farreras and Vicenç Esteve Madrid.
Finally, there were six boys this time instead of three, and they all did nicely.
José M. Irurzun