United Kingdom Gilbert & Sullivan Festival [3] – Iolanthe: Soloists of the National Gilbert and Sullivan Company, National Festival Orchestra / James Hendry (conductor). Royal Hall, Harrogate, Yorkshire, 18.8.2018. (RJW)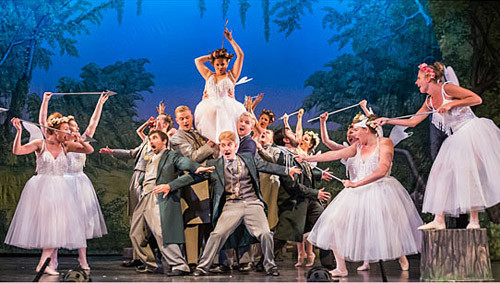 Production:
Director — Cav. Vivian J. Coates
Choreographer — Mary MacDonagh
Scenery — Paul Lazell
Lighting Design — David Marsden
Cast:
Lord Chancellor — Richard Gauntlett
Earl Tolloller — Nicholas Sales
Earl of Mountararat — Eddie Wade
Private Willis — Matthew Siveter
Strephon — Bradley Travis
Queen of the Fairies — Gaynor Keeble
Iolanthe — Jennifer Parker
Celia — Stephanie Poropat
Leila — Emma Watkinson
Fleta — Alexandra Hazard
Phyllis — Rosanna Harris
During 2018 there has been a surfeit of good productions for this comic opera around the UK, yet this one stands alongside the excellence of the ENO Coliseum production in February, and helpfully minus the ENO's crudities.
All the elements of fun are to be found in Vivian Coates' staging and a good partnership has been struck with his style and Mary MacDonagh's choreography, since they blend perfectly. Particularly special was James Hendry's handling of the orchestra throughout. This was the best interpretation of the Overture I have ever heard; the teasing out of phrases and interesting ebb and flow of dynamics in Sullivan's best overture score was skillfully delivered by the Festival Orchestra. Later Hendry gave in-verse accompaniment a certain sway that added an extra dimension to the music so well known by audiences.
Vivian Coates opens the show with an original routine for 'Tripping Hither' and an unexpected entrance for Iolanthe, centre stage, a novelty that bode well for later diversions to savour. Phyllis was delightfully picturesque and she complemented the animated Strephon ideally. Rosanna Harris and Bradley Travis sang their duets superbly. The peers' entrance was powerful and their clear tenor voices rang out with substantial volume. A choreographed game of cricket fitted in well with the music and the ball was well caught in a coronet. Lord of Tolloller was confident tenor who soared effortlessly in 'Of all the young ladies I know'. The peers reacted amusingly to the Fairy Queen's indictments, which were much enjoyed during the rousing finale.
An exact model of the Palace of Westminster with Big Ben graced the stage in Act II. Private Willis opened the scene with a change of lyrics up his sleeve to contemporise the current Brexit and Corbynite situation. The fairies entrance with fairy light wands and dresses were effective against the night sky and low lighting levels. (It is not generally known that our Christmas 'fairy' light name came from the miniature bulbs made by Swan for the first Savoy production of Iolanthe — the electric light being invented by him two years earlier.)
The quality of costumes, sets and lighting all carry the hallmarks of a good London professional production, which the Festival audiences have come to expect. The National Gilbert & Sullivan Company's Iolanthe was a highlight of the Festival and the performance is now 'trapped' on DVD. It goes out on tour during September.
Raymond J Walker