Holding the Key: Nicholas Phan talks to Christopher Sallon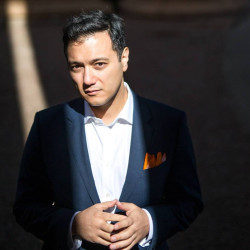 'Music is for everybody, but the artist, alone, holds the key' declares Nicholas Phan, one of the USA's most accomplished lyric tenors. In a blog recorded in 2010, some eight years before our July interview in Tanglewood, he stood calmly before the camera and provided an 'insider's' glimpse, as he prepared for his Carnegie Hall debut recital with accompanist Myra Huang. With a maturity and self-assurance which belied his years – he was then just 31 years old – he spoke of the need to take risks and proceeded to provide a key to his programme of songs by Benjamin Britten. Phan's performance that night, particularly his account of Britten's Seven Sonnets of Michelangelo, and the song cycle Winter Words, a setting of Thomas Hardy poems, garnered rave reviews, as did his Winter Words CD, released soon thereafter.
Phan has in his own words, 'a voracious musical appetite' with a passion for all music from Monteverdi to Eliot Carter. 'I don't want to be put in a box' he tells me. In the time that has passed since that first Carnegie Hall concert, Phan has acquired an international reputation and is much in demand by opera houses and concert halls around the world. His repertoire is extensive, and stretches from the operas of Handel, Mozart, and Verdi to the great masses and cantatas of Bach, and the Lieder of Schubert, Schuman, Mahler and Wolf. He performed most recently at Tanglewood in late July, in a magnificent account of Haydn's infrequently played Nelson Mass (Missa in Angustiis) with the Boston Symphony Orchestra under Herbert Blomstedt.
Phan grew up in Ann Arbor, Michigan, born to a Greek American mother and a Chinese Indonesian father – a classical music-loving scientist and professor who teaches at the University of Michigan. At the tender age of 4, young Nicholas was given his first violin, and at 10 he started to play in the school orchestra. He discovered his voice as a freshman in a high school production of The Music Man. While an undergraduate at the University of Michigan School of Music, he decided to study with Rosemary Russell. She exposed him to the full range of opera, oratorio and particularly song. 'I soared through the repertoire', says Phan. He recalls the sobering advice he received from his teacher. 'A singing career', she warned, 'takes not just talent, discipline, and perseverance, it also takes luck.'
In 2001, Phan joined the chorus at Glimmerglass, and the following year enrolled at the Manhattan School of Music. Talent, discipline and perseverance already in evidence, all he needed was luck. 'I was singing one day with my coach when the phone rang. The tenor assigned to sing the role of Iopas in Berlioz's opera Les Troyens had to be replaced at short notice, and Zubin Mehta and the Lyric Opera needed another tenor. ''He's standing right in front of me'' said the coach.' It took Phan just a lucky day and a half to master the role. 'That performance was a special moment', says Phan.
Less than a year later, an invitation came to join the Houston Opera Studio. His apprenticeship there has led to many appearances with the Houston Grand Opera including roles in two of Verdi's greatest works: La traviata, which featured Renée Fleming as Violetta, and Falstaff with Bryn Terfel as the vainglorious Sir John and Phan in the roles of Bardolph and Fenton.
In 2005, Phan embarked on a career as a freelancer, acquiring agents in London and New York. Engagements in the great opera houses of the US and Europe swiftly followed, starting in June 2006, when he appeared as Don Polidoro in the Frankfurt production of Mozart's first opera, La finta semplice. Phan's vocal agility and purity of tone, particularly in the upper register, naturally led to many offers that no young tenor could refuse, especially bel canto roles, notably in the operas of Rossini. The bel canto repertoire, with its daring and highly embellished showcase arias, thrills audiences; but while Phan recognises the music's virtuosic beauty, he also appreciates its limitations. 'It is not my instinctual mode of expression,' he confesses. 'It does not make my heart beat any faster. I think more instrumentally and look for more harmonic tension.'
Success came at a price. By 2007, after much time on the road, Phan was experiencing operatic 'burn out' and was close to quitting. An unexpected invitation from administrator Tony Checchia to spend the summer in Marlboro, Vermont, participating in its annual international chamber music festival, could not have been more fortuitous or, as it proved, more remedial. Marlboro is a rural musical retreat located deep in the Vermont countryside. 'Rustic does not begin to describe it' laughs Phan. Over the next four summers, working closely with the Festival's director Mitsuko Uchida, Phan reconnected with his passion for chamber music and song. He recalls his first performance in the summer of 2010 of Schumann's Dichterliebe, accompanied by the 'deeply thoughtful and musical Uchida', as a 'great privilege'. It was at this time that he rediscovered and fell in love with chamber music and decided that the moment had come to get off the operatic treadmill and to take control of his artistic life. The risk paid off.
2010 saw not only Phan's Carnegie Hall debut, but also a recording of Stravinsky's Pulcinella with the Chicago Symphony Orchestra under Pierre Boulez. It was also the year in which Phan co-founded the Collaborative Arts institute of Chicago. In doing so he has helped to establish a world home for performance and study of art song and vocal chamber music attracting teachers and visiting musicians of international renown. In 2011, he was nominated one of National Public Radio's 'Favourite New Artists of the Year'.
Phan recognises that unlike grand opera, where the costumed singer is concealed behind the character and can find safety in numbers, the recitalist, supported only by his accompanist, is much more exposed. Through narrative, interpretation and eye contact, the performer has an intimate and direct way to communicate with the audience. He also has a greater freedom to explore his own identity. Nowhere is his insight and musical intelligence better illustrated than in Phan's 2017 Grammy nominated CD, Gods and Monsters (Avie Records). Here, once again accompanied by Myra Huang, he perceptively explores the songs of the German Romantics such as Beethoven, Schubert, Brahms and Mahler. The arresting title of this CD reflects Phan's fascination with myth and legend, and his passion for using song as a medium for storytelling.
This brings us to Phan's concentration on the vocal music of English composers such as Dowland, Purcell and Finzi, but most particularly the luminously beautiful and emotionally complex songs of Benjamin Britten, of which Phan has become arguably the USA's foremost interpreter.  Why does the work of Britten, the greatest of artists, resonate so personally?
'Growing up in Michigan as half Chinese, half American, and gay, I have always felt like an outsider, looking in', says Phan. 'I read Humphrey Carpenter's Britten biography, as well as a collection of letters between the great composer and the tenor Peter Pears and discovered a gay love story which was very rare and unique.' Phan also refers to the fact that Britten, despite honours and recognition, always regarded himself as the quintessential outsider, who openly and courageously shared his life and love with Pears before homosexual acts were decriminalised in England. Phan admires not merely the brilliant body of work which resulted from the professional collaboration between these two men, but also the courage and dignity with which they chose to live their private lives.
Although Phan is not personally acquainted with the ancient fishing villages which dot the flat Suffolk coastline, or the lonely reed beds close to the late composer's home in Aldeburgh, his voice perfectly captures the shifting light which is evoked in Britten's unmistakable sound world. His dynamic voice combines a rich and burnished resonance, interpretive skill, and superbly incisive articulation. Like Pears, Phan brings a searing emotional honesty to the music, but without the former's wobbling notes or idiosyncratic English upper-class diction. Phan's vocal gifts are amply evidenced in his second CD of Britten songs, Still Falls the Rain, recorded in 2012, and in Les Illuminations, his 2018 CD of Britten's setting of poems by Rimbaud. In its strength, alternating with a soft subtlety of timbre, Phan's voice owes much to the late Anthony Rolfe-Johnson, a singer he holds in great esteem.
Phan's gallery of influential heroes includes past but ever-present masters such as Dietrich Fischer-Dieskau, Elizabeth Schwartzkopf, and Nicolai Gedda. He also nominates living artists with whom he has closely collaborated, singling out just two for special mention: the great Bach interpreter Helmuth Rilling, described by Phan as 'a wonderful mentor' – and under whom he has sung Bach's St John and St Matthew Passion, as well the Mass in B minor. The other is Ricardo Muti, the current music director of the Chicago Symphony Orchestra, who recently conducted him in a performance of Schubert's Mass in E-flat major. 'It was a mind-blowing experience', claims Phan.
Phan's calendar of future engagements looks exciting. January 2019 will be marked by an appearance as Candide in Bernstein's eponymous opera, with Marin Alsop and the Israel Philharmonic. More immediately, he returns to Tanglewood to sing in Bernstein's Songfest under the baton of Bramwell Tovey (review click here). This will be followed by a West Coast premiere of US composer Nico Muhly's song cycle Impossible Things; then a performance of Stravinsky's Persephone with the San Francisco Symphony Orchestra conducted by Michael Tilson Thomas.
This coming November, Phan has accepted an invitation from the young pioneering conductor Antoine Plante and his innovative orchestra, Mercury, to travel to Houston to sing Schubert's song cycle Die schöne Mullerin in a multimedia, fully orchestrated version. Mercury's published mission is 'to redefine the orchestra with performances that faithfully present the music of great composers, in settings that make audience members an equal part of the experience – not just spectators'. Phan's decision to participate reflects his deeply held belief that while the artist alone holds the key, the music is indeed for everyone.
Christopher Sallon