Sweden Bizet, Carmen: Soloists, Royal Swedish Opera Chorus and Orchestra / Joana Carneiro (conductor). Royal Swedish Opera, Stockholm 19.1.2019. (GF)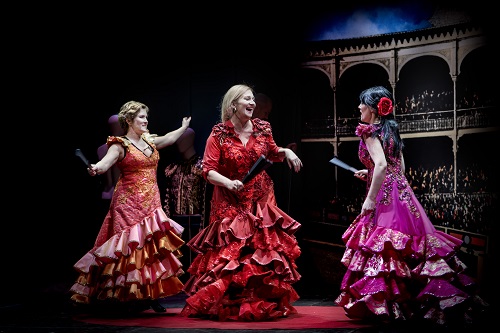 Production:
Director – Johanna Garpe
Sets – Per A Jonsson
Costumes and Masks – Nina Sandström
Lighting design – Erik Berglund
Choreography – Roger Lybeck
Dramaturge – Katarina Aronsson
Video – Emi Stahl, Erik Eliason and Magnus Göthlund
Cast:
Carmen – Miriam Treichl
Don José – Daniel Johansson
Escamillo – Alessandro Cacciamani
Micaëla – Magdalena Risberg
Zuniga – Johan Edholm
Moralès – Håkan Ekenäs
Dancaïre – Jens Persson
Remendado – Jonas Degerfeldt
Frasquita – Marianne Odencrants
Mercédès – Johanna Rudström
In her famous Habanera, Carmen sings: 'Love is a rebellious bird', and that bird is Carmen herself, a symbol of freedom. But in this production she is denied her freedom from her very first entrance – in handcuffs. Very little else is what it once was when she first set foot upon the boards in 1875: the cigarette factory where she worked has closed down and transformed into a dressmaker's shop (but the employees smoke more than ever!); the soldiers at the nearby regiment have become civilians and, with Don José as their clerk, work in a shipping agency, forwarding cardboard boxes from the dressmaker's (not very efficiently, it seems, passing the boxes from hand to hand instead of just carrying them away); Escamillo has thrown in the towel as Matador and taken up MMA (Mixed Martial Arts); the smugglers are making a fortune on the contents of the cardboard boxes from the dressmaker's; in the third act Micaëla is pregnant, however that happened … but at least Carmen is killed by Don José at the end, and not the opposite!
The harassing of Micaëla also remains, so in that respect nothing has changed, either. And Carmen is a rebel, which of course is less sensational in 2019 than in 1875. What worries me is the lack of affection from Don José towards Micaëla in their encounter in the first act. The music speaks warmth, tenderness, infatuation but the clerk is stiff as a poker, even downright embarrassed as his workmates grin at him in the background. And it isn't Daniel Johansson's fault. He is a gifted actor, a fact I have called attention to several times before: as Tamino in Die Zauberflöte, Pinkerton in Madama Butterfly and Rodolfo in La bohème he was splendid and the wooden and awkward bore in the first three acts undergoes a metamorphosis in the brief interval before the last act and then delivers a final duet the likes of which I have seldom seen in terms of dramatic intensity and uninhibited acting. No wonder he was exhausted and still inside the role at the curtain calls. His vocal resources announced 'Otello next!' Poor Micaëla felt rather lost in the mountains in the third act – no, of course, there are no mountains in sight in this production but a port, Sevilla is on the River Guadalquivir – but Magdalena Risberg sang her big aria brilliantly, bigger-toned than most Micaëlas, but credibly. So bold a person who goes to the harbour alone at night in search of the man she loves (?) must also have the vocal resources to match.
Vocal resources a-plenty were also in the fore when Alessandro Cacciamani made his entrance, big, with an enormous big black beard but dressed in a decidedly ridiculous sports outfit – and why, as a friend asked in the interval, do directors force singers to appear bare breasted on stage? Opera singers are rarely Adonises. But he had a tremendous bass voice. His opponent at the MMA fight – which, thank heavens, took place behind the curtain – was incidentally nicknamed 'the Bull'. The brutality of MMA – of which I know nothing besides what I read for this review – also spilled over into other scenes. The smugglers were rougher with Zuniga than usual, and Zuniga was also more of a hothead than he usually is. So there was a lot on the debit side. What does the credit side look like?
Not bad at all! The chorus and orchestra were excellent as usual and Portuguese conductor Joana Carneiro had a firm grip of the proceedings. A knockout start rendered a round of applause halfway through the overture and rhythmic precision and brisk tempo characterized the whole performance. There was no children's chorus this time. Since the regiment had been scrapped, the street urchins had no reason to march either. There were some other cuts as well. The rehearsal of the gypsy dance at the beginning of Act II was a parody, humorous and beautiful with Carmen, Frasquita and Mercédès in their blood-red costumes conveying Spanish colouring. The latter two, Marianna Odencrants and Johanna Rudström, were among the best I have seen and heard in these roles.
And Carmen? Every performance of this opera practically stands and falls with the title role, and Miriam Treichl was absolutely outstanding! She had magnetic charisma, expressivity, timing – her every movement was charged with meaning – and her singing was at one with her acting. All the set pieces got their full measure, but the most magical, the most touching of all was the card scene. And the final scene, when both artists had reached the boiling point, cannot have left a single member of the audience unmoved. I don't think I'll want to see this production again, but Miriam Treichl's Carmen will be forever etched into my memory – together with Daniel Johansson's phenomenal acting and singing in the final scene!
Göran Forsling