United States Julia Wolfe: ETHEL (Ralph Farris [viola], Dorothy Lawson [cello], Corin Lee [violin], Kate Dreyfuss [violin]), The Jewish Museum, New York City. 28.2.2019. (DS)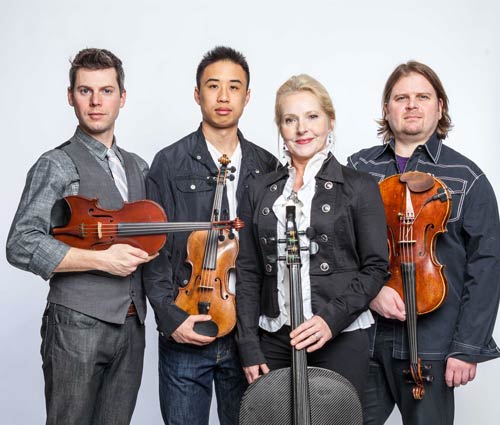 Julia Wolfe – Blue Dress for String Quartet; Dig Deep; Four Marys; Early that summer
The setting was perfect. A cool, modern blue light washed the over a stage set with iPads on stands. In a scintillating contrast, the walls of the late 19th-century auditorium of the Jewish Museum offered art nouveau stained glass windows of ambers and browns. The composer Julia Wolfe, with her eye-catching red curls, was comfortably meeting friends while the audience gradually filed in to taste a complimentary glass of wine.
The evening of Wolfe's complete string quartets — presented by Bang on a Can — was carefully paired with the museum's tribute to another fearless New York woman artist, Martha Rosler, whose anti-establishment retrospective filled the first floor. Once the concert hour arrived, Wolfe stood up to give what she called 'living program notes,' while the members of ETHEL — New York's veteran new music quartet — came to the stage.
Any lover of American contemporary music would jump at the opportunity to experience this concert — especially those with an appetite for Wolfe's sonorous, anthropological-cum-rhythmic tributes to American life, culture, and tradition. (And it's good to be hungry, given the rich breadth of her output.) But the actual realization of the evening fell short. Likely, the musicians felt it, too, as they spent time recentering — rhythmically, dynamically, and (in subtle moments of insecurity) with phrasing — through all the works. Passion, intention, and skill saved the performance, especially in works like Dig Deep and Four Marys.
But as a critic, I wondered about another ever-growing American tradition — one captured directly in Wolfe's quilt of American commentary: the growing disease of lacking rehearsal time (a speculation based on the slightly ragged results). It's become part of New York artistic life to be taxed, worn down, and pressured by finding any means to live. Between health insurance scares, rising living costs, and sheer lack of funding, when is an independent albeit excellent musical group supposed to have the time to pull together such complex works that beg for and deserve careful attention? At a time when a vision of the long haul is scrapped for greedy pleasures, and when we are not only fighting to save such American treasures as the National Parks, we must protect the music that makes this culture worth saving.
Blue Dress for String Quartet was recently commissioned by Ethel and is one of the evening's works of Americana that we should maintain. During her 'living program notes,' Wolfe explained the Appalachian sources: a hot summer in Tennessee, full of fiddling, plus fragments of the song, 'Devil with a Blue Dress' — all of which poetically linked this leg-stomping, string-twanging anthem to the purity and resilience of American culture.
Daniele Sahr