Germany Wagner, Tristan und Isolde: Soloists, Staatsopernchor, Staatskapelle Berlin / Daniel Barenboim (conductor), Staatsoper Unter den Linden, Berlin, 15.6.2019. (JMI)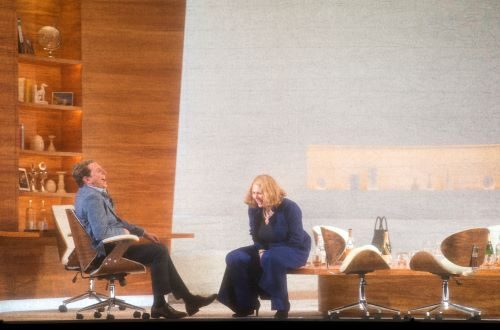 Production:
Director and Sets – Dmitri Tcherniakov
Costumes – Elena Zaytseva
Lighting – Gleb Filshtinsky
Cast:
Tristan – Andreas Schager
Isolde – Anja Kampe
King Marke – René Pape
Brangäne – Violeta Urmana
Kurwenal – Boaz Daniel
Melot – Stephan Rügamer
Sailor – Adam Kutny
Shepherd – Linard Vrielink
This was one of those opera performances that leaves the viewer fully satisfied and thinking, 'It was indeed worth the trip'. It was an excellent evening in all respects: superb conducting, a wonderful vocal cast and a fine staging.
This is the same production that I had the opportunity to see and review in February 2018 around the time of the reopening of the Unter den Linden theater, which had been closed for five years (for my review click here).
As in 2018, Daniel Barenboim was in charge of the musical direction, and this time too his reading was outstanding: one of those that cannot easily be forgotten. There were no ups and downs from beginning to end. It is one of the best performances I have heard from him, and there have been many occasions in recent years. It has just been announced that Maestro Barenboim will continue as musical director of the Staatskapelle Berlin until 2027, which is terrific news for Berliners and their visitors: there will be many chances in the coming years to enjoy his conducting and the sound he draws from the orchestra.
Tenor Andreas Schager played the part of Tristan, as he did on the previous occasion. His performance was spectacular: he is one of the finest interpreters of the role, if not the best of all. One has to wonder how long his voice will be able to continue singing like this, but the truth is he has been doing it for years, and there are no signs that it is taking a toll.
Soprano Anja Kampe in the role of Isolde was also repeating and was again fully convincing. Her performance was full of emotion, and her voice suits the part well, especially in the middle range, although it can be somewhat tight at the top.
Rene Pape as King Marke gave an exemplary performance; he was faultless in his two monologues, especially in the first one. There is no one today who can match him in this character, and in some others too, with his beautiful, powerful voice.
Brangäne was sung on this occasion by Violeta Urmana who, after many years of singing soprano roles, has returned to her mezzo-soprano origins (which, I think, she should not have left). Her voice has lost some strength, but she is a solid interpreter of the character.
Kurwenal was played by Boaz Daniel, who was also in the 2018 cast. I found him to be a good Kurwenal then, but now he was even better and gave an exciting, powerful performance, one of the best that I can remember from him.
In the secondary characters, Stephan Rügamer did well as Melot, as did Adam Kutny as the Sailor and Linard Vrielink as the Shepherd.
José M. Irurzun