United States Puccini, Madama Butterfly: Soloists, Orchestra, Lyric Opera of Chicago / Henrik Nánási (conductor). Civic Opera House, Chicago. 7.3.2020. (JLZ)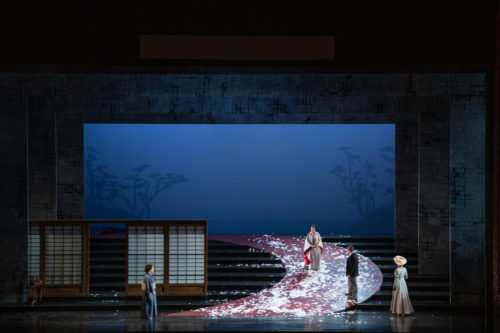 Production:
Original Director – Michael Grandage
Revival Director – Louisa Muller
Set and Costume designer – Christopher Oram
Original Lighting designer – Neil Austin
Revival Lighting designer – Chris Maravich
Chorus master – Michael Black
Cast included:
Cio-Cio-San – Lianna Haroutounian
Pinkerton – Brandon Jovanovich
Suzuki – Deborah Nansteel
Sharpless – Anthony Clark Evans
Goro – Rodell Rosel
As familiar as Puccini's Madama Butterfly may be to some, outstanding performances can bring out fresh details in this venerable score. This is the case with Lyric Opera of Chicago's revival of a Michel Grandage's efficient staging, which benefits from the current direction of Louisa Muller. Local color, effective use of actors, and thoughtful blocking combine with an outstanding cast that knows the work well.
As Puccini's heroine, and in her Lyric Opera of Chicago debut, soprano Lianna Haroutounian accentuates the score's intensive lyricism. Her sweet and even tone made Cio-Cio San's passion palpable, while her voice emerged easily in the richly scored passages. These qualities were especially prominent in duets with Brandon Jovanovich, with the two singers particularly intense in the love duet at the end of the first act.
Haroutounian was consistently strong in the succeeding acts, with subtle phrasing, keen attention to dynamic levels, and alluring tone. The well-known 'Un bel dì vedremo' stood out as part of the larger scene with Suzuki, and in the final act, the soprano embodied her character with finesse and style.
As the scurrilous Pinkerton, Jovanovich gave the same freshness and vitality he recently lavished on the character of Gherman in Lyric's Queen of Spades (review click here). His full-bodied tenor was always on pitch and articulate, and his phrasing brought out subtleties in the libretto. Never strident, the forte passages range effortlessly through the house. In the opening of Act I, his interactions with Anthony Clark Evans (as Sharpless) presaged a similar tone in the final act, as the two made their characters come to life with natural aplomb. But he and Haroutounian were spectacular in their well-known love duet, and his acting showed Pinkerton's remorse at the final curtain.
Evans was an articulate and well-rounded Sharpless, especially in the second act. Though the role relies on effective declamation, Evans added a persuasive tone, moving deftly in his interactions with the rest of the cast. As Suzuki, Deborah Nansteel was strong and supportive, and with a welcome, burnished mezzo-soprano. Lines that some singers blithely toss off blithely had special emphasis, especially in Act II, when Madama Butterfly convinces her to have faith in Pinkerton's return.
At the podium was conductor Henrik Nánási, also making his Lyric debut.  His tempos always fit the stage action and were sensitive to vocal lines and the many plot details, for an evening that resonated strongly with an enthusiastic audience.
James L. Zychowicz