Austria Seong-Jin Cho and Rolando Villazón present Mozart World Premiere and lecture recital: Seong-Jin Cho (piano), Rolando Villazón (presenter) in conversation with Ulrich Leisinger. Great Hall of the Salzburg Mozarteum Foundation. Streamed on DG Stage, 27.2.2021. (CC)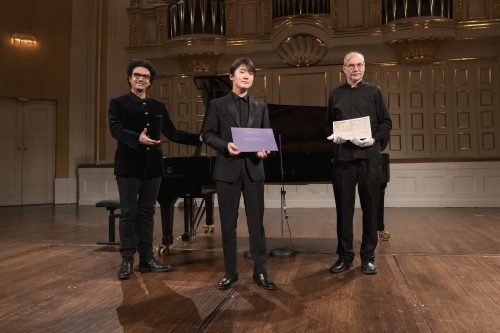 Mozart – Piano Sonata No.12 in F, K332; Piece in F, K33b, 'Pimpinella'; Allegro in C, KV deest; Allegro in D, K626b/16 (first modern performances)
Mozart premieres do not come along every day. But that is what we have here, something to lift our spirits in a dismal lockdown world. Someone else who can raise our spirits is the Artistic Director of the Mozart Week in Salzburg, the tenor Rolando Villazón, whose boundless enthusiasm is remarkable. The director of research at the International Mozarteum Foundation in Salzburg, Ulrich Leisinger, added his expertise to the experience.
But before that premiere (on Mozart's 265th birthday!), a piece that will be much more familiar to many: the Piano Sonata No.12 in F, K332, in a wonderfully animated performance from Seong-Jin Cho (Stephen Greenbank enjoyed Cho's DG recording of this here, as did I – my review appeared elsewhere however). My last experience of Cho was in a fabulous 'Emperor' concerto with the Gstaad Festival Orchestra under Manfred Honeck in Basel (review), around the time of the release of his 'Wanderer' DG disc. Cho's interpretation of Mozart's K332 is remarkably wide-reaching, all held within superb quality streaming (it actually sounds like a DG recording at its finest). From the fabulously alive first movement (it is so clear Cho thinks orchestrally – horn call gestures seemed so obvious) through the singing slow movement, beautifully harmonically aware and with astonishingly fluent ascents – Mozart leaves one with nowhere to hide – through to the virtuoso finale, this was a great performance. It was in that finale that Cho truly shone, there was glistening passagework but at a tempo that left enough space for the syncopated long line to really make its mark. Certainly, this was one of the neatest performances of this movement I have heard; one has to assume this was one take. Contrasts within this finale were finely etched: a remarkable account. Camera angles were perfectly chosen; piano students can learn much from Cho's touch.
It was strange to hear such a performance and then only one person applaud – Villazón. Hearing Villazón in conversation with Ulrich Leisinger was fascinating. Leisinger explained that between 50 and 100 of Mozart's works seem to be lost. Optimistically, Villazón suggested that if we rediscovered a Mozart piece each year, we could have one every year for a century for the Mozart Week.  Maybe not quite a realistic ambition (it also depends on the pieces being complete!), but a lovely thought, nonetheless.
So, to an Allegro in F for piano, written apparently when Mozart when was 10. It is the last comparable case to the new piece but was discovered way back in the 1930s. This is Mozart's K33b. It is at least jolly, and seems to be mainly in two parts, with the hands quite wide apart. It turned out that this piece was actually a transcription of a lute original. Described as 'charming' by Villazón, it led to the Allegro in C, KV deest from a Salzburg notebook which sounds like an orchestral reduction; the repeated note left hand could easily be on strings and not sound so out of place on a keyboard. After the extravagance of the last movement of the sonata, when you get a piece beginning with an assertive chord you expect something great to happen, and sadly something rather more mundane takes its place. But these little pieces could surely rarely if ever had enjoyed such an equipped player as Cho, who himself said he found the pieces difficult to play.
On, then, to the star of the show: the K626b/16 Allegro in D. We get to see the manuscript on screen. In terms of the catalogue number, K626b/16, the editor of third edition of Köchel catalogue assigned numbers to lost pieces. The genuine pieces are in an appendix, after the Requiem; this is the sixteenth of those 'unknown' ones; and not the sixteenth piece Mozart wrote after he died, as Villazón – jokingly – suggested.
Leisinger was called by a friend in England, an autograph dealer, who offered it to the Mozarteum. It was verified via paper analysis and that it was iron-gall ink. Then the autograph was confirmed by the Academy of Mozart Research (including by the pianist Robert Levin).
And so to the first performance of the Allegro in D, K626b/16. A playful piece but substantially deeper than the previous two snippets, this is a nicely bustling little work that could hardly have asked for a better performance. Cho did not try to make it into something it is not; the power of his performance lay in its simplicity. Cho subsequently referred to being 'grateful and honoured to play this in the city of Mozart'. Whether the piece is what Villazón referred to as a 'whole new musical cosmos' might be up for debate, but we did get a chance to reassess those assertions thanks to a repeat performance, every inch as delightful as the first. Cho referred to the new Mozart as 'not so comfortable to play' but it 'has a lot of range, like colour', confirming he thinks orchestrally when he plays.
The purported time of composition is at the beginning of 1773, when Mozart conceived the ballet for Lucio Silla; the handwriting is very similar to this new Allegro. The manuscript was in the possession of Mozart's son, Franz Xaver, and he must have got it from his aunt, Maria Anna, in Salzburg. A fascinating 50-minute video – DG offered this for a linited time at a low price (here), and an e-single will be released by Deutsche Grammophon on 29 January here.
Colin Clarke