United Kingdom Rosenblatt Recitals at Home in aid of Target Ovarian Cancer – From Purcell to Lerner and Loewe – Singing in English: available as audio and video streaming if you click here. (JPr)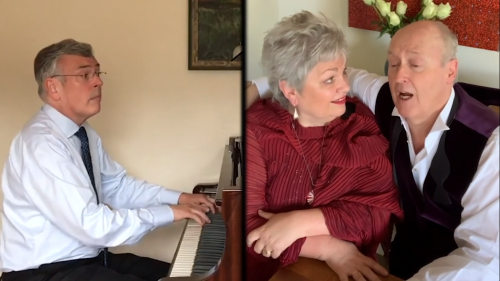 Herbert Hughes – 'I will walk with my love'; 'The Gartan mother's lullaby' – Tara Erraught (mezzo-soprano) & Dearbhla Collins (piano)
Tosti – 'My Love and I' – Serena Gamberoni (soprano) and Davide Cavalli (piano)
Purcell – (Dido and Aeneas) 'When I am laid in earth' – Serena Malfi (mezzo-soprano) and Maurizio Iaccarino (piano)
Trad. (Scottish) – 'O Waly, Waly' – Susan Bullock (soprano)
Trad. (Irish) – 'Danny Boy' – Stephen Costello (tenor) and Yoon Kwon Costello (violin)
Maury Yeston – 'Unusual Way' – Serena Malfi (mezzo-soprano) and Maurizio Iaccarino (piano)
Lerner & Lowe – 'I Remember it Well' – Susan Bullock (soprano) and Richard Berkeley-Steele (tenor) and Malcolm Martineau (piano)
Adam Guettell – 'The Light in the Piazza' – Irini Kyriakidou (soprano) and Jonathan Szymanski (piano)
Another entertaining brief film from Rosenblatt Recitals at Home but perhaps rather minor musical fare compared to some of the other eight; including the two I have reviewed previously (click here and click here). What must not be forgotten is that if you have paid – and are watching and enjoying these lockdown recitals – it is all in such a deserving cause. Presenter Suzy Klein reminded those looking in how 'The Charity works to improve early diagnosis, to fund life-saving research, and provide much needed support to women with ovarian cancer.'
The urbane Petroc Trelawny said how 'In this film it's all in English' and later, how we are hearing a 'miscellany of English words'. It was undoubtedly an eclectic mix beginning with two short songs from Herbert Hughes. We heard how he was the 'The Belfast-born musician who made it his business to collect and arrange songs sung across Ireland from Cork to Donegal' and how 'In doing so he created a real treasury full of numbers that would probably otherwise have been lost by now.' Irish mezzo-soprano Tara Erraught has made her name as a member of Munich's Bavarian State Opera and was recorded singing in the empty National Concert Hall in Dublin (the city of her birth). 'I will walk with my love' begins with 'I once loved a boy and a bold Irish boy' and was short, sweet, and blissful from Erraught's beguiling voice. 'The Gartan mother's lullaby' has lines about a 'fragrant evening hymn' and 'The silent twilight's fall' and was meditative and atmospheric.
Paolo Tosti moved from Italy to England in 1875 and became music master to the royal family and subsequently was Edward VII's favourite composer, and as a result was knighted in 1908. One of his well-known songs is the typically sentimental 'My love and I' though Serena Gamberoni's effort – at home in Genoa – was valiant enough she sounded uncomfortable singing in English. Another Serena and another Italian was much more successful in getting her words across when mezzo-soprano Serena Malfi sang Purcell's 'Dido's Lament' in Naples. Her repetitions of the phrase 'Remember me' was precisely the lonely cry it needs to be, and you felt her character's pain and her firm resolve.
Susan Bullock sang the Scottish folk song 'O Waly, Waly' (aka 'The Water is Wide') a cappella and – given the conditions under which it must have been captured – her contemplation of love and separation was reflective and nearly perfect in miniature. (We hear Bullock sing about 'my love and I' and if what we hear was the original melody then it clearly 'inspired' Tosti when he set those four words to music himself!) Despite being more trickily filmed, what came next was almost as good as Yoon Kwon Costello duetted with herself on the violin as she accompanied her husband Stephen in New York for a direct, sincere, and deeply heartfelt 'Danny Boy'.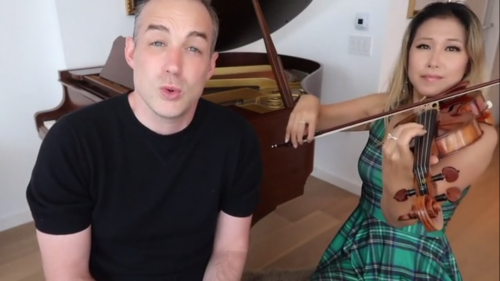 The musical Nine opened on Broadway in 1982 and is based on Federico Fellini's semi-autobiographical 1963 film 8½: it received 729 performances and garnered five Tony Awards. I know absolutely nothing about Maury Yeston's musical but Serena Malfi's expressive performance of 'Unusual Way' was reflective and anthemic by turns. We also heard another newer piece 'The Light in the Piazza' from Adam Guettell's musical – in part almost an opera – with that same title which reached Broadway in 2005. The troubled heroine, Clara, unburdens herself concerning her love for Fabrizio and 'The Light in the Piazza' was ardently sung by Irini Kyriakidou in New Orleans.
Sandwiched between these last songs was 'I Remember it Well' from Alan Jay Lerner and Frederick Loewe's 1958 MGM musical Gigi which was made famous by Hermione Gingold and Maurice Chevalier. It is about an ageing couple who remember their first date somewhat differently, something I'm sure many of us can relate to! The romantic couple this time were another husband-and-wife duo, Susan Bullock and Richard Berkeley-Steele, who socially distanced from pianist Malcolm Martineau – who was recorded somewhere else – was touching, affectionate, and ultimately joyous.
Once again, all the accompanists whether Yoon Kwon Costello's violin or pianists Davide Cavalli, Dearbhla Collins, Maurizio Iaccarino, Malcolm Martineau, or Jonathan Szymanski cannot be faulted.
Jim Pritchard