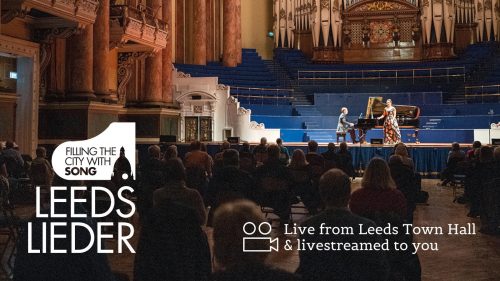 Leeds Lieder, the finest festival of art song in the North, returns from 17-20 June 2021
Its most diverse and ambitious programme yet is hosted for the first time by Leeds Town Hall and director Joseph Middleton has devised a covid-secure festival celebrating the multifaceted art of song. The programme includes appearances from Alice Coote, Mark Padmore, Iestyn Davies, James Gilchrist, Roderick Williams, Carolyn Sampson, Ema Nikolovska, William Thomas and pianists Graham Johnson, Iain Burnside, Anna Tilbrook, Joseph Middleton and Christian Blackshaw.
Repertoire ranges from Schubert, Schumann and Mahler, to a Leeds Lieder commission by Hannah Kendall, improvisations by Hermes Experiment on works by Leeds-based poets, and Leeds premières by Errollyn Wallen and Jonathan Dove.
The four-day festival will be performed to a socially-distanced audience and streamed live on Leeds Lieder's digital platform. Events will be available on demand for a month.
With multiple artistic partners and thousands of individuals attending events every year, Leeds Lieder is a true cultural success story. 2020 was a year of working within new paradigms, and the charity navigated the challenges with aplomb. Leeds Lieder went digital and became its own broadcaster – providing the opportunity to connect with audiences all over the world. The award-winning education programmes continued online, the organisation commissioned new works and provided valuable training for young artists.
The artistic vision of festival director Joseph Middleton ensures that the song recital continues to remain relevant. The 2021 festival is the most ambitious yet, and is set to delight audiences both at home and in the socially-distanced setting of Leeds Town Hall. Alice Coote and Christian Blackshaw take centre stage in their Leeds Lieder débuts for the opening gala recital (for a review click here). Leeds Lieder Young Artists will perform across the weekend and work with Dame Felicity Lott, Sir Thomas Allen, James Gilchrist, Anna Tilbrook and Iain Burnside. New talent is evident at every turn – Ema Nikolovska and William Thomas return, young instrumentalists join Mark Padmore and Iestyn Davies for an evening presenting the complete Canticles by Britten. The peerless Graham Johnson appears with one of his Songmakers' Almanac programmes, and Leeds Lieder favourites Roderick Williams, Carolyn Sampson and James Gilchrist also return. The Hermes Experiment performs contemporary song including Errollyn Wallen and Raymond Yiu. Nikolovska offers up a recital that runs the gambit from Schubert to Danika Lorèn's The Sex Lives of Vegetables. Pre-concert talks and study events illuminate the repertoire, and community poetry events will run on-line.
Festival Director Joseph Middleton said: 'In a year when art and music have been needed more than ever, having the opportunity to programme song at Leeds Town Hall, with the support of Arts Council England, has been enormously rewarding. Despite the pandemic we have livestreamed sixteen recitals in the past six months and, when allowed, a handful of these have been in front of socially distanced audiences. Our 2021 Festival is as colourful and diverse as anything we have curated – every corner of the rich tapestry of art song is explored and championed. After the hiatus of the past year we are committed to supporting as many artists as we can. We continue to educate and grow audiences, commission new works and programme songs in a diverse way. This year's programme showcases some of the astonishing work the organisation undertakes, and provides a platform for international stars to rub shoulders with the next generation of emerging musicians.'
Full details of the 2021 Festival can be found on our website click here.