United States Ligeti, Bartók, Rachmaninov: Noah Geller (violin), Seattle Symphony / David Robertson (conductor). Benaroya Hall, Seattle, 2.3.2023. (ZC)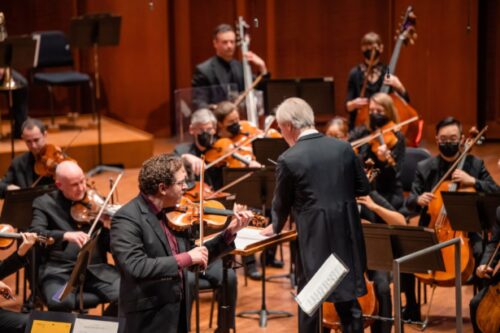 Ligeti – Concert Românesc
Bartók – Violin Concerto No.2
Rachmaninov – Symphony No.1 in D minor
Sergei Rachmaninov was one of the most gifted and versatile composers of his generation. His music spanned a wide range of genres and forms, from piano pieces and songs to operas and orchestral works. A mastery of melody, harmony and structure allowed him to create works that appealed to both the public and critics. But one night changed everything: his Symphony No.1, a daring and innovative work, was met with scorn at its premiere.
Rachmaninov had poured months of labor and love into this piece, and he was left devastated and broken by the harsh judgment of his peers and mentors. His creative spark was smothered by a deep abyss of depression and self-doubt, which held him captive for three long years. Although he eventually recovered, the symphony almost vanished, forever haunting the memory of its brilliant yet troubled composer.
Under David Robertson's leadership, the Seattle Symphony delivered a striking performance of Rachmaninov's First Symphony. Robertson's reputation as a specialist in contemporary music made this piece an intriguing choice, but the remainder of the program – Ligeti's Concert Românesc and Bartók's Second Violin Concerto – revealed surprising similarities among the works. Each draws heavily from traditional folk music. Concert Românesc is a playful, twelve-minute exploration of springy melodies, and Bartók opens his concerto with a wistful tune. Even Rachmaninov's work incorporates elements of Russian plainchant, further emphasizing the theme of folk influence throughout the program.
What really drew the works together for me is the deft way each composer uses these native motives to develop their music. Approachable modernism is the resulting effect. Rachmaninov's contemporaries might have been puzzled by his First Symphony, but by linking each movement with recurring themes, he provides helpful signposts to help guide the listener through the work's many contrasting musical elements. Românesc does this too: as each new tune interweaves, it softens Ligeti's modern idiom for the listener.
The performance brimmed with an effortless pulse. Forward momentum was the name of the game from start to finish. Jaunty during the Ligeti, ominous for the Rachmaninov – even when the symphony ground to a crawl in the coda. Robertson also deftly accentuated each work's moods. Superb contributions from all the sections of the orchestra brought out the leaping joy in Ligeti's work, while the dark-hued, thick sound produced by the strings – especially the low strings – added to the ruggedness of the First Symphony.
Robertson and Seattle Symphony Concertmaster Noah Geller joined forces to deliver an unforgettable performance of Bartók's Violin Concerto No.2. Despite his responsibilities with the orchestra, Geller has emerged as a top-notch soloist in recent times, and his performance of the Bartók was a true testament to his skill. Geller's opening statement was nothing short of haunting, instantly captivating the audience. As the piece progressed into more intricate and demanding sections, Geller's attack became sharper, adding an extra layer of intensity to the already dynamic composition. The emotionally charged second movement was a particular highlight, with Geller's every variation lingering in the air, leaving the audience spellbound.
David Robertson has been a regular guest with the Seattle Symphony for more than two decades. I can't remember a bad concert that he has conducted. In 2009, he led the orchestra in a memorable Seattle premiere of Thomas Ades's Violin Concerto and, during the pandemic, he conducted Beethoven's Symphony No.4. Last year, he returned for an evocative concert of Ives and Schumann. Every single performance is an event unto itself. Robertson has proven himself time and time again to be an invaluable asset to the Seattle music scene: he brings the imagination, skill and wisdom that are all sorely missing in the Emerald City at the moment. And I hope someone, somewhere in the administrative bowels of Benaroya Hall, is scheming to bring Robertson to the city for a longer artistic commitment.
Zach Carstensen