NICOLAI GEDDA (1925 -2017)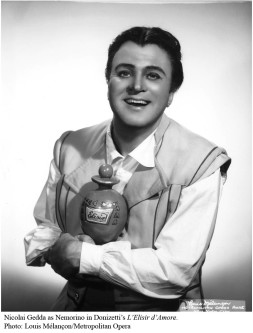 His daughter, Tania, announced the death of Nicolai Gedda on January 8 at his residence near Lausanne, Switzerland. His death occurred a few months after that of his first wife, the pianist Nadia Gedda-Nova – Tania's mother – and a few days after that of Georges Prêtre with whom he collaborated several times, notably as Don José in the recording of Carmen alongside Maria Callas.
"How to evoke the career of Nicolai Gedda without using superlatives? " Writes Antoine Brunetto in his tenor encyclopedia, "we can begin by quoting an exceptional longevity: born in 1925, he was still singing at the dawn of the twenty-first century! One can not pass over in silence a variety of impressive repertoire … Finally, Nicolai Gedda holds a record almost unbeatable: that of the number of official recordings."
These recordings testify today to the universal art of one of the greatest tenors of the twentieth century.
Seen and Heard International sends its condolences to Nicolai Gedda's family.
From Göran Forsling
A legend has fallen silent. Royal Court Singer and Honorary Member of the Jussi Björling Society, Nicolai Gedda, passed away in January at age 91. For me and innumerable other music-lovers he stood out as the emblem of all the best characteristics one associates with the supreme art of singing: style, nuance, beauty of tone, elegance, linguistic diversity and versatility. His musical achievement encompassed the latter half of the 20th century, and even more than that, from his astonishing debut at Stockholm Opera in April 1952 as Chapelou in Le Postillon de Lonjumeau to several opera recordings made as late as in 2003, when he was approaching the age of 80. Few singers have enlivened the record catalogues with such richness of repertoire as Nicolai. There was opera, naturally, where he was unsurpassed in the French repertoire, but also operetta, sacred works, art songs in French, German, English, Italian, Russian, Swedish, Danish and Norwegian, folk songs and much more. After his successful debut, he rapidly became a sought-after name at all the big opera houses worldwide, but regularly returned to Sweden as a guest at the Royal Opera and also gave concerts in the provinces.
I never met Gedda personally but had the privilege of speaking to him on the telephone a number of times. There he stood out as an amiable and considerate person, always utterly eloquent. He was the kind of man who had a twinkle in his eye. I still remember the unhappy premiere of Gustaf Wasa at the Stockholm Opera, when opera director Eskil Hemberg stepped in front of the curtain just before the performance was to begin and announced that Royal Court Singer Gedda was indisposed and sent word that he was going to sing with only one 'gill' ('gedda' is the Swedish word for 'pike'). The following spring, in 1992, he celebrated the 40th anniversary of his debut with a concert with the Royal Orchestra. He was to turn 67 a month later, but sang all his favourite arias with a ring, a beauty and an elegance that any tenor half his age would have envied. Standing ovations of course. Nicolai called for silence and made a long emotional speech to thank the audience – who remained standing.
Now he has fallen silent but the memories remain, as do all of his wonderful recordings, which I will return to time and again for the ultimate delight they offer.
An extract from Ian Lace's 2000 review of Nicolai Gedda's book My Life and Art which is still available – 'Some of the most interesting chapters in the book are those dealing with Gedda's impressions of his fellow artists. He did not get on at all well with Herbert Von Karajan. Because of his shyness, acting did not come naturally to Gedda and he had to work hard at the craft, on one occasion early in his career, he remembers, "Karajan made sure to point out my weaknesses in full public view. When he saw my miserable acting on the stage he was there quick as a flash with his bullying tactics. He did it in as hurtful a way as possible" Later, still talking about Karajan, Gedda remarks, "…our personal chemistry was utterly incompatible. If I did not go along with everything he suggested he became intensely angry. Karajan was never an easy person to deal with. He was extraordinarily egocentric. He always saw himself as the great star, beside whom there were no others. With Karajan you were there because you contributed to making his concerts and operas better. Karajan never saw the singers as living individuals but only as cogs in the machinery of his own music-making. He never passed an opportunity to humiliate a singer or a member of the orchestra. Later in life I came to the conclusion that Karajan was not a good conductor. What I learned from him was musical flow and style, but it was so tiresome to live with the stringency that he demanded at all times…He was cold, impersonal, power hungry and unpleasant."
Gedda also thought Boris Christoff was "a difficult and pretentious man" while Victoria de los Angeles was "a gentle, quiet, angel, happy and kind-hearted." Dimitri Mitropoulos "gave the impression of being a deeply religious man and lived like a monk." Of Tito Schipa, Gedda reflects, "Schipa was an Italian tenor, a contemporary of Gigli, and although Gigli had a much more beautiful voice, the way Schipa handled his voice was astonishing. He also sang with exquisite taste and style, and later in life I came to think even more highly of Schipa than Gigli." Mirella Freni he recalls as "a young and absolutely delightful performer and Gedda remembers that "…when I saw Maria Callas [singing in La traviata at the Met] I was so deeply affected by the intensity of her performance that I sobbed." '
For Ian Lace's full book review click here.
For more about Nicola Gedda visit his wikipedia pages.