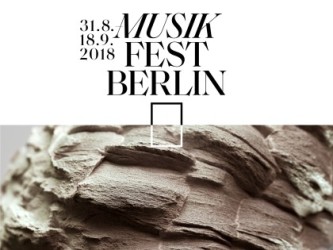 Germany Musikfest Berlin 2018 – Webern and Spahlinger: Caroline Melzer (soprano), Ueli Wiget (piano), Ensemble Modern Orchestra / Enno Poppe (conductor), Philharmonie, Berlin, 3.9.2018. (MC)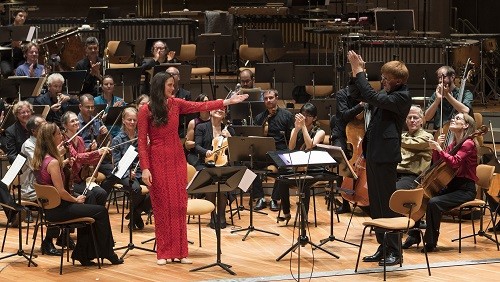 Webern – Variationen, op.27; Zwei Lieder, op.8; Fünf Stücke, op.10; Vier Lieder, op.13; Sechs Bagatellen, op.9; Drei Orchesterlieder, op.posth; Variationen, op.30
Spahlinger – passage/paysage, für großes orchester
Webern responded greatly to poems, paintings and sculptures and he infused his love of art into his music, examples being poet Stefan George, poetess and painter Hildegard Jone and her husband sculptor Josef Humplik. At times with his distillation of miniature forms I am lucky that his music communicates for me evocative scenes, of mainly single subjects rather than say vast alpine vistas. This orchestral concert comprised seven sets of Webern's works, three of which included parts for soprano soloist sung by Caroline Melzer another for string quartet performed by principal soloists from the orchestra and one for solo piano played by Ueli Wiget.
Founded in 1998 Ensemble Modern Orchestra specialise in twentieth century and contemporary music and were conducted by Enno Poppe, a composer himself. Avoiding a strict dress code about half the players were wearing a mix of traditional dark livery usually worn by orchestras while the other players adopted a more relaxed approach wearing their own clothing. I did wonder how many audience members felt this mixed approach to dress was at odds to Webern's predilection for precision and order in his music. On stage and in the auditorium the lighting was adjusted for each set of works which I'm not sure was necessary as Webern's music in my view doesn't require any assistance in mood creation.
For the opening work Variationen für klavier, op.27 I relished the accuracy and clarity of the playing of soloist Ueli Wiget who was positioned quite high at the back of the stage and spotlit against the rest of the stage left relatively dark. Another highlight was Vier Lieder für sopran und orchester, op.13 performed by the assured Caroline Melzer wearing a bright red, full length gown vividly accentuated by the now bright stage lighting. Substantial in size by Webern's standards these songs are a thing of beauty and spellbinding was the mix of voice and instrumental colour with some especially stimulating brass and woodwind sounds. Melzer, a member of Vienna Volksoper, was in fine form displaying excellent fluidity with a ravishing purity to her attractive tone and comfortably achieving her high notes.  A particular favourite of mine is Sechs Bagatellen für Streichquartett, op.9 very short works in which the four players successfully created an atmosphere of steely beauty. Making a strong impression was the final of Webern's works on the programme Variationen für orchester, op.30. A score noted for its fascinating instrumental combinations Enno Poppe ensured his orchestra provided a satisfying degree of intensity and concentration.
The second half of the concert was given over entirely to Matthias Spahlinger's passage/paysage taking here some forty-four minutes to perform. Completed in 1990 and premièred the same year at Donaueschingen the work requires a large orchestra of just over a hundred players including mandolin, electric guitar and harmonium, none of the three being especially audible.
One doesn't have to fully understand all of the often-highfalutin descriptions written about Spahlinger's passage/paysage except to say it's an enjoyable work of exceptional interest and colour. Apart from an unremitting pizzicato section towards the conclusion, that grew awfully tedious, time just flew by. Curiously described by newspaper Die Zeit as a 'subtle study of rhythm and sound' I found little understated about the work that exuded a gnarly character of often craggy power. Almost always driven determinedly forward admirable were the near constantly changing swathes of colourful sound and varying character. At one point many of the audience were bemused by Enno Poppe conducting for a short time when no sound seemed audible from the orchestra. In this challenging work I'm not sure just how many rehearsals the orchestra held with Poppe but with some unevenness and occasional lack of unity it has yet to fully master the score. It was good to see the composer deservingly appear on the stage at the end of the work to much acclaim from the audience.
Michael Cookson
For more about Musikfest Berlin 2018 click here.