United Kingdom Ballet Black – Pendulum; CLICK!; Ingoma: David Plater (lighting design), Barbican Centre, London, 15.3.2019. (JO'D)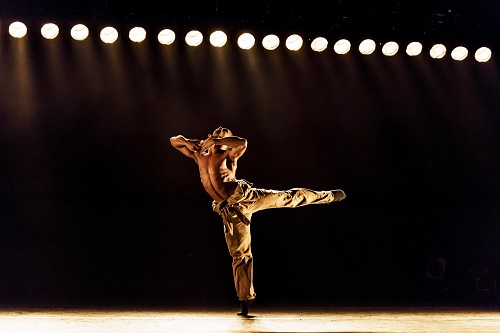 Pendulum
Choreography – Martin Lawrance
Designer – Peter Todd
Dancers – Sayaka Ichikawa and Mthuthuzeli November
CLICK!
Choreography – Sophie Laplane
Designer – Yann Seabra
Dancers – José Alves, Isabela Coracy, Marie Astrid Mence, Cira Robinson, Ebony Thomas
Ingoma
Choreography – Mthuthuzeli November
Designer – Yann Seabra
Music – Peter Johnson
Dancers – José Alves, Sayaka Ichikawa, Cira Robinson, Isabela Coracy, Ebony Thomas
After its 'year of change' in 2018 (improved studio space; guaranteed Arts Council funding), Ballet Black returns to the Barbican almost as a new company. An expensively-produced, nearly monochrome poster in the foyer shows the seven, unsmiling, larger-than-life dancers in costume and pose that elongate their bodies. Emphasis now is on the sleek, the sharp.
Sleek and sharp, in tight-fitting black and grey, is how Sayaka Ichikawa and Mthuthuzeli November appear in the triple bill's opening work, a restaging of Martin Lawrance's Pendulum (2009). Beginning in silence, then accompanied by the sound of beating heart or coursing blood, courtesy of Steve Reich, it combines balance-focused steps from the danse d'école with contemporary athleticism and William Forsythe-like struts. Brief and intense, it was the most successful piece, taken all round, of the evening.
The focus in Sophie Laplane's CLICK! (2019) is on shoulders, arms and hips. To complement the movement style, designer Yann Seabra clothes the dancers in suits: pink, red and yellow for the three women, grey for the two men. This and spot-lit, 1970s-like poses make for an initial impact, but in subsequent sections the piece meanders. Frequently-changing recorded music does not help.
Although it is a work created on the company, the dancers often seem not to 'inhabit' the loose-shouldered, loose-hipped choreography. Not yet, at least. And the women's pointe shoes jar. But somewhere around the middle there is a slower duet for Cira Robinson and José Alves in which these two dancers are able to utilise all their experience, all their maturity.
Mthuthuzeli November's Ingoma (2019) is the first piece that Ballet Black has commissioned from within the company. The initial impact here comes when the dancers walk on to the stage dressed, by Yann Seabra, as miners: helmets with flashlights, work trousers, pickaxes, rope. No detail is missing. In the programme notes the choreographer explains that strikes by miners in South Africa in the 1940s and in 2012 (during which thirty-four miners were shot by police) partly inspired the piece.
Ingoma is an ambitious work, and often an accomplished one for a choreographer who is still a Junior Artist of the company. It is too long. It has too leisurely a start, too protracted an end, and perhaps borrows too much from Akram Khan's Dust (2013). It has, nevertheless, its highlights: the use of African and ritualistic music and gesture; the beating out of rhythm on rubber boots; the exhausting, stamping solo performed by José Alves; the four women who intersect as they bourrée, as thrilling a moment as when the huntresses in Frederick Ashton's Sylvia (1952), who these women in their silvery-blue dresses suddenly resemble, do the same.
At the end of the performance, a large part of the audience looked as if it was going to stay for the post-show talk. (Ingoma might have been created for a post-show talk.) Of the people who didn't stay, more than a few stopped on their way out to pose excitedly for photographs and selfies against the background of the dancers of Ballet Black in their sleek, sharp, larger-than-life poster.
John O'Dwyer
For more about Ballet Black click here.