Germany Met Stars Live in Concert – Sonya Yoncheva (soprano): Julien Quentin (piano). Livestream (directed by Gary Halvorson) from Schussenried Cloister, Bad Schussenried, Germany, 27.2.2021. (JPr)
Verdi – 'Ritorna vincitor!' (Aida); 'Tacea la notte placida … Di tale amor' (Il trovatore)
Puccini – 'Donde lieta uscì' (La bohème); 'Se come voi piccina io fossi' (Le Villi); 'Un bel dì' (Madama Butterfly)
Dvořák – 'Song to the Moon' (Rusalka)
Purcell – (Dido's Lament) 'Thy hand, Belinda … When I am laid in earth' (Dido and Aeneas)
Handel – 'Lascia ch'io pianga' (Rinaldo)
Massenet – 'Ah! je suis seule … Dis-moi que je suis belle' (Thaïs); 'Adieu, notre petite table' (Manon)
Bizet – (Habanera) 'L'amour est un oiseau rebelle' (Carmen)
Marguerite Monnot & Édith Piaf – 'Hymne à l'amour'
After the comparatively disappointing Met Stars Live in Concert event in Vienna with Anna Netrebko when she just repeated her well-travelled Day and Night programme, we moved a relatively short distance to Bad Schussenried in southwestern Germany. We were in the rococo splendour of the Library Hall with its glorious ceiling fresco by Franz Georg Hermann and it seems booklined, though the amiable presenter Christine Goerke in New York joked 'The monks decorated the eighteenth-century bookcases with ingenious trompe-l'œil bookbindings. Perhaps the first known case of not being able to tell the book by its cover!'.
While the arias soprano Sonya Yoncheva sang appeared to have been somewhat randomly put together at least – unlike what we heard from Netrebko – they properly represented the work of the Met which I understood was the idea of these recitals in the first place. Yoncheva swept in wearing a remarkable red gown with a bow and an extravagant chiffon cape which she frequently swished around. Perhaps starting with arias as demanding as 'Ritorna vincitor' from Aida and 'Tacea la notte placida' from Il trovatore was risky. Given the circumstances – questionable acoustics and a clangourous piano – they still showcased Yoncheva's secure and effortless technique and how she has a host of colours in her formidable vocal armoury, as well as an all-too-rare ability to give emotional significance to the words and phrases she sings. However, 'Ritorna vincitor' was understandably diminished by being hewn from its context in the opera and Yoncheva could only hint at all the passion, anger, jealously and concern she could bring to it on an opera stage.
Leonora's 'Tacea la notte placida' tells her confidante Inez about the young man who has secretly been visiting her. Yoncheva's rendition was nuanced, with supple long-lined phrases, refined trills and delicate pianissimo high notes. There was the first of several atmospheric lighting changes for this aria as the library turned blue. Mimì's 'Donde lieta uscì' was deeply affecting and her character's plight was writ large on Yoncheva's open expressive face. Dvořák's 'Song to the Moon' has had several outings in recent similar concerts during the pandemic and was as radiant as expected. She lacked a little support from her accompanist Julien Quentin who was challenged by Dvořák's quick runs and, as elsewhere, in bringing out the different style of the music he was playing. During the first of two intervals we heard a plaintive 'Ave Maria' from Yoncheva's recent Desdemona at the Met (review click here). Later we saw her as Tosca vehemently dispatching Scarpia (review click here).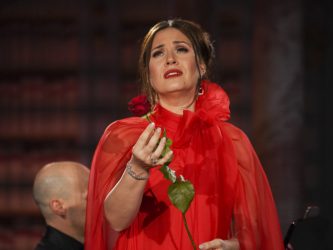 There was intense lyricism for 'Se come voi piccina io fossi' from Puccini's rarely-staged Le Villi. It is an aria apparently popular with sopranos though I cannot remember the last time I heard it. The lighting was now dappled and pinkish and Yoncheva entered with a bunch of the roses she proceeded to strew around the platform she – and her pianist – were on. Her repeated iterations of 'non ti scordar di me' ('do not forget me') were subtly shaded. Yoncheva's 'Dido's Lament' (in more than passable English) revealed the lower part of her voice as rich and pure and it was heart-breaking as she pleaded 'Remember me'. Taken together with her Le Villi aria it pre-empted how at the end of her recital I realised this Met concert would be high on the list of those in the series I certainly will not forget.
Following the Purcell there was more limpid melancholy from Yoncheva during Handel's 'Lascia ch'io pianga' before an 'Un bel dì' that was as ardent and touching as it was self-deluded. As Butterfly fantasises about how 'A man, a tiny speck, moves toward the hill' who watching did not believe – just like her – Pinkerton was coming back to her? Yoncheva proved – if further proof was needed – what an incomparable singing-actor she is.
Her excursions into Massenet gave us an impassioned and self-regarding 'Dis-moi que je suis belle' from Thäis as Yoncheva looked into a small mirror. It was not the singer's fault that it seemed endless and much better was 'Adieu, notre petite table' as Manon bids a sad farewell to homely domesticity. Yoncheva sang it introspectively but with such deep emotion that she wiped away (genuine!) tears at the end. Next was a surprising choice – given Yoncheva's usual repertoire – the 'Habanera' from Carmen and what a revelation it was. Fleshed out with dark mezzo-ish tones, she smouldered and was playfully seductive sitting back-to-back with Quentin – desperately trying to keep a straight face – and rubbing a rose on her dress.
Speaking earnestly and honestly to viewers – unlike Netrebko who had nothing apparently to say – Yoncheva said 'I can't tell you how much I miss the stage at the Metropolitan Opera and I'm so glad we can stay in contact with this concert […] Tonight, we are inspired by love, because love is making us feel warm, love is making us feel special, but love can unite us and today, we must be united.' Marguerite Monnot and Édith Piaf's sentimental – yet anthemic – 'Hymne à l'amour' concluded Yoncheva's programme and had such a visceral effect on her that more tears welled up during the rousing ending 'God reunites those who love each other!', whilst a little belatedly Quentin came into his own. As a closeup lingered on Yoncheva's piercing eyes and mobile face for one last time she gently blew a kiss to bid us all goodbye in the hope that it will not be too long before life can return to normal and we are all reunited in an opera house or concert hall somewhere.
Jim Pritchard