Canada Handel: Theodora, Nathalie Paulin (soprano), Krisztina Szabo (mezzo-soprano), Laurence Zazzo (alto), Zachary Wilder (tenor), Matthew Brook (bass), Vancouver Cantata Singers, Pacific Baroque Orchestra, Alexander Weimann (conductor), Chan Centre, Vancouver, BC, 14.2.2015.( GN)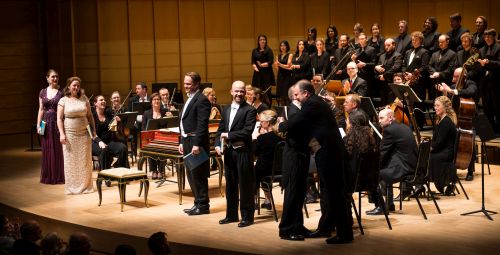 Handel's penultimate oratorio Theodora (1749) remained in oblivion for centuries. In recent times, the work was undoubtedly given a new lease on life by the Peter Sellars production at Glyndebourne in 1996, in which William Christie, directing a stellar cast including Dawn Upshaw and David Daniels, brought home a result that was not only musically powerful but extremely touching and magnetic. Many would now regard this oratorio as one of the composer's greatest accomplishments. This was the work's debut performance here (also given in Seattle and Victoria), carrying on the Pacific Baroque Orchestra's sequence of very successful Handel renderings,  starting with the 2012 performance and recording of Handel's Orlando, last year's Israel in Egypt, and this past summer's Il Trionfo del Tempo.
 I found this to be a well-conceived Theodora, moving methodically over its three-hour span and achieving a strong consistency overall.  Alexander Weimann's sure hand was always evident, keeping the line of music through its varied dramatic postures, and coaxing the orchestra into alert and exemplary playing, both in terms of style and discipline.  At points, I thought the conducting was done in a slightly forthright manner and could be have been more expressive — generating a little more mystery and dramatic suspension – but this was not often the case.   Nonetheless, Theodora is an elusive work to negotiate because it is a tragedy and, while the performance did progress in this direction, I cannot say that I found the tragic element particularly consuming: the dramatic profile was more austere.  In general, the singing followed suit, much of it intelligent and knowing, but eschewing extremes.  It was also a cause for celebration that the Vancouver Cantata Singers (under Paula Kremer) could be enlisted as the chorus, and their singing was enjoyable.  The only caveat here was that the choir's placement was not separated from the orchestra, and sometimes the bass-heavy acoustics of the Chan Centre took away some of their clarity, ring and impact when the full ensemble was playing.
 One could hardly fault the two ladies, Nathalie Paulin (Theodora) and Krisztina Szabo (Irene) on points of style.  They were eloquent, thoughtful and communicative — and matched well.  Yet some of their articulation was on the 'safe' side.  I sometimes wished that Paulin would open out with a greater sweetness and radiance but also retreat to an even greater tenderness and intimacy in her more yielding moments.  Szabo is a wonderfully cultivated singer, with enviable vocal resources, and a lovely sculpted phrase-shape and line.  All of this was here but, compared to her Il Trionfo del Tempo last summer, the result was slightly less free and more reticent, maintaining a relative sobriety right to the end.  Matthew Brook (Valens) was also not short of credentials.  While he might have been even meaner in spirit, his nicely burnished voice was a pleasure to hear, with a distinguished cut-and-thrust dramatic emphasis to his proclamations.  In many ways, his interaction with the Chorus of the Heathens at the beginning of Act II brought out some of the freshest inspiration.
 There were more questions about Laurence Zazzo (Didymus) and Zachary Wilder (Septimus).  The former consistently operates full-out at the very top of his register and I must admit that I would have loved to hear just a few textures softer and lower than this.  Or perhaps I am just spoiled by David Daniels.  Zazzo was a little unsettled in Act I, pushing passionately forth with a little too much zeal   – to the detriment of structural poise – but he later achieved full composure, exhibiting ravishing control over half-tones and dynamics.  I was less sure about the young Wilder's style.  He has a warm, coaxing voice, and can certainly negotiate all the virtuoso challenges that Septimus' part throws up.  However, he seems inexperienced, lacking Baroque discipline and stability, prone to injecting a legato flow into phrases that don't need it and combining this with unnecessary emotional posturing.
 The orchestra was certainly purposive from the very outset but perhaps the vocalists did not gain their full stride immediately.  The initial choral contributions tended to be somewhat variable too, lacking bite at some points and being too hard and forceful at others.  The Chorus of the Christians at the end of Act I was admirably sung.  The opening scene of Act II was quite uplifting, with the Chorus of the Heathens having strong characterization and the upper voices lifted nicely.  The music that follows is quite splendid.  Theodora has considerable work to do in this section and, while her singing was always conscientious and faithful, it was here that I thought that she might open out a greater range of expression: more vulnerability on one hand, more nobility on the other, possibly with a touch of passion or even charm thrown in.  Her closing duet with Didymus was fully convincing nonetheless, and the orchestral effects at the end were negotiated strikingly.
 In the closing act, Laurence Zazzo ultimately worked to considerable subtlety in his final aria, and combined effectively with Theodora in their famous duet.  Valens' closing aria had a suitable firmness of utterance.  The only problem after the duet is that I did not know whether I should feel sorrow or hope.  Irene's short recitative in turn seemed to be quite stoic and the closing Chorus of the Christians was not particularly heartfelt.  From some perspective, maybe that is how it should be.
 Vancouver Early Music put forth an enormous effort to bring this Theodora to fruition, soliciting musicians from all over the Northwest.  In this respect, it is a landmark accomplishment, and a true occasion to hear it. The performance was clearly less vivid than those of William Christie, and a little light on Handelian charm, but its relative sobriety may actually have greater claims to authenticity.  While the orchestral contribution was consistently engaging, I do think nonetheless that the singing has to be brought up a notch in terms of intensity, characterization and overall cohesion to really challenge other beguiling smaller-scale interpretations (e.g., Paul McCreesh) or, for that matter, to convince us without a shadow of a doubt that Theodora is the greatest oratorio that Handel ever wrote.
Geoffrey Newman
Previously published in a slightly different form on http://www.vanclassicalmusic.com