Canada Schubert, Schafer, Tchaikovsky: Rolston String Quartet [Luri Lee and Jeffrey Dydra (violins), Hezekiah Leung (viola), Jonathon Lo (cello)], Dunbar Ryerson United Church, Vancouver, 26.10.2017. (GN)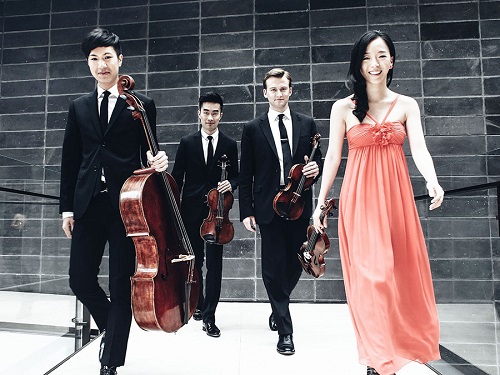 Schubert – Quartettsatz in C minor D70
Murray Schafer – String Quartet No.2 'Waves'
Tchaikovsky – String Quartet in D major Op.11
It is always a cause for celebration when a Canadian ensemble wins the Banff International String Quartet Competition, and this seems to be a coming thing: after the St. Lawrence Quartet initially won in 1992, the Cecilia Quartet triumphed in 2010, followed by the Rolston ensemble last year. The Rolston Quartet certainly gave an impressive showing in this Vancouver debut in the Music in the Morning concert series. The ensemble has very fine balance, flexibility and resilience, and its relatively lean tonal fabric allows for subtle dynamic gradations and transparent detailing. Most important, the group shows individuality in performing standard repertoire. For me, the highlight of the concert was the sensitive performance of R. Murray Schafer's String Quartet No.2 (1976), a wonderful piece from an underrated Canadian composer who started his career here.
If there is ever a test piece for young string quartets, it is Schubert's Quartettsatz, and the Rolstons came through with a performance of considerable imagination. The first statement of the lovely lyrical violin theme worried me a bit with all its pushes and pulls, but this was apparently to convey an unsettled feeling at the start. The selective use of softer dynamics actually suspended this recurring motive very well, Luri Lee taking it into an intimate, almost magical world, one that contrasted sharply with the Sturm und Drang intensity of its rhythmic underpinning. This was a thoughtful experiment, executed with both precision and feeling, and interpretatively more sophisticated than the linear, driving accounts we often hear from young ensembles.
If I am thankful to the quartet for only one thing, it's their reminding everyone about the work of R. Murray Schafer, who was enlisted by Simon Fraser University to work on his soundscape projects in the mid-1960s, at the very start of this (then more experimental) institution. Everyone knew of his work locally: his iconoclastic perspective on sound and the environment; his idea that 'sound is independent of its creator'; and his early (1977) book, The Tuning of the World.  Perhaps we never appreciated his music enough or considered just how influential his 'ecological soundscape' focus would become. Schafer won the Glenn Gould Prize in 1987; most of his Juno awards came in the next decade. Even if one knew nothing about his inclinations, one would come away from a hearing of his early String Quartet No.2 ('Waves') thinking it was a work of great beauty, balance and sensuality. This is all the more interesting since the work 'speaks' easily while absorbing many of the techniques of the European avant-garde of the 1960s: striking glissandi, persistent tremolos, quarter-tone slides, stabbing pizzicati and the like.
There are two characteristics that guide this 17-minute work into our imaginations. First, it is very perceptive about the properties of 'waves', their sheer multi-dimensional power, their capacity for calm and rest and, most important, their capacity for caprice and idiosyncratic tug-and-pull. Second, all its complex woven fabric is hung on very strong tonal centers that are sensual and seductive, and mark progress in a lyrically-cohesive way. I cannot say enough about how well the Rolstons negotiated this work, tossing aside any technical inhibitions, achieving lovely transparency and creating suspension of the work's lines so as to reveal their consuming beauty and motion. The concentration over the whole was disarming, whether the postures were peaceful, frenzied or rhapsodic. Their sense of control and inward involvement at very soft volumes was enviable. This was especially true at the end of the work, where players exit the stage one by one, leaving only the cello, while the others continue to play, ever so softly, offstage.
The ensemble seemed to put their competition clothes on again for the final work, Tchaikovsky's First String Quartet, driving it pretty hard and showing off their virtuosity throughout. Impressive as such, but the performance was light on the charm and playfulness that this work needs, and the famous 'Andante Cantabile' was given too much romantic adornment for a simple, heartfelt folk melody. Here and in other places, the ensemble could use somewhat less vibrato and be equally successful. Overall, the Rolston's electric charge did not quite fit the spirit of the music – but, then again, why shouldn't talented and inspired young musicians be allowed to let it all out at the end? This was, without doubt, a very fine debut.
In closing, I should remark that I had not heard a string quartet play in Dunbar Ryerson United Church before, but the sound probably could not be bettered. I also think we are in need of an integral recording of the Schafer quartets. The Orford Quartet originally recorded the first five, but the composer is now up to Quartet No.12, the last written as recently as 2012.
Geoffrey Newman
Previously published in a slightly different form on http://www.vanclassicalmusic.com.