United States Turnage, Greek: Soloists, Members of the Orchestra of Scottish Opera / Stuart Stratford (conductor), BAM Howard Gilman Opera House, New York, 8.12.2018. (RP)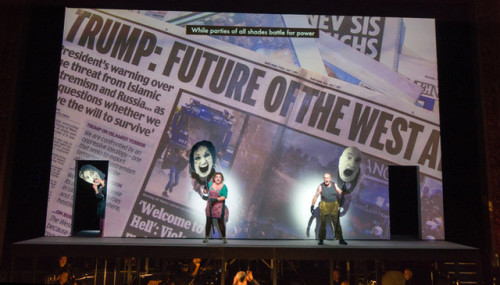 Co-production: Opera Ventures and Scottish Opera:
Director – Joe Hill-Gibbins
Sets – Johannes Schütz
Costumes – Alex Lowde
Lighting – Matthew Richardson
Re-Light Designer – David Manion
Videos – Dick Straker
Movement – Jenny Ogilvie
Dramaturgy – Caroline Steinbeis
Cast:
Eddy – Alex Otterburn
Eddy's Mum/Waitress/Sphinx – Susan Bullock
Eddy's Sister/Waitress later Eddy's Wife/Sphinx – Allison Cook
Eddy's Dad/Café Manager/Chief of Police – Andrew Shore
Thirty years ago, it was Margaret Thatcher and her iron handbag whacking away at Great Britain's welfare state. Today the country's second woman prime minister, Theresa May with her leopard print shoes, is caught in the quagmire of extricating the UK from the European Union. It's the good old days that Mark-Anthony Turnage put under the lens in his first opera, Greek. Joe Hill-Gibbins' provocative, wild production – a sensation at the 2017 Edinburgh Festival – drags Greek into the present.
The opera's genesis was in Ronald Reagan's America, when Turnage came to Tanglewood to study with Gunther Schuller and Hans Werner Henze. Although Turnage was only in his mid-twenties, Henze commissioned him to write an opera for the 1988 Munich Biennale, where Greek was a hit. Anti-Thatcher and anti-conservative, Turnage latched onto Steven Berkoff's stage adaptation of the Oedipus story, which he and Jonathan Moore shaped into a libretto. There are choice bits of alliteration in it such as Maggie and maggot.
To set the scene, the country has run amok and is plagued by police violence, racism and socioeconomic decay. Eddy, the updated Oedipus, lives in the cultural wasteland of Tufnell Park in north London (The Times named it one of the best places to live in England in 2018.) He dreams of a better life sipping wine instead of swilling beer. Over breakfast one day his dad relates a twice-told prophesy that his father will die a violent death and Eddy will 'bunk-up with his mum'. Revolted by the thought, Eddy shoves off, gets caught up in a riot, kills a man and ends up falling in love with the widow. She is nagged by the thought that Eddy reminds her of her long-lost son, Tony.
Then things start to get complicated. Eddy and his wife are happily in love and prospering when his parents pay a visit. They warn him of a plague that is devastating the country and a sphinx that kills those who cannot solve its riddles. Eddy confronts the sphinx (there are actually two of them), answers the riddle correctly, kills them and returns home triumphant. His mum and dad spill the beans: he's adopted and is actually Tony. Eddy blames himself for the plague and rips out his eyes, but rationalizes that since he and his birth mother don't plan on having kids, what's the big deal.
This is early Turnage when he fused his hard-edged political views with a musical style that was equal parts classical and jazz, as well as an occasional nod to pop music. He favors woodwinds, especially saxophones, and percussion, while going light on the strings, calling for only one viola and three cellos. During the riot scenes plastic police shields are beat with batons in the pit. It may sound god-awful but, surprisingly, it is lightly textured and often quite beautiful.
The vocal lines are another matter – bold, declamatory, mostly syllabic – and this is where the wit, humor and rage lie. Turnage is text-driven and writes for real voices, big ones at that. The singers never had to battle to be heard though, as conductor Stuart Stratford kept everything in balance. Soloists from the Scottish Opera orchestra were in the pit and played brilliantly. Transparent best sums up their sound.
Eddy's mum was Susan Bullock, who has sung Brünnhilde and Elektra the world over, and his dad was baritone Andrew Shore, an Alberich and Falstaff. His wife cum mother was sung by a Salome, Allison Cook. They were zany, loud and outrageous types who seemed in need of (or had just emerged from) rehab or electric shock therapy: all juiced up for an Arsenal match, a riot or any odd dustup.
Alex Otterburn as Eddy, a baritone just starting out on his career, was a chip off the old parental blocks. Vocally, he was just as rock solid, albeit with a lighter, youthful timbre to his voice. Rubber-faced and acrobatic, he bounced about the stage in warm-up suits, somehow managing to come off brave and lovable, not just funny. He was tragic as well, gouging his eyes out by splashing red paint on his face. It was one of those tour-de-force performances that leave you breathless, but then they all were.
The set was a rotating white wall with two doors. A how-to manual for violence was splashed across them. Trump's name jumped out from the newspaper headlines on which baked beans and ketchup were splattered. Projected across the remains of a proper fry-up cooked by Eddy's biological father were the words 'Bite. Swallow. Suck. Pull', filmed as they were actually being made off to the side of the stage. A wide-eyed doll with ghastly makeup was billed as 'The dream of men in their lonely aching nights'. White klieg lights and red spot lights assaulted the audience.
Greek was edgy and in-your-face, neo-Nazis and all, just what its creators intended. Where else to experience it but in Brooklyn?
Rick Perdian