Germany Wagner, Die Walküre: Soloists, Staatskapelle Berlin / Christian Thielemann (conductor). Filmed (directed by Andy Sommer) on 3.10.2022 at Staatsoper Unter den Linden but available until 17.2.2023 on ARTE Concert. (JPr)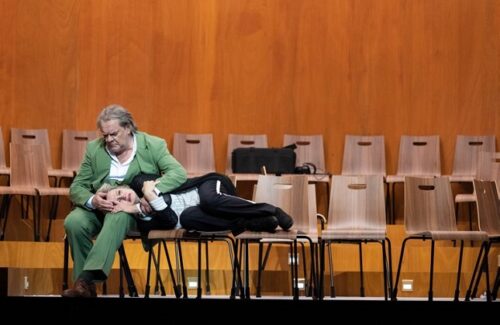 Production:
Director, Set design – Dmitri Tcherniakov
Costumes – Elena Zaytseva
Lighting – Gleb Filshtinsky
Video – Alexey Poluboyarinov
Dramaturgy – Tatiana Werestchagina, Christoph Lang
Cast:
Siegmund – Robert Watson
Sieglinde – Vida Miknevičiūtė
Hunding – Mika Kares
Wotan – Michael Volle
Brünnhilde – Anja Kampe
Fricka – Claudia Mahnke
Gerhilde – Clara Nadeshdin
Helmwige – Christiane Kohl
Waltraute – Michal Doron
Schwertleite – Alexandra Ionis
Ortlinde – Anett Fritsch
Siegrune – Natalia Skrycka
Grimgerde – Anna Lapkovskaja
Rossweisse – Kristina Stanek
After Dmitri Tcherniakov established the Konzept for his new Ring cycle with Das Rheingold (review click here) there are diminishing returns with his Die Walküre and it is clear his experiments in human behaviour and social interactions are going seriously off the rails. If Rheingold began at the 'Research Centre' in the 1960s then time has now moved on several years and we first see Wotan voyeuristically observing Sieglinde combing her hair from his office through a large one-way mirror. She is in her living quarters which has an open skeletal framework and is fitted out with all mod cons seemingly from IKEA. There is a bedroom, living room with table, chairs and sofa, kitchen, shower and toilet all on one level. During the Prelude (stormy and rain-soaked in the music if not on stage) we see a 'Criminal Report' about a prisoner who 'managed to escape during an accident with a prisoner transport van' and the description of him is '1'85, grey hair on left temple' and how he is 'aggressive and psychologically unstable'. Of course, that is Siegmund who arrives at Sieglinde's door (not that there was one) in his maroon hooded jacket. She is in a gold knitted top over a patterned dress and gets water for Siegmund from the fridge.
Sieglinde already seems to live on her nerves and that is made worse by the arrival of her abusive husband in the uniform of a high-ranking security officer and – in a scene of domesticity reminiscent from Tcherniakov's recent Bayreuth Der fliegende Holländer – the table is laid for a meal for Siegmund and Hunding and Sieglinde serves them soup, followed by meat and potatoes. Hunding cleans his gun before threatening Sieglinde with it and then mistreating her. The set turns and we see Hunding's night-time drink being drugged and he is shown preparing for bed where Sieglinde will join him. Siegmund has been handcuffed, though Sieglinde soon sneaks out of bed to unlock him. What she is indicating above the mirror is unclear even in closeup and she appears increasingly neurotic and to be retreating into a (romantic?) fantasy world. However – in the only thing Wagner would recognise so far – there actually is a sword buried in the wall which Siegmund retrieves before the set turns again to show Wotan looking on.
The second act opens with Sieglinde and Siegmund gathering their belongings and setting off before Wotan (in lime green suit) enters to retrieve some champagne from the fridge and have a self-congratulatory drink with Brünnhilde (in white blouse, black slacks and blue overcoat). Soon Wotan and Fricka (gold blouse and brown skirt) are bickering in his office. They soon return to the house to continue their argument and Hunding will eventually wake up, dress and leave unnoticed by Fricka and Wotan who is made to sign a contract limiting his actions in relation to Siegmund. Wotan roams around taking his anger out on inanimate objects such as the table and later the files in his office, as well as Brünnhilde who he eventually forces to obey him. The dichotomy between what we see and hear continues as she sings about how her (non-existent) weapons weigh her down.
The lab with the rabbits rises up and Sieglinde is there looking as if she is losing touch with reality before appearing to faint by the lift and be cradled in Siegmund's arms. She'll recover enough to go down to the lowest floor (Nibelheim in Rheingold) and when she collapses again Siegmund carries her to the last of the three small labs. Brünnhilde is initially fairly static and distanced from Siegmund for the Todesverkündigung. Sieglinde rouses herself once again – though looking increasingly comatose – and will beat herself up after Brünnhilde and Siegmund leave to get ready for the confrontation with Hunding which we do not get to see. However, we do get to see the Norns tending to the rabbits and then on a bare stage, after Wotan's 'Geh! Geh!' command for Hunding to kneel before Fricka, instead of falling down dead he just walks off. Siegmund is then set upon by riot police and nothing happens with any sword as far as I could see.
We learn that Act III is 'Prior to the analysis of the field research on violence' and we are back in the lecture theatre from Rheingold. We will eventually see the Valkyries lounging around it, they are all in dark clothes and have backpacks or other bags. They are definitely students, but of what? Instead of their heroes, we read on a screen the psychological portraits of various test subjects, one of whom is a 'covert sadist' and another an 'aggressor'. One of them was born in 1965 so we must be now some time in the mid-1980s. Brünnhilde brings in Sieglinde who now seems totally out of it, she pulls herself together on the news of the child she carries and is given a broken sword wrapped in plastic and told where she can go to be safe. Sieglinde leaves only to be brought back when Wotan comes in. From this point he is rarely still and because things are not going to plan it is all obviously taking a mental toll on Wotan too and he will need the cigarette he later lights (there is a lot of smoking in this Ring). In his anger he throws around the chairs though the Valkyries don't particularly look that frightened of him before they simply leave along with Sieglinde. Wotan is increasingly a broken man but reaches a rapprochement with his errant daughter and they embrace. Brünnhilde begins play-acting with Wotan as if she is regressing to her childhood. She flutters her fingers standing on a chair in the middle of a circle of them on which she has drawn flames with a felt pen. Wotan brings her down and the set recedes along with him to leave Brünnhilde with her backpack at the front of the stage as the lonely victim of an estranged family relationship.
What is increasingly clear is that – regardless of his Konzept – Tcherniakov's Personregie has raised the acting of his cast in this Die Walküre to a level more experience in straight theatre or a TV drama than in an opera house. It is also not so much how each of an accomplished cast act but how they react to others on stage with them. Truthfully if you strip away the 'Research Centre' setting you would still have a near-perfect semi-staging in modern clothes. Front and centre – almost literally – throughout the opera was Michael Volle's remarkable Wotan. Remembering that I was listening through loudspeakers, it was a marvel of stage presence, vocal production and verbal clarity. Occasionally there even was a Lieder-like quality to Volle's singing and he gave a nuance portrayal of someone who was once arrogant and is now browbeaten and increasingly bitter. He ends almost as mentally damaged as the subjects of his experiments. Equally impressive was Vida Miknevičiūtė's Sieglinde sung with thrilling abandon and heart on her sleeve emotion, and she proves herself to be another incredible actor. Mika Kares sang Hunding with biting menace whilst unleashing the darkest of bass tones. Claudia Mahnke brought an easy authority to a domineering Fricka giving Wotan no chance to win their fight. Robert Watson was a competent Siegmund and his tenor voice had dramatic virality, though I have heard the role sung much better. Finally, Anja Kampe's 'Hojotohos' were almost a cry for help and she remained occasionally shouty, though elsewhere she brought radiance and expressive shading to her impulsive Brünnhilde. The enthusiastic Valkyries were the usual eclectic blend of voices.
Regardless of the stage pictures Christian Thielemann focussed on the colour and majesty of Wagner's score. He maintained a flawless control of line, as well as ebb and flow, even if some tempos were noticeably slower than we may be used to these days. All in all, he turned Die Walküre into a virtuoso piece for the Staatskapelle Berlin.
Jim Pritchard