United Kingdom Buxton Festival 2017 [1] – Verdi, Macbeth (original 1847 version): Soloists, Buxton Festival Chorus, Northern Chamber Orchestra / Stephen Barlow (conductor). Opera House, Buxton, 7.7.2017. (RJF)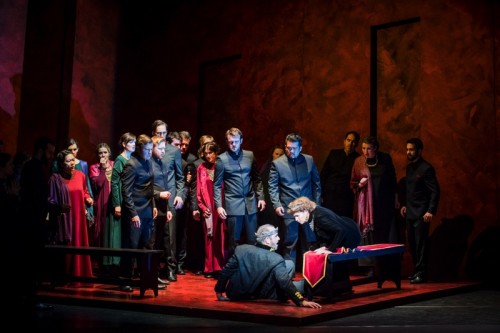 Cast:
Macbeth – Stephen Gadd
Lady Macbeth – Kate Ladner
Banquo – Oleg Tsibulko
Macduff – Jung Soo Yun
Malcolm – Luke Sinclair
Duncan – Ben Thapo
Lady-in-Waiting – Helen Bailey
Fleance – Charlie Lambert
Doctor – Richard Moore
Apparition – Phil Wilcox
Apparition – Molly O'Neill
Sicario – Stuart Orme
Production:
Director – Elijah Moshinsky
Set and Costume Designer – Russell Craig
Lighting Designer – Mike Gunning
Video Designer – Stanley Orwin-Fraser
Choreographer: Caroline Pope
Chorus Master: Matthew Morley
How many operas did Verdi write? The answer depends who you ask. Some years ago I heard Mark Elder suggest twenty-seven. Meanwhile I have seen the figure thirty-four suggested and argued. Certainly there are twenty-eight titles in the Verdi operatic oeuvre. It all comes down to the matter of re-writes. In the case of Macbeth there are two distinct versions with the same title, one the composer's tenth opera composed for Florence and premiered in March 1847 and the second a major rewrite, complete with ballet, premiered at Paris' Théàtre Lyrique in April 1865. The first version comes in the period of Verdi's stirring Risorgimento operas when he, and much of his music, stirred up Italian patriotic feeling. It is raw and vital, lacking much of the orchestral sophistication of the later version. Many performances now conflate the two, inserting music and choruses from the first edition into the more often performed, second. This Buxton performance was pure and simple first version and was conducted with appropriate vigour and sense of style by Stephen Barlow, music director of the Festival.
As with the performances of Giovanni D'Arco in 2015 Buxton imported renowned Verdi specialist Elijah Moshinsky to direct, and the designer was again Russell Craig. They also brought Australian soprano Kate Ladner back. Russell Craig's staging was sparse to say the least as well as darkly lit. I had the thought that the costume cum uniform worn by Luke Sinclair as Malcolm, singing from an upper box, probably cost as much as the stage set! At least the costumes were in period and the lighting gave colour and variety, particularly when used with colour projections onto a front drop cloth gauze for the passing of the kings. If not quite as eerie as the 1970s Glyndebourne production, now available on DVD, it was massively effective. In that production Josephine Barstow's adoption of an occluded vocal tone was perhaps more akin to what Verdi wanted for his Lady. That as it might have been, at this performance Kate Ladner, who I had thought a little vocally stretched in Giovanni D'Arco, was outstanding, no other word will suffice. Full toned, expressive and with vocal clarity and committed acting to match, hers was a performance that I will cherish. If Stephen Gadd was not up to that standard, his was a committed acted performance that could perhaps have done with a little more vocal weight. Oleg Tsibulko was a smooth and sonorous Banquo who gave character as well as tonal beauty to his aria whilst Jung Soo Yun as Macduff was virile of voice and stature. The young chorus sang with appropriate virility and acted with commitment, particularly in Moshinsky's representation of the hell of the witch's coven.
There are further performances on Friday 14, Tuesday 18 and Friday 21 July at 7.15pm and on Tuesday 11 July at 2.30pm. It will even be worth the drive through the misty hills, if the weather is that way inclined, to set the scene for you.
Robert J Farr