Switzerland Mozart, Le nozze di Figaro: Soloists, Chorus of the Grand Théâtre Geneva, Orchestre de la Suisse Romande / Marko Letonja (conductor), 17.9.2017. (ALL)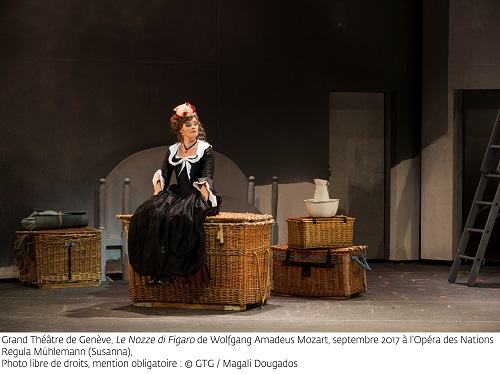 Cast:   
Figaro – Guido Loconsolo
Il Conte Almaviva – Ildebrando d'Archangelo
La Contessa Almaviva – Nicole Cabell
Susanna – Regula Mühlemann
Cherubino – Avery Amereau
Marcellina – Monica Bacelli
Bartolo – Bálint Szabó
Don Basilio – Bruce Rankin
Barbarina – Melody Louledjian
Antonio – Romaric Braun
Production:
Director – Tobias Richter
Design – Ralph Koltaï
Costumes – Sue Blane
Lighting designer – Linus Fellbom
… Well, we all know that things go sour quickly at the Almaviva residence …
Tobias Richter was the director here and had much at stake. In addition to his work as a director, he has run several opera houses, such as the Deutsche Oper am Rhein. Since 2009, he has been the director of the Geneva Opera.
His staging of Figaro was classical and balanced. What the Germans call "Personenregie" – characterization of the various protagonists – was done with care. A great example of this was at the end of Act I. A traditional reading of Figaro's "Non più andrai" is usually to poke fun at the frightened future soldier, but in Richter's staging, once the Count has left, Figaro's spirited military aria transforms Cherubino, who leaves with confidence. This was revelatory and matched the story and music well.
Mozart's Figaro is a comedy, and there were some nice touches: Marcellina drinking with the conductor in Act IV, or the Count interrupting Barbarina by humming Don Giovanni's Champagne aria. The complex Act III was easy to follow and had revolutionary undertones, of which Beaumarchais would have approved.
There was only one small "faux pas". Barbarina's sublime aria is a small jewel, during which time should stop. Figaro and Marcellina's entrance came too soon and distracted the audience from the music a little too quickly, although ultimately this was a compelling scene.
Marko Letonja, the chief conductor of the Orchestre Philharmonique de Strasbourg, delivered an alert reading of the score. Balance and pacing were lively. The many complex ensembles were finely held together. What perhaps was missing, compared to yesterday's superlative orchestral performance, was a keener sense for the details. Jonathan Nott drew more from his orchestra without sacrificing his overall sense of theatre.
Richter's sure hand could be seen in the casting, however. There have been several good evenings in Geneva, but none compared to the overall quality obtained for this performance.
Nicole Cabell impressed audiences a few years ago in the title role of Handel's Alcina. The Countess is a great role for her: she has lovely floating top notes and phrases superbly. She displayed genuine nobility in a sublime Dove sono. Maybe she is already thinking of The Marschallin … Of all singers, it could be said that Ildebrando d'Arcangelo has the most star power. His Count was persuading, menacing, jealous … His technique is superb: projection is strong and his tone has depth and resonance. The devilishly difficult vocalizing in the Act III aria was superlative.
By his side, Guido Loconsolo cut a sympathetic figure. He had some good moments and sings naturally. Focusing on not pushing his voice too much while staying close to D'Arcangelo must be quite a challenge for any Mozart baritone. Avery Amereau was a bit nervous at the beginning, but gave us a sensuous "Voi che sapete". Smaller roles were homogeneous with a particular mention of Monica Bacelli making the most out of her Marcellina.
Many would agree, though, that the central character in this work is not Figaro but Susanna, and here Geneva scored a world-class winner. Swiss soprano Regula Mühlemann was last heard in Geneva as the Woodbird in Siegfried three years ago. This was her first major role here. There are many good Susannas, but hers was outstanding. Her voice is focused with bright and clear notes.  Once again, technique is key for singers and hers showed she has control, projection and colour. She cut a delightful and resolute figure on stage which no one could resist. Her "Deh vieni" was the culmination of a great evening. Watch out for her, she soon will be in high demand on the best stages.
This was a wonderful Le nozze di Figaro, supported by a homogeneous cast which brought the house down and gave us Geneva's best production in the last ten years, a special performance even by Salzburg standards.
The purpose of a trilogy is to have audiences think in terms of continuity. There is so much unresolved anger and sexual tension at the end of this outlandish day that one must take a step back from the classic happy end. Those familiar with Beaumarchais' plays know that a darker story will arrive later …
Antoine Lévy-Leboyer