United Kingdom Huw Warren Quartet, Do not go gentle: Huw Warren (piano), Iain Ballamy (tenor sax), Steve Watts (bass), Martin France (drums). Dora Stoutzker Hall, Royal Welsh College of Music and Drama, Cardiff, 12.5.2018. (GPu)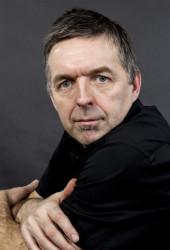 Huw Warren's Do not go gentle – music inspired by the work of Dylan Thomas – was commissioned for performance at the Brecon Jazz Festival in 2014, on the centenary of Thomas's birth. Since then Warren has given performances in various other locations. This one, at the RWCMD in Cardiff (where both Warren and Iain Ballamy have taught) was part of a four-night Welsh tour, also taking in Holyhead, Brecon (again) and Swansea. Warren, like Thomas, was born and brought up in Swansea and his very well-schooled but lyrical style means that he is both 'geographically' and musically well-suited to respond to Thomas. The work of both poet and pianist/composer is in some respects very thoroughly grounded in the tradition of their respective arts and in others innovative and personal. For this concert there were some readings (notably of 'Do not go gentle into that good night' and 'Fern Hill') by Ed Piercy.
Making the experience not just musical and verbal, but also visual, three long narrow screens were suspended above the musicians, onto which film was projected, the imagery changing in accord with the different pieces read/played. The programme opened with a piece engagingly titled 'The Overture Boyo'. We were called to attention by some quasi-military work by drummer Martin France and I, at least, was immediately struck by the solidity – and subtlety – of the playing of bassist Steve Watts. Iain Ballamy, as he did throughout the evening, varied his tone and volume very attractively, and Warren's own solo (unaccompanied), initially using only a small part of the keyboard, was strikingly effective in its use of silence.
The overture (boyo!), was succeeded by the arrival on stage of Ed Piercy who read 'Do not go gentle into that good night' 'accompanied' by Huw Warren at the piano, quietly and unassertively echoing some of the poem's ideas and sentiments. When Piercy completed the poem and left the stage, the rest of the quartet came in and the energy level of the music ('Rage, rage against the dying of the light') increased. By this stage the hanging screens were showing images of waves breaking against rocks. The music worked towards a wonderful calmness at its close.
Two pieces, played more or less without a break, followed. The first was 'Ugly, lovely town' (Dylan Thomas's famous epithet for his – and Warren's – place of birth), the second 'Llareggub' (the name of the fictional place in which Thomas set Under Milk Wood; read the name backwards and you will see why over sensitive early publishers changed the name to 'Llaregyb'). Perhaps with a sideways glance at Thelonious Monk's tune 'Ugly Beauty', Warren's work at the piano was more percussive and discordant (like Monk's) in the opening of 'Ugly, lovely town' than it was elsewhere, to good, witty effect. A greater 'sweetness' ensued (the 'lovely' after the 'ugly'?). 'Llareggub' was a more fluent piece with some particularly interesting interplay (like the interweaving voices of Thomas's great radio play?) especially between Ballamy and Warren, with Ballamy using the top end of his instrument's range to great effect. Later, some busy work by Watts and France introduced an attractive diminuendo close.
Ed Piercy returned to the stage to read 'Fern Hill'. During his reading and the music that followed the screens carried images of sunlight through trees with, appropriately the sun getting lower at the close. Warren's music, and what the quartet made of it, did justice to the poem's emotional and thematic richness, its counterpoint of innocence and experience. Huw Warren's solo had some particularly fleet runs (which made one think of the poem's reference to 'the pebbles of the holy streams') and Iain Ballamy's tone took on a particularly breathy quality at times. The sense of loss and melancholy permeated every note at the piece's conclusion. A purely musical account of Thomas's poem 'A Winter's Tale' (i.e., with no reading of the text, though there were images of falling snow on the screens) began with an intro from bassist Steve Watts and was richly evocative of the poem's images, such as the 'pale breath of cattle …stars falling cold …the smell of hay in the snow … the sheep white smoke of the farm house cowl … the puffed birds hopping and hunting'. There was, indeed, an unexpectedly 'rustic' feel to the whole piece.
'Organ Morgan' responded to a few sentences from Under Milk Wood, read by Ed Piercy, primarily from a passage in which Mrs Organ Morgan tries to engage her organist husband in conversation. She talks of Polly Garter: 'when you think of all those babies she's got … Remember Bob Spit? He wasn't any bigger than a baby and he gave her two. But they're two nice boys … Fred Spit and Arthur. Sometimes I like Fred best and sometimes I like Arthur'. She enquires of her husband: 'Who do you like best, Organ?'. His reply is succinct (and not to the point): 'Oh, Bach without any doubt. Bach every time for me'. His irritated wife, reasonably enough, draws the conclusion that he hasn't been paying any attention to her: 'Organ Morgan, you haven't been listening to a word I said. It's organ organ all the time with you'. This only prompts another succinct response – 'And then Palestrina'. The quartet's music was accompanied, on the screens, by silent-movie period images of acrobats, jugglers and the like, performing on the music hall stage, which reflected the broadly comic nature of Warren's music, both strongly rhythmic and somewhat parodic in nature. The piece was colourfully energetic and happy, with just an edge of the grotesque. It was, effectively, the end of Do not go gentle, being the last Dylan-Thomas-inspired piece on the programme.
Huw Warren and his quartet closed their concert with 'Hymn', another Warren composition, written a few years ago as part of a project in which Welsh musicians were invited to write works in honour of Ann Griffiths (1776-1805), a major Welsh-language poet and hymn writer. Warren's tune, which began with an unaccompanied piano intro, had great beauty and prompted some melodic invention by Ballamy which had something of the chorale about it. The piece was as much a prayer of benediction as a hymn and made a suitable (and suitably Welsh) conclusion to a fine concert.
In considering Warren's Do not go gentle, one obvious point of reference is the work of Dylan Thomas and I have tried to make use of that (briefly) in what I have written above. There is, however, another inescapable point of reference which demands consideration. 1965 saw the release of one of the most successful and enduring of British jazz albums, Stan Tracey's Jazz Suite inspired by Dylan Thomas's 'Under Milk Wood'. Tracey's instrumentation was identical with Warren's, his quartet consisting of Tracey himself at the piano and Bobby Wellins on tenor sax, with bassist Jeff Clyne and drummer Jackie Dougan. (It is disturbing to realise that all four are now dead). Given the identical instrumentation and the common 'source' in Dylan Thomas, comparison is inevitable. If I say that none of Warren's tunes are quite as memorable as, say 'Starless and Bible Black' or 'A.M. Mayhem' from Tracey's album, I may simply be trapped by the fact that I have heard Warren's suite on only this one occasion, whereas I have known Tracey's since 1965 (I recall going out to buy it during my first year as an undergraduate) and I have heard it a great many times since, so that comparison is not really a fair one. Though it would be wrong to say that Warren's music was heavily influenced by Tracey's, there were certainly moments when it seemed to be remembered in performance – on 'Ugly, Lovely Town' Warren's phrasing at the piano was reminiscent of aspects of Tracey's work, and Iain Ballamy's solo on 'Winter's Tale' contained passages where his tone took on a Wellins-like quality. Perhaps such echoes were unconscious, perhaps not; indeed, I perhaps imagined them! In truth, to hear both jazz responses to Thomas, Warren's and Tracey's, was to realise that they threw mutual light on each other. It needn't be a matter of preferring one to the other. I very much hope that Warren's Do not go gentle will soon be recorded. I shall be as keen to buy it as I was to acquire Stan Tracey's suite more than 50 years ago.
Glyn Pursglove