United Kingdom LMTO – A Christmas Carol (Mike Ockrent [book], Lynn Ahrens [book and lyrics] and Alan Menken [music]): Soloists, London Music Theatre Chorus and Orchestra / Freddie Tapner (conductor). Lyceum Theatre, London, 17.12.2018. (JPr)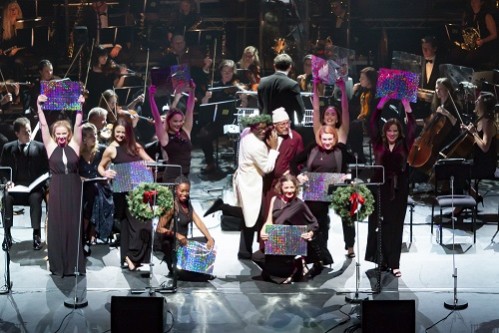 Cast included:
Scrooge – Griff Rhys Jones
Beadle/Mr Fezziwig/Old Joe – Nic Colicos
Bob Cratchit – David Hunter
Mrs Cratchit/Scrooge's Mother – Caroline Sheen
Lamplighter/Ghost of Christmas Past – Miriam-Teak Lee
Sandwich Board Man/Ghost of Christmas Present – Cedric Neal
Blind Old Woman/Emily/Ghost of Christmas Future – Lucie Jones
Marley – Jeremy Secomb
Fred Anderson/Young Scrooge – Jon Tarcy
Mrs Mops/Mrs Fezziwig – Rosemary Ashe
Tiny Tim – Tobias Ungleson
Creatives:
Director – Shaun Kerrison
Sound Designers – Nick Lidster and Avgoustos Psillas for Autograph
Lighting Designer – Mike Robertson
Now in its third year I was seeing The London Musical Theatre Orchestra's concert performance of A Christmas Carol for the first time and it is obvious why it is becoming an annual event drawing full houses to London's Lyceum Theatre. In 1972 the world-weary ballet critic Richard Buckle once wrote: 'Well, we are one more Nutcracker nearer death' and – a bit jaded myself – I felt that when I saw it again recently. I could apply this to A Christmas Carol – having already seen Simon Callow's film version recently (review click here) – but I will not because the two hours with the LMTO instilled in me some of the same Christmas spirit that Charles Dickens's tale gives to the lonely old skinflint  Scrooge!
Lucinda Dickens Hawksley (Charles Dickens's great-great-great-grandaughter) writes in the programme how Dickens 'began writing A Christmas Carol following a visit to Manchester in October 1843 … These were the "Hungry Forties" when whole families starved on the streets of Britain and the government seemed incapable of acting. Dickens was so horrified by the poverty he witnessed in Manchester that he returned to London blazing with anger about the injustices of poverty' and determined to write something that would make a difference. Hunger … homeless families … an impotent government … who would have thought it?
Dickens wrote A Christmas Carol in only six weeks and – as LMTO's founder and principal conductor reminded us – it was published 500 yards from the Lyceum Theatre. The rest is history of course! It has always been my favourite Dickens story and I have seen several of its various adaptations for theatre or screen – some many times! – and never tire of its heart-warming Christmas message. The only stage musical version I had seen before was Leslie Bricusse's 1992 Scrooge that I saw in memorable later revivals with Anthony Newley and Tommy Steele. LMTO presented A Christmas Carol by Mike Ockrent (book), Lynn Ahrens (book and lyrics) and Alan Menken (music) that was put on annually at New York City's Paramount Theatre in Madison Square Garden from 1 December 1994 to 27 December 2003.
Scrooge is more faithful to Dickens's original and A Christmas Carol is the Disneyfied version, less ghostly and more upbeat – virtually from the get-go -despite the miserly and curmudgeonly Ebenezer Scrooge's repeated catchphrase of 'Bah! Humbug!'. He is the surviving partner of the firm of 'Scrooge and Marley' and has one employee, his underpaid and undervalued clerk Bob Cratchit. Begrudgingly, Scrooge allows Bob to spend Christmas Day with his family, but only if he will come to work especially early the following day. Charitable souls approach Scrooge asking for a donation to benefit the poor and he responds in typical 'Humbug!' fashion. Workhouses and prisons are good enough for them and should starvation be imminent, then the poor should hurry up and get on with it to help 'reduce the surplus population'.
Scrooge's only living relative, his nephew Fred (Jon Tarcy), invites his uncle to celebrate Christmas with him and his loved ones. He gets turned away, yet Fred accepts him for who he is and heads off to enjoy the festivities. On Scrooge's walk home he encounters (in this version) the three ghosts of Christmas in their real-world guises as a lamplighter (Past), a sandwich board man (Present), and a blind beggar woman (Future). Later he takes to his bed only to have the apparition of his long dead partner, Jacob Marley, appear to him adorned in chains with each link representing a lost opportunity to help someone in need during his lifetime. He warns Scrooge to mend his ways and to be more generous to others. He says he will be visited by three spirits and how each will share a lesson with Scrooge that he must learn if he is to avoid suffering Marley's fate. And surely we all know how this plays out?
One further significant departure from Dickens's novella is that Scrooge is given some backstory and we see his father, John William Scrooge, being sentenced to debtors' prison in front of his appalled family. This was inspired by something that happened in Dickens's own childhood and is the starting point for how Scrooge worked his way up from nothing and became a rich money-lender. In much the same way Dickens became a celebrated author, though unlike his character Scrooge he never forgot his humble origins.
As I have only just recently written elsewhere I am not an expert on Disney musical stage shows or films. However, I know enough to hear how much Alan Menken's melodic score, as well as Lynn Ahrens's simple rhyming lyrics, owes to his work with Tim Rice on the adaptation of Disney's 1991 Beauty and the Beast film that was also first put on in 1994. Menken's subsequent successes are too numerous to list but it was nice that he pays homage to his peers with music recalling Claude-Michel Schönberg and Alain Boublil's Les Misérables and Miss Saigon from the 1980s. The most striking where-have-I-heard-that-before moment is the Ghost of Christmas Present's 'Abundance and Charity' – given an ebullient rendition by the charismatic Cedric Neal – when we are strongly reminded of Sweet Charity's 'The Rhythm Of Life'. Had Sammy Davis Jr lived long enough to know this song he would surely have revelled in it just as Neal did.
It was a wonderfully talented ensemble: Miriam-Teak Lee (Lamplighter/Ghost of Christmas Past) and Lucie Jones (Blind Old Woman/Emily/Ghost of Christmas Future) gave delightful performances and Nic Colicos was a jolly Mr Fezziwig. The experienced Rosemary Ashe seemed to be channelling Elaine Paige in two compelling vignettes as Mrs Mops (Scrooge's housekeeper) and Mrs Fezziwig. Jeremy Secomb – carrying some appropriate chains – was a suitably ghostly presence during his haunting of Scrooge. John Tarcy made the most of Fred and Young Scrooge. David Hunter as Bob Cratchit fully brought out his character's compassion both for his son Tiny Tim (the remarkable Tobias Ungleson returning for a third year) and more surprisingly for Scrooge himself. Hunter has an expressive voice I look forward to hearing more of in the future. The other children (Mikey Impiazzi, Sylvie Erskine and Anaya Patel) were engaging, supremely confident and well-prepared and an important part of the success of this concert performance. Impiazzi's double-take near the end when being allowed to continue singing by a reformed Scrooge – after earlier being told to be quiet – was priceless. The soloists received dynamic support from the 16-strong LMTO Chorus.
Yes it was a concert and there were music stands, but there was enough use of lighting, props and costumes to bring this A Christmas Carol to magical life along with the near-perfect accompaniment from the accomplished musicians of the 32-strong LMTO under the rumbustious baton of Freddie Tapner. Just two points – if I may – firstly, it was overamplified and secondly, the projection of a large clock at the rear of the stage would have added greatly to the already atmospheric story-telling.
Well what about Scrooge himself? Griff Rhys Jones employed the sort of speak-singing attributed to the late Rex Harrison. What he lacked in singing ability he made up for in stage presence and he was superb as Scrooge. He began totally disgruntled with the world and was the epitome of a mean and uncaring old man. The backstory brought some visible internal conflict and – with Rhys Jones perfectly capturing the old miser's changing mentality – Scrooge changed visibly for the better as the musical unfolded and reached its joyous conclusion.
Jim Pritchard
For more about LMTO click here.