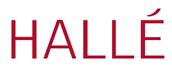 Hallé's Winter Season – 18 March to 29 April 2021
The Hallé is delighted to announce the new dates of its critically acclaimed online Winter Season, with five new concerts streamed from the Hallé's Manchester homes, The Bridgewater Hall and Hallé St Peter's in Ancoats.
The orchestra's Music Director, Sir Mark Elder, will conduct three concerts, while Assistant Conductor and winner of the 2020 Siemens Hallé International Conductors Competition Delyana Lazarova will make her concert debut with the orchestra (1 April). Special guest artists will include Isata Kanneh-Mason, performing with the orchestra for the first time (18 March), as well as Paul Lewis (25 March) and Stephen Hough (15 April).
The final concert in the series will see Sir Mark Elder conduct Stravinsky's The Soldier's Tale in a new staging directed by Olivier Award winner Annabel Arden which will be filmed in various locations around Manchester and feature three actors, a dancer and seven instrumentalists (29 April).
Each concert will remain available to watch on demand for three months after the initial broadcast.
From Thursday 18 March 2021 (available until Friday 18 June)
Broadcast from The Bridgewater Hall, Manchester
Sir Mark Elder conductor | Isata Kanneh-Mason piano
R.Strauss –Serenade
Beethoven – Piano Concerto No.3
Sibelius – Symphony No.3
From Thursday 25 March 2021 (available until Friday 25 June)
Broadcast from Hallé St Peter's, Manchester
Paul Lewis piano/director
Mozart – Piano and Wind Quintet K452
Stravinsky – Concerto in D
Mozart – Piano Concerto No.12, K414
From Thursday 1 April 2021 (available until Thursday 1 July)
Broadcast from The Bridgewater Hall, Manchester

Delyana Lazarova conductor
Bacewicz – Overture
Copland – Appalachian Spring: Suite
Shostakovich – Symphony No.1
From Thursday 15 April 2021 (available until Thursday 15 July)
Broadcast from The Bridgewater Hall, Manchester
Sir Mark Elder conductor | Stephen Hough piano
Debussy – Prélude à l'apres-midi d'un faune
Rachmaninov – Rhapsody on a Theme of Paganini
Huw Watkins – Symphony No.2 (world premiere)
From Thursday 29 April 2021 (available until Thursday 29 July)
Broadcast from locations in Manchester
Sir Mark Elder conductor | Annabel Arden director | Femi Elufowoju Jr co director |
Dominic Best director of photography | George Johnson-Leigh designer | Richard Katz narrator |
Martins Imhangbe soldier | Mark Lockyer devil | Faith Prendergast princess
Stravinsky – The Soldier's Tale
Concerts still available on demand:
Fanfare for the Hallé – available until 10 April 2021
Roderick Williams Sings Butterworth – available until 10 April 2021
The Event Horizon – available until 14 April 2021
Movie Classics – available until 11 May 2021
For more information click here