United States Terence Blanchard, Fire Shut Up in My Bones: Soloists, Metropolitan Opera Chorus and Orchestra / Yannick Nézet-Séguin (conductor). Metropolitan Opera, New York, 27.9.2021. (RP)
Production:
Libretto – Kasi Lemmons
Directors – James Robinson & Camille A. Brown
Sets – Allen Moyer
Costumes – Paul Tazewell
Lighting – Christopher Akerlind
Projection – Greg Emetaz
Choreographer – Camille A. Brown
Cast included:
Charles – Will Liverman
Billie – Latonia Moore
Destiny/Loneliness/Greta – Angel Blue
Char'es-Baby – Walter Russell III
Uncle Paul – Ryan Speedo Green
Chester – Chris Kenney
For the first time since its founding in 1883, the Metropolitan Opera has performed an opera by a Black composer, Terence Blanchard's Fire Shut Up in My Bones. And in another first for the company, the performance was simulcast to audiences in Harlem's Marcus Garvey Park, as well as to multiple screens in Times Square (which the Met has done for the past 14 years). With a single opera, America's largest performing arts institution has taken an important step by signaling that it can be both a shrine to the operatic past and a beacon of hope for artists who are creating works that tell the stories of today.
Blanchard composed Fire Shut Up in My Bones on a commission for Opera Theatre of St. Louis where it premiered in 2019. His first opera, Champion, based on the life of prizefighter Emile Griffith, was also commissioned and premiered by OTSL. Prompted by Robin Burgess, his wife, and James Robinson, OTSL's artist director (who co-directed the Met's production with Camille A. Brown), Blanchard turned to a book of the same title by the American journalist and commentator Charles Blow as the inspiration for his second opera.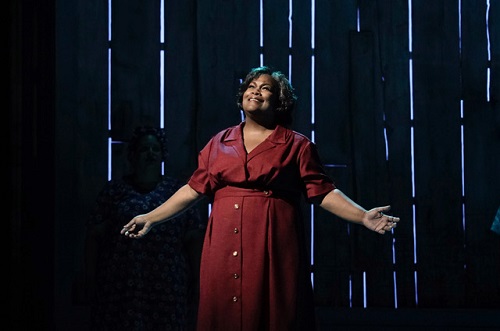 Blow's memoir is a coming-of-age story of a boy of 'peculiar grace' who is a misfit in the small Louisiana town where he lives with his mother, four brothers and a ne'er-do-well, philandering father. His mother Billie loves him, but she has little time to coddle him. Apart from raising her five boys, of which Char'es-Baby, his nickname as a child, is the youngest, she works in a chicken processing plant. Sexually molested at the age of seven by his cousin Chester, Char'es-Baby internalizes the pain and the shame.
The story unfolds as a series of postcards that capture and freeze pivotal moments in Charles's life. Blanchard is renowned as a jazz trumpeter and film composer, and his score for Fire Shut Up in My Bones reveals his talent in both fields. There is plenty of jazz and blues and a whole lot of everything else, including more than a nod to traditional opera.
There are scenes that punch you in the gut. Billie and her coworkers chopping up chickens is as realistic as it gets. As a teenager, religion was important to Charles, and a Baptist church service is presented in all its exuberance and jubilation. Unfortunately for Charles, baptism doesn't free him of his demons. The loss of his virginity is a cause for the entire family to celebrate: Charles is a real man after all.
In college, Charles pledges a fraternity whose members perform an exhilarating step dance that was undoubtedly one of the most amazing spectacles ever seen at the Met. The audience was transfixed by its precision and energy. Afterwards, Charles and the other pledges are subjected to a brutal and humiliating hazing ritual. At the opposite end of the spectrum were the male demons that haunted Charles's dreams. Their movements were as mesmerizing as they were menacing.
At its heart, however, this is a story of two people with aspirations to escape the world into which they were born. Will Liverman's Charles was complex and tightly wired; only in his love scenes with Angel Blue's Greta was he at ease with himself. The world of opera is a better place for roles that showcase Liverman's beautiful, expressive voice and subtle dramatic instincts.
Treble Walter Russell III played Char'es-Baby. His voice was true and clear. Often Russell and Livermore sang together an octave apart, and they sounded as one. Russell never flinched in a performance that was honest and true.
Billie has dreams too. Necessity forced her into a life of drudgery, but she aspires to a career. Latonia Moore gave an unforgettable performance as Billie. At times she was lightheaded and sparkly but, at others, she was a house on fire, especially when packing a pistol for a showdown with the husband who had done her wrong. Emotion just poured out of her, and Moore was a dream with her luscious voice and fabulous high notes.
Angel Blue had three characters to portray: the spirits Destiny and Loneliness who accompany Charles as he comes to grips with his past, and the woman he loves, Greta, to whom he confides his secret. She, however, was just toying with his affections. In appearance and voice, Blue was alluring and sumptuous in all of her guises.
Yannick Nézet-Séguin and the Met chorus and orchestra reveled in the rollercoaster ride of musical styles. A four-piece rhythm section augmented the Met forces, imparting an energy that electrified the house. It was a treat to listen to Nézet-Séguin caress Blanchard's melodies and elicit such dazzling sound from the orchestra.
The production was straightforward but plenty grand enough, even for the Met. A large wooden frame and accompanying screen in various configurations created the postcard scenes. Videos were expertly employed to heighten the emotion: the most haunting was a larger-than-life face of Char'es-Baby hovering over him in real-life. Towering trees swaying on a moonlit night enveloped the tender bliss of love when Charles and Greta first met.
Fire Shut Up in My Bones was a triumph for the Met now open again at long last. And no one seemed more jubilant than Nézet-Séguin, whose sartorial style equaled that of any in the audience – and the competition was stiff.
Rick Perdian