United Kingdom Boulanger, Wagner, Scriabin: London Philharmonic Orchestra / Karina Canellakis (conductor). Royal Festival Hall, London, 22.1.2022. (MB)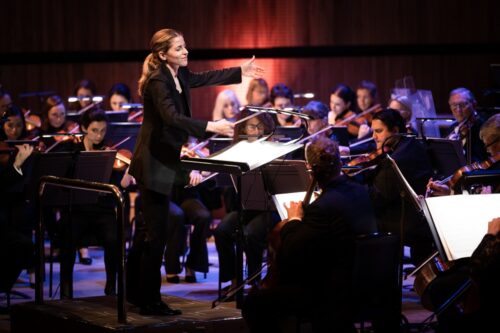 Lili Boulanger – D'un soir triste
Wagner – Tristan und Isolde: Prelude to Act I and 'Liebestod'
Scriabin – Symphony No.4, Op.54, 'Poem of Ecstasy'
Disappointment was palpable when a pre-concert announcement informed us of a change to the programme. Ravel's Left-Hand Piano Concerto would no longer be played, Cédric Tiberghien having been indisposed at very short notice. All of two hours, I learned later (read here), had made it impossible to find a substitute or indeed to offer an alternative work, and the pianist was understandably frustrated by the experience. Wagner, initially slated to preface the Ravel, now came second, Lili Boulanger's D'un soir triste moving to the first half. Scriabin's Poem of Ecstasy remained last, but now with the second half to itself. It may not have been the programme anybody wanted, but it received an excellent, in many ways outstanding, set of performances from the London Philharmonic Orchestra and Karina Canellakis. As ever right now, we gratefully made the best of a less than ideal situation.
D'un soir triste proved something of a revelation to me. I do not think I had heard it before; if I had, it cannot have been in a performance as impressive as this. Its opening reminded me, perhaps oddly, of Puccini's Il tabarro: above all in the marriage of particular, dark orchestral colouring to other aspects of Boulanger's writing (harmony and rhythm). It was built otherwise, quite otherwise, although that impression returned at the end of a finely turned symphonic poem (both as work and performance). Debussyan and Wagnerian roots were unmistakeable, but only a small part of a more richly post-Romantic canvas. On occasion, I fancied there might even be a little of something more Expressionist, giving a piece such as Schreker's Vorspiel zu einen Drama a run for its money. Although ardent, indeed passionate, this remained far from the hothouse. The abiding impression was clean yet dark, with a keen sense of narrative, propelled by excellent wind and later strong solos. There was decided unease too, evoked as much through timbre (pizzicato, for instance) as harmony. A powerful, yet ambiguous climax was just as well traced as its preparation and aftermath. Fascinating.
The intensity of the opening to the Prelude to Act I of Tristan was welcome enough; still more so were Canellakis's unerring pacing and the LPO's depth of tone and, later, fine orchestral balance. There was unfussy variegation too: chiaroscuro that never drew attention to itself, never seemed present for its own sake. Again, Canellakis built the music to a splendid climax, its trumpets already presaging Scriabin. There was true Wagnerian melos here — and this from someone far from unexacting when it comes to Wagner. The so-called 'Liebestod' (properly Isolde's Verklärung) does not belong tonally with the Prelude, but an excellent performance such as this can allay such qualms. This was an alert, comprehending performance, which might perhaps have had greater breadth, but did not drag. Crucially, it glowed. On this evidence, Canellakis may turn out to be a Wagnerian to be reckoned with. The LPO's recent experience with Wagner at Glyndebourne could not have been put to better use.
Scriabin's Poem had many of the same virtues, albeit, quite rightly, with greater languor. Again, Canellakis offered a poised, clear account, as well balanced as it was well directed. She is evidently a conductor who has music flow without ever making the experience about her. One inevitably heard fragments of Tristan throughout, yet as a springboard, not a cage. In this work, journey and frustrations are surely more the thing than arrival. There was assuredly no doubting the sexual charge of its ebb and flow. Climaxes can hardly be subtle, nor is there much point in trying to make them so; they made their point in vivid, enjoyable fashion. To hear a full orchestra at something close to its best in so fine a performance was magnificent reward. As for the rest, one can but admire Wagner's economy.
Mark Berry