United Kingdom Beethoven, Mendelssohn, Prokofiev, Elisabeth Brauss (piano): Wigmore Hall, London, 12.10.2020 performance, reviewed as live stream from the Wigmore Hall website. (CC)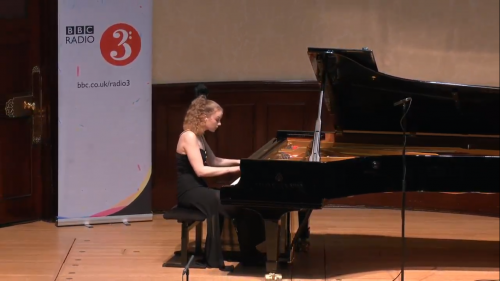 Beethoven – Piano Sonata No.7 in D, Op.10/3
Mendelssohn – Variations sérieuses in D minor, Op.54
Prokofiev – Piano Sonata No.2 in D minor, Op.14
Elisabeth Brauss is a German-born pianist, winner of the TONALi13 Grand Prix, and the Piano Olympics in Bad Kissingen in 2016. She appeared on BBC Radio 3 in December 2019 performing Beethoven's Third Piano Concerto with the BBC Philharmonic under Rumon Gamba at MediaCityUK, Salford and, as we shall see, she seems to have a real affinity for this composer. This concert was the last of BBC New Generation Artists: The Long Weekend.
More Beethoven for this Wigmore recital, the great D major Sonata of the Op.10 set. Taking the first movement at a proper Presto (as marked) yet with real attention to detail (fizzing sforzati, lovely voice-leading, perfectly firm bass) this performance was never less than fascinating. Opting for a restrained dynamic level for the recapitulation's opening yet retaining the exact same placement of the final bare octaves A natural was an eyebrow-raising moment: Brauss is clearly unafraid to make a statement. It is though the Lento e mesto second movement that makes or breaks pianists: surely Beethoven's most profound pianistic utterance thus far in his output, one of the challenges is how to still give a feeling of two in a bar while working with slow quavers. Not the only challenge, either: watching Brauss's carefully executed legato, fingerings carefully considered, was to realise just how much thought goes into this. Silences were carefully counted, too (not the given it so self-evidently should be among young players), the tempo itself perfectly chosen. It was daring to use the sustaining pedal on the single-line descent back into the theme, but this is, after all, music that asks us to dare. Again, Brauss's awareness of time came into its own at the close of the Lento, each gesture speaking volumes. She opted for a relatively rapid Menuetto, somewhere on the way to being a scherzo, while still offering enough calm to contrast effectively with the Trio. The finale is interpretatively difficult: quizzical, Beethovenian-playful, and certainly not the barnstorming edifice the first two movements might imply would be the way forward. Brauss's finale was wider ranging than most, including a delightful cat-and-mouse catch-me-if-you can moment.
The Mendelssohn Variations sérieuses were written for the cause of the Beethoven monument in Bonn, which makes a rather nice link. Brauss has the ability to change mode of delivery perfectly according to composer; her Mendelssohn was superbly judged. She takes risks, too: her clearly very well-honed technique ensures a solid basis, but the point is it makes for an exciting ride. And Brauss's persuasive performance – as far from technical showpiece as you can get – placed the piece in close proximity to the profundities of Mendelssohn's F minor Quartet (No.6, Op.80, 1847).
Bravo for the choice of one of the lesser-known Prokofiev Piano Sonatas to close with (No.2). The successful juxtaposition of granite blocks of sound with Prokofiev at his most filigree magical and the space Brauss gave to the slowly unfolding melodies both spoke of a maturity beyond her years (she was born in 1995). Her staccato touch, too, is superbly judged, leaving some meat on the bone but still sounding punchy enough, something that came through strongly in the short A minor Scherzo, indicated as, tellingly, Allegro marcato. Musical gesture is so important here, and Brauss reacted impeccably to Prokofiev's angularity and brusqueness, meaning the bittersweet G sharp minor Andante could transport us to interior, reflective spaces. The mercurial finale was a fascinating, if not wild, ride, the central Moderato a brief respite.
A small encore, a Scarlatti Sonata in E major, Kk380, very much taking advantage of the modern piano's capabilities, and including significant rubato. Old style, one might say, and certainly a beautiful valedictory gesture, but in terms of the clear thought that had gone into the programme proper, it seemed, on reflection, perhaps a slight misjudgment. Better, perhaps, to have left us with the magnificent outpourings of Prokofiev's youth …
Nevertheless, I am keen to hear much more of Elisabeth Brauss. Her marriage of musicality, technique, and intelligence is rare.
Colin Clarke